Its been a while since we've heard news from UFC lightweight Anton Kuivanen (17-5, 1-1 in the UFC). MMA Viking decided to find out what was going on with the Finnish star.
We headed once again to the GB Gym in Helsinki and sat down with the man himself. In this extensive interview the Finn tells us about the injury he suffered in the fight at the UFC 149, recent trip to Macau, upcoming training camp at American Top Team in Florida, why he would like to fight Takanori Gomi and of course when he will fight next in the UFC.
MMA Viking: You got your first UFC win in July at the UFC 149 in Calgary where you beat Canadian Mitch Clarke by decision. Tell us a little what happened after the fight?
Anton Kuivanen: Well, first we had a good time in Calgary and celebrated a little before flying back to Finland. I suffered an injury in the fight and that prevented me from training for some time. I used that down time to enjoy the Finnish summer, spent time at the summer cabin, did a little fishing and just chilled with my friends and family.
MV: Do you know what caused the injury in the fight?
AK: It was in the second round when we were battling in the clinch. I was pulling one way and the opponent was pulling the other way. Suddenly something just popped in my ribs and I could feel that it gave in a bit. It didn't bother too much during the fight, only in certain moves I could feel that the rib was busted up. After the fight it was really painful. It was hard to sleep or even breathe with the pain.
MV: Did you had to have surgery to fix the rib?
AK: We actually had a surgery scheduled with orthopedic Tuomo Karila (Editor's note: former Olympic wrestler) but we cancelled it. The rib has healed up well so at least for now it seems that it was the right call to make. There is still a piece of cartilage loose in there but it has encapsulated so that it doesn't cause pain anymore.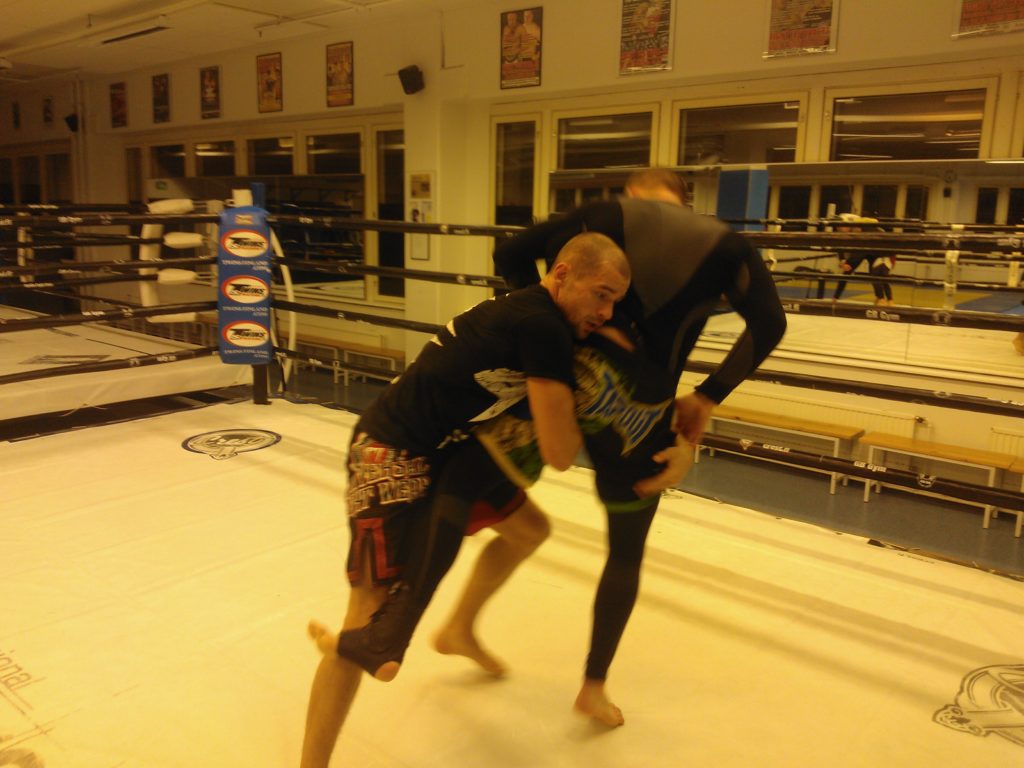 MV: When could you continue with the training?
AK: After the summer vacation I was healed enough so that I could do limited training. I started with strength and conditioning work: loads of circuit training, road work and so on before moving to sport specific training.
MV: What has been your focus in training during this fall?
AK:  The rib injury kept me away from grappling for a while so I have focused a lot on improving my striking. We trained a ton of boxing technique with coach Antti Latva-Kyyny: basic punching technique, footwork, head movement. Nothing fancy, just improving the fundamentals. We also polished my kicking technique with Mikko Blom who is a very good Muay Thai fighter at our gym.
MV: Do you feel that you've gained results from this specific work you've put in?
AK: Yes definitely. My accuracy, timing and defensive striking are on a whole another level now. When you can keep your own head safe,  it is much easier to find the openings for your own attacks. Because of that this has also improved my offense on the feet.
MV: I got to ask about the news that the UFC offered you a fight with Sam Stout at the UFC 154 St Pierre vs Condit. How upset were you when you couldn't take the fight because of the rib injury?
AK: yeah of course I was a bit upset. I really wanted to take the fight because it was such an amazing opportunity. Stout is a highly regarded UFC veteran who has been with the promotion for a long time so it would've been an honor to fight him. But I couldn't train with full intensity back then so it just wasn't possible for us to say "yes" to that offer. My manager explained the situation to the UFC and couple days after that they announced that Makdessi would fight Stout. But yeah, it was a tough decision to make but it was the right one, especially in the long run.
MV: You recently made a trip to Macau and saw the UFC show that went down there. Tell us about the trip?
AK: The initiative came from my main sponsor Santtu (Tiilikatto.fi) who did business in China years ago and still knows people back there. One of his old buddies is Tero who is a successful business man in Shanghai and a avid sports fan. Both guys have been MMA fans for a long time. Back in the late 90's and early 2000's they were ordering VHS tapes from the USA and watching old UFCs while staying in China for business. So Santtu and Tero exchanged ideas about making this kind of trip. That's how things got started and then Tero planned a busy four day schedule for us.
First we flew from Helsinki to Shanghai where we stayed for one day. We did a little sightseeing over there and then had this big dinner at Mexican restaurant. Our host Tero had invited a bunch of Finnish businessmen, who all are working in Shanghai, to the dinner. It was really nice event, great food and friendly people. We watched my latest UFC fight and highlight video from a screen. Some of the guys were MMA fans already and the rest seemed to be interested in the sport too. One guy there was Pekka Oey who is a well known karate practitioner. He is in the Guinness Book of Records for crushing 450 kilos of ice blocks with bare hands. The idea behind this dinner was that I could introduce myself and get to know these  influential people that might want to support my fighting career by sponsoring or some other way.
Next day we flew from Shanghai to Hong Kong. The schedule was pretty much the same as in Shanghai. We did some sightseeing, enjoyed great food and had dinner with a smaller group of Finnish businessmen stationed in Hong Kong. We took a catamaran from Hong Kong to Macau where we stayed at the Venetian Casino and Resort. We cruised around the city in limousine, spent some time at the beach and so on.
MV: How was the UFC event in Macau?
AK: It was a pretty good event. Not the biggest arena, maybe 10000 spectators. Most of the fights were evenly matched so we enjoyed watching them. Thiago Silva versus Nedkov was a good scrap as was the main event between Franklin and Le. Biggest response from the crowd went to Chinese fighter Zhang. People were going nuts when he fought. After the fights we had fun at the casino and did a little gambling. Next morning we headed back to Hong Kong where we spent a day and then flew back home to Helsinki.
Overall it was a very interesting trip. I got to meet lots of new, exciting people. I also had to deal with situations I haven't been in before and I could learn from those.
MV: We heard that you are again heading to Florida to train at the American Top Team gym. What's the deal this time?
AK: Yeah the plan is to head over there with my girlfriend for three months. At the moment we are making the arrangements: planning the budget, renting out our place in Helsinki and getting another one from Florida, stuff like that. Before deciding to go to ATT again, I spent some time studying different options in the States. While there are many great choices available, I still ended up choosing ATT. I know the places down there already so it's kind of easy to go there compared to travelling to some place that's totally new for me. So I contacted head coach Liborio and set it up.
There's a ton of fighters from featherweight to welterweight training at the ATT gym which is the most important thing for me. And the coaches are great too. Everyone is really professional in the way they do their work and really dedicated to the sport. The whole operation is planned carefully. Practices take place at scheduled times, you got the coaches there ready and fighters always show up for training.
MV: Regarding this trip to ATT, what are your goals as a professional fighter? 
AK: The plan is to train hard as possible of course. I'm currently working on my cardio and physical attributes so I'll be ready to go full steam when I get down there. I want to put myself to deep waters and work hard with ATT's top level pros. They can push me to be better every single day. You have to give all you got in every practice down there. That of course leads to improving as a fighter in all areas of the game.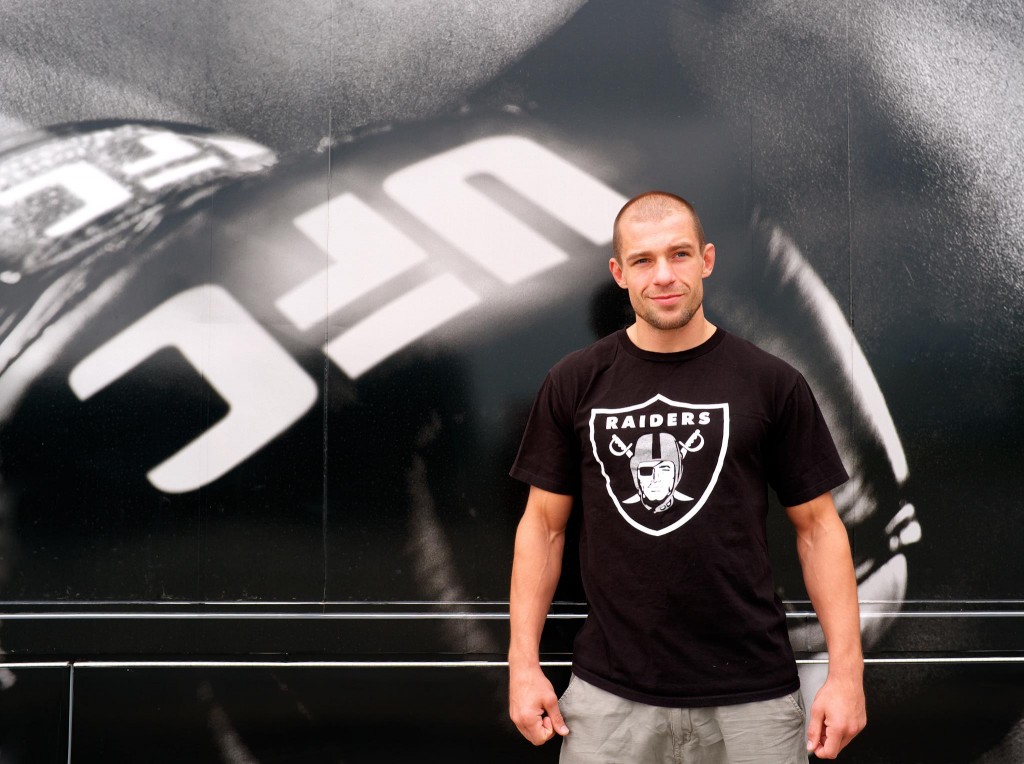 MV: Do you have any idea when you'll fight next in the UFC?
AK: My manager Olli was in contact with the UFC couple weeks ago and explained what's the situation was with me. The UFC matchmaker responded that he will let us know when he has a fight for me. Simple as that.
MV: When would you like to fight? Would you be interested in fighting at the London show on February 16th?
AK: I believe February would be great for me. I'm going to ATT in January so I would have some time there to get ready for the fight. But yes, the London show would be a perfect fit.
MV: It's not your style to go around calling out potential opponents but is there someone in the UFC you would like to fight?
AK: There are many interesting fights for me in the UFC but I don't have anyone special in mind. I will take anyone the UFC offers for me of course. Style wise I don't cant or even want to pick my opponents either. Some day it would be awesome to fight against Takanori Gomi. I have been a big fan of his since the Bushido days and now I saw him fight Mac Danzig in Macau. Gomi has inspired me as a fighter over the years. It would be a great honor for me to test my skills against him.
MV: Anything you want to say to the fans and people you want to thank?
AK: Once again I have to thank the people who support me in so many ways and make it possible for me to completely focus on my career. It's impossible to do this job without the support from the family, friends, training partners, coaches and also sponsors who have taken a chance and invested to a sport that still suffers from prejudices. Thanks also to MMA Viking for promoting Nordic and Finnish MMA and the fighters we got here. Lastly shout out to the fans: I will doing video blogs from Florida so that you can follow my life and training down there.
Anton Kuivanen UFC 149 Post-Fight Interview