Alaskan native Cody McKenzie (15-7) is headed to Malmö Sweden in hopes of turning around a three fight losing streak. The former UFC fighter will face another Octagon vet in David Bielkheden (20-12) at the Superior Challenge co-main event this Saturday. The American looks different and hopes his latest outcome will be, too. "My last opponent decided to pull it in my last fight (like a little bitch) so I decided I better just cut it so it doesn't happen again. Haha no but for real there's reason." says McKenzie to MMAViking.com as he makes final fight preparations without the long locks.
"I leave for Sweden Wednesday morning, I'm really excited to see the Turning Torso, and also just meet people of Sweden. I have been checking out the country online and it looks like a beautiful and awesome place to live." says the former featherweight that has recently has ballooned up in size fighting as high as 180 lbs. The bout against the Swede "Buster" will be contested at welterweight at Superior Challenge 12 at the Baltiska Hallen.
"It's good people are talking, no matter what I come to fight, and you can bet May 16 I am coming to fight."
McKenzie will be facing the Swedish MMA-pioneer Bielkheden that comes in with a 3 fight winning streak. The 35 year old welterweight will have to put his guillotine defense to the test as McKenzie has his own version of it, simply called the McKenzietine. Cody had once finished 10 consecutive opponents with it and has won 13 of his 15 wins by submission.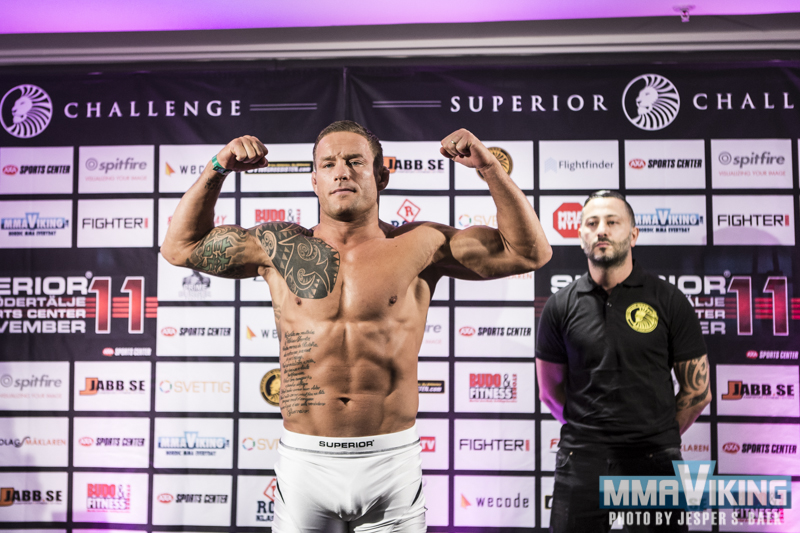 "If there's a chance for a guillotine I will take it, but I just go out and fight, when I see an opening to finish it I'll take it." says McKenzie who is on a three fight losing streak. McKenzie briefly retired at the end of last year, but in February stepped back in the cage for a fight with WSOF. He lost the fight by disqualification from head butting his opponent.