Cage Warriors' Super Saturday card is stacked with Nordic fighters. From Norway is Mohsen Bahari, Simeon Thoresen, and Jack Hermansson who will challenge for the vacant middleweight belt. Also on the card is hot prospect Damir Hadzovic and also top Brazilian grappler out of Sweden Bruno Carvalho. See live results here of the card going down in the UK.
Jack Hermansson (Norway via Sweden) vs. Norman Paraisy – CWFC Middleweight Title

Round 1 – Both men rushes the middle and exchanges some smooth combinations, now Jack takes the center of the octagon trying to get in, but Norman looks sharp, and he lands a good hook on the Swede. Norman already started bleeding from his nose. Jack now landing some combinations of his own, landed a good uppercut and now rushes Norman with punches! The Frenchman is forced to go for a takedown but Jack gets on top, and Norman climbs to his feet. Jack lands a HARD hook when they seperate, but didnt seem to faze Norman. Jack looks on the prowl here, stalking down Norman! Hits him with a beautiful combination and a very bloody Norman have to try to get it to the ground, but Jack stays on top and is very active. Norman is trying to scramble into a better position but Jack have no problem staying on top in every exchange. End of round. MMAViking scores that round 10-9 for Jack Hermansson.
Round 2 – Again they meet in the middle, and Jack is landing some crisp punches here, doing some good damage. Moving excellent in the pocket, landing very good punches while Norman looks tired and sloppy with his striking. Great combination to the body of Jack! Followed up by great punches, with great accuracy. Norman now goes low and gets the takedown, but Jack gets up and its right back into prowling Norman again. Norman having some success with the leg kicks but Jack lands a lot of punches and now gets Norman down, in half guard. Great top control from Jack doing damage in the last 2 minutes of the round. End of round. MMAViking scores that round 10-9 for Jack Hermansson.
Round 3 – Jack Hermansson takes the center, looking relatively fresh while the Frenchman looks a bit gassed. After a few good exchanges from Jack he tries to take Norman down, but is unsuccessful. Norman finding success with the lowkicks, and it really shows on Jack's legs. It looks to bother him. Now Jack goes forward and looking to finish Norman! He stays in there however and gets taken down instead, with Jack on top. Norman now able to climb the cage, tries to circle out and eats a few punches doing so. Norman goes for another sloppy takedown and Jack gets top position again, staying active with punches. Some good elbows on the end! End of round. MMAViking scores that round 10-9 for Jack Hermansson.
Round 4 – Norman starts the action with a low kick, and Jack grins his teeth, goes forward and lands some good punches! Front kick from Jack, takes Norman down and gets his neck! No hooks inside though and Norman can  slip out of it. Jack now tags Norman standing up again, but the Frenchman can take some damage. Jack takes Norman down and looks for submission everywhere, now takes the back, gets both hooks in and is looking for the choke. Jack doesnt have it under the chin, tried a crank but cant finish it. Jack advances to full mount, but Norman will retrieve half guard. Jack hammers Norman with hard punches! Goes into full mount and unleashes on Norman. Jack gets the back, sinks in the choke! Norman is barely able to get out of the choke! Jack goes for another choke and it looks tight! He gets the tap! Beauiful job from the Frontline Academy fighter!
Winner by Rear-Naked Choke is Jack Hermansson, and the new CWFC Middleweight Champion!
Damir Hadzovic (Denmark) vs. Martin Delaney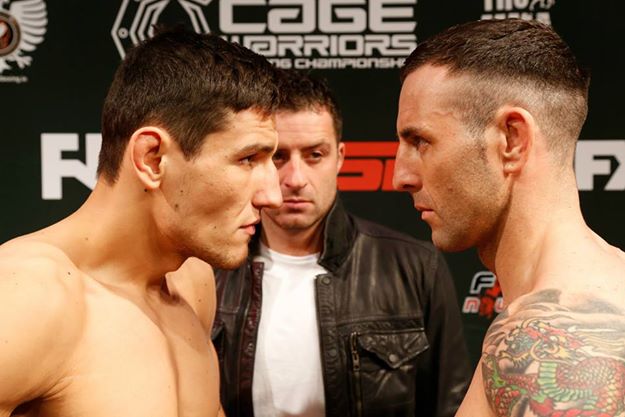 Round 1 – Delaney trying to land some punches but cant find his target, does land a nice  inside leg kick though. Damir goes for a one-two and rocks Delaney! Goes forward with a combination but Delaney closes the distance and clinches Damir against the cage, trying to take him down. Damir doing a good job defending, and his opponent looks recovered. Delaney still trying to get the takedown, momentarily gets the job done but Damir is up on the feet again. Delaney keeping the pressure on Damir, landing some nice knees and quickly goes low but Damir recognizes and keeps it on the feet. Very good pressure form Delaney, the referee asks for action and when they seperate Damir tags him again! Last second of the round is Damir pressuring Delaney against the cage. End of round. MMAViking scores that round 10-9 for  Martin Delaney, a close round however.
Round 2 – Damir again going forward with hard punch and kicks, Delaney quickly closes the distance and works hard for a takedown, doesnt get it. Now Damir shrugs him off and takes him down instead, landing in half guard. Landing some great elbows from this position, and Delaney scrambles to full guard. Damir doing some damage on top but nothing that puts his opponent in danger. Not much happening on the ground except for Damir staying on top and landing some strikes on occasion. Delaney is looking for sweepes and escapes but cant get anywhere. End of round. MMAViking scores that round 10-9 for Damir Hadzovic.
Round 3 – Delaney straight ahead looks for the takedown, Damir defends and punishes a very tired Delaney! Damir finds his target easily, and dives on Delaney after a slip and ends up in full guard. Both men are very slippery and after some light ground and pound Delaney is able to get up, only to get taken down again by the Bosnian Bomber. Now gets the back of Delaney, pounding hard down on him while looking to sneak in the rear naked. Delaney turns in, eats a few elbows on his way to half guard. Damir looks to set up a arm triangle, but lets go. Now advances to side control is Damir, a little scramble and we're back to half guard. End of round. MMAViking scores that round 10-9 to Damir Hadzovic.
Winner by Unanimous Decision is Damir Hadzovic.
Bruno Carvalho (Sweden) vs. Jack Mason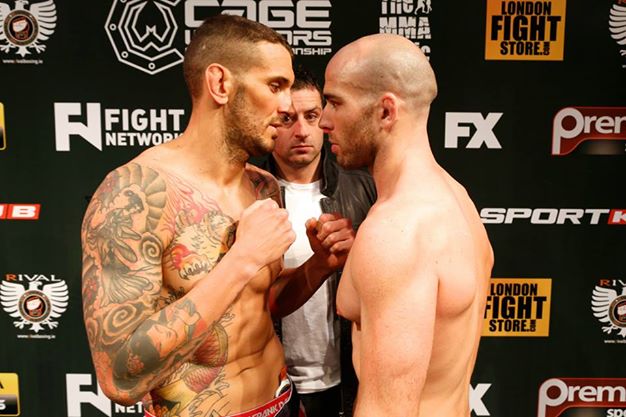 Round 1 – Bruno having success early on with his striking. The Brazilian Swede looks very comfortable on the feet, landing good jabs and a kick to the knee of Jason. Bruno goes forward with combinations, gets hit but it doesnt hurt him. Now Jason lands a good right hand, but Bruno gets back to position and goes forward. Now pressuring Jason against the cage and lands few good punches, and a knee! Bruno again moving forward with a combination but eats a hook on his way in. End of round. MMAViking scores that round 10-9 to Bruno Carvalho.
Round 2 – Carvalho unleashes a hard right and left hook which lands clean! Jason looks rocked and stumbles back, Bruno dives after him but Jason is able to recover and gets back up. Back to the center with Bruno being the agressor, both guys exchanging on the feet. Jason pressures Bruno against the cage, doing some damage to his legs. The two seperates and Jason looks to be cut over his eye. Jason lands a good left hook, which looks hurt Bruno a little. Jason finding his rythm and landing the better punches in the exchanges. Now Bruno hurt Jason and he is forced to pressure Bruno against the cage. Bruno jumps back and lands a good punch on his way out! Both men with good exchanges in the end. End of round. MMAViking scores that 10-10, a draw.
Round 3 – Bruno starts off right away with a jab that lands, stalking down Jason trying to land the better punches. Good push kick to the knee followed up by a hook that lands for Bruno. Jason with a little urgency in his striking, and lands the better punches right now. Both men are happy to step in and exchange, but Jason looks to step it up, goes in for a combination but Bruno stop him with a knee. A good uppercut from Bruno. Jason again lands a good left hook, and Bruno now goes forward trying to knock Jason out but the horn blows. MMAViking scores that round 10-9 to Jack Mason, a very close round.
Winner by Split Decision is Jack Mason.
Simeon Thoresen (Norway) vs. Jake Bostwick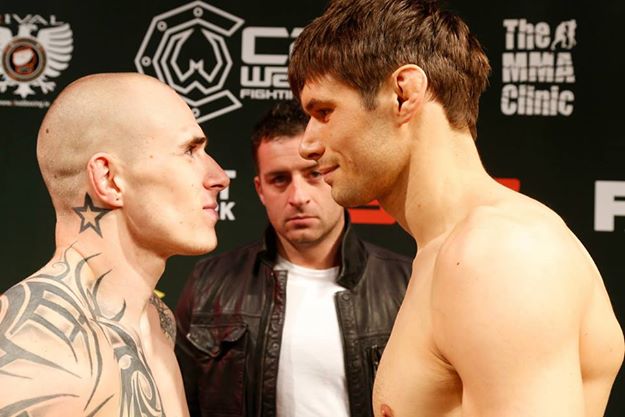 Round 1 – Both fighters meet in the middle,  and they are a little tense but Jake looks to be the agressor. Jake lands good punches! Looking more comfortable now is Jake, landing very hard leg kicks, changing between stances. Simeon quickly goes for a low takedown but Jake gets out of harms way. Jack with a hard hook that Simeon defends and instanly takes Jack down! Simeon advances beautifully to full mount and is now pestering Jack with punches from top, but now able to recover into half guard. Simoen gets back to full mount and pounds away. End of round. MMAViking scores that round 10-9 to Simeon Thorensen, but a very close round.
Round  2 – Jake right back to the center and puts pressure on the Norwegian, who tries for a takedown but Jake able to keep it standing. Lands a hard legkick is Jake! Looks to bother Simeon. Jake with a great uppercut that barely misses, Simeon dives instantly and completes the takedown, ends up in half guard looking for full mount. Jake scrambles, but Simeon looking very good on top tonight. Able to switch position, again gets full mount! Simeon pounding down with punches and elbows, Jake trying to escape and advances to half guard.  Simeon steps over to sidecontrol and grabs his arm, looks for the kimura! Simeon cranks it but Jack refuses to tap. End of round. MMAViking scores that round 10-9 to Simeon Thorensen.
Round 3 – Simeon looks tired, Jake is being agressive and lands a hard leg kick. Simeon again dives for a takedown but cant get him down, Jake shrugs him off. And a third time he fails. Simeon gets a hold of Jake's  leg, tries to get a single leg but Jake reverses and Simeon is forced to stand up again. Simeon again fails a sloppy takedown, looks dead tired. Simeon gets warning from the referee for not getting up fast enough. Simeon barely hanging on here. End of round. MMAViking scores that round 10-9 to Jake Bostwick.
Winner by Majority Decision is Jake "Brutal"  Bostwick.
Mohsen Bahari (Norway) vs. Benny Alloway
Round 1 – Action starts a little slow, both guys being careful of comitting. Benny with a straight left that lands flush and rocks Bahari! Benny goes forward and clinches up with Bahari, pressuring him against the cage. Now he seperates and Bahari looks recovered, both fighters looks very calm and composed. Benny goes low, tries to take Bahari down but he reverses and gets a slam of his own! Now in half guard trying to improve to full mount. Bahari leaves a little space and Benny is able to get up, on his way up Bahari lands two good knees! End of round. MMAViking scores that round 10-9 to Mohsen Bahari.
Round 2 – Mohsen starts off with a heavy body kick, looking to counter Benny who is in the center of the cage. Benny hits the target with his right, but Mohsen returns fire. Not much happening, both fighters are being cautious. Bahari got Benny pressed against the cage and unloads some hard knees, and Benny is bleeding a lot right now. Bahari just pressing him up against the cage, looking for a opening to take him down but cant get it. They seperate and Bahari goes forward but gets reversed and is now pressed up against the cage. End of round. MMAViking scores that round 10-9 to Mohsen Bahari.
Round 3 – Benny goes for a combination but Bahari dodges and comes back with a combo of his own. Bahari lands a good straight left, but Benny answers with a kick. Nothing significant happening, but Bahari looks to be the better striker in this round. Benny a little more urgent, trying to be agressive but Bahari looks good in the exchanges they're having. Benny tries for a spinning kick. End of round. MMAViking scores that round 10-9 to Mohsen Bahari, but a very close round.
Winner by Split Decision is Mohsen Bahari.