Jack Hermansson (22-7) lost to Sean Strickland (25-3) in the UFC Fight Night 200 headliner, as the leading promotion returned to the UFC Apex on Saturday in Las Vegas.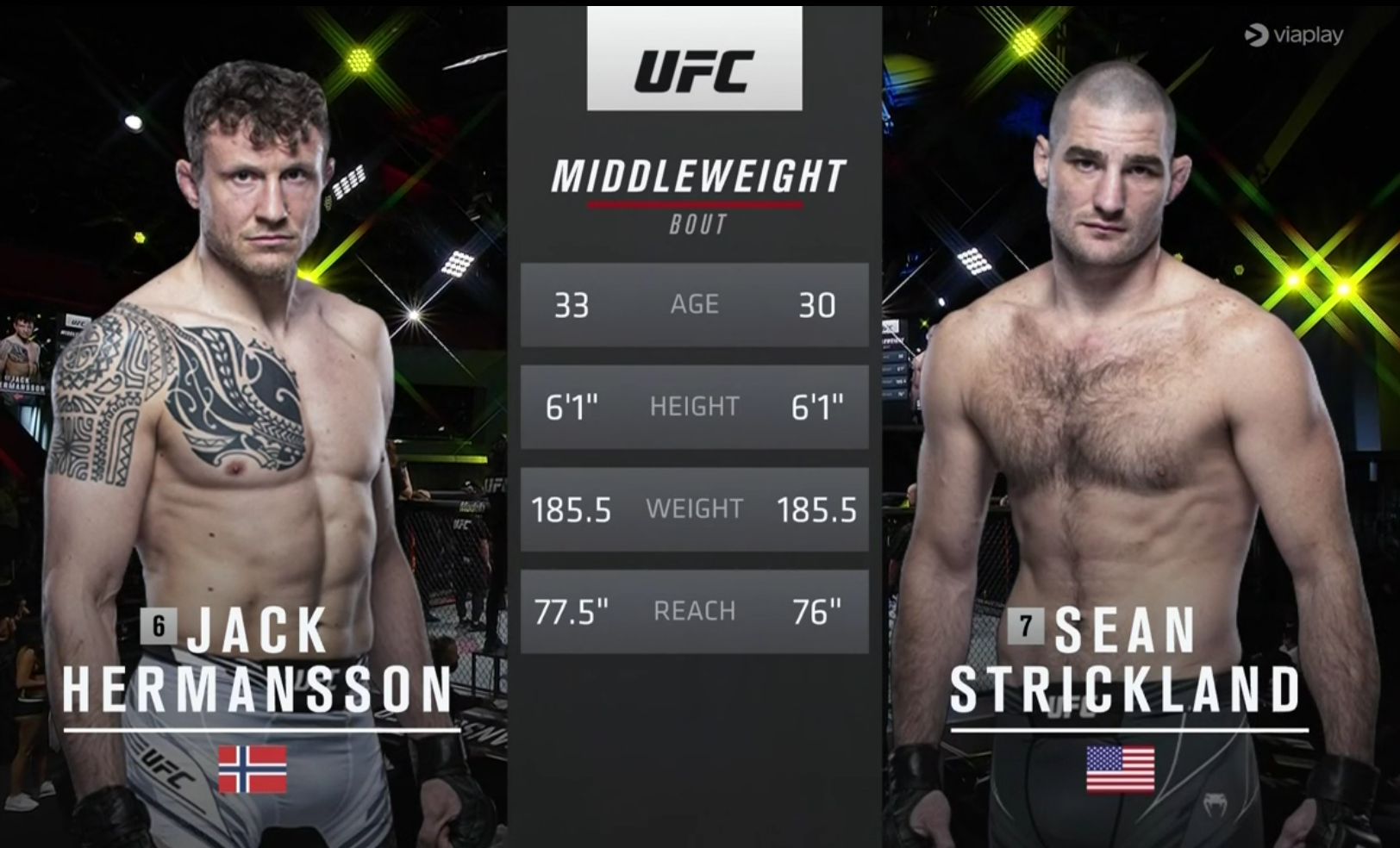 Jack starts off with a right calf kick, and tries it again.  Strickland standing straight up with hands down, and throws a quick left jab.  The Swede keeps his hands high and shoots in for a take-down a minute into the bout and eventually grabs a single leg against the fence, and switches to a double as Strickland defends and pushes the "Joker" away.  Jack lands a good left jab, and then a left kick.  No clear advantage with 90 seconds left in the bout.  Jack still using kicks, and Sean looking for more punches and misses with a big right.  The Frontline Academy fighter with a good combination, ending the series with a kick.  Jack pushes forward as the first bell rings.  Close round, but Jack more active.
Both fighters looking for their opening on the feet, with Jack still landing the calf kick.  Hermansson in on a double-leg take-down, but easily defended by Strickland.  Jack is the #6 ranked contender, while Strickland is #7.  Strickland moving forward, and Jack fires back with a three-punch combination.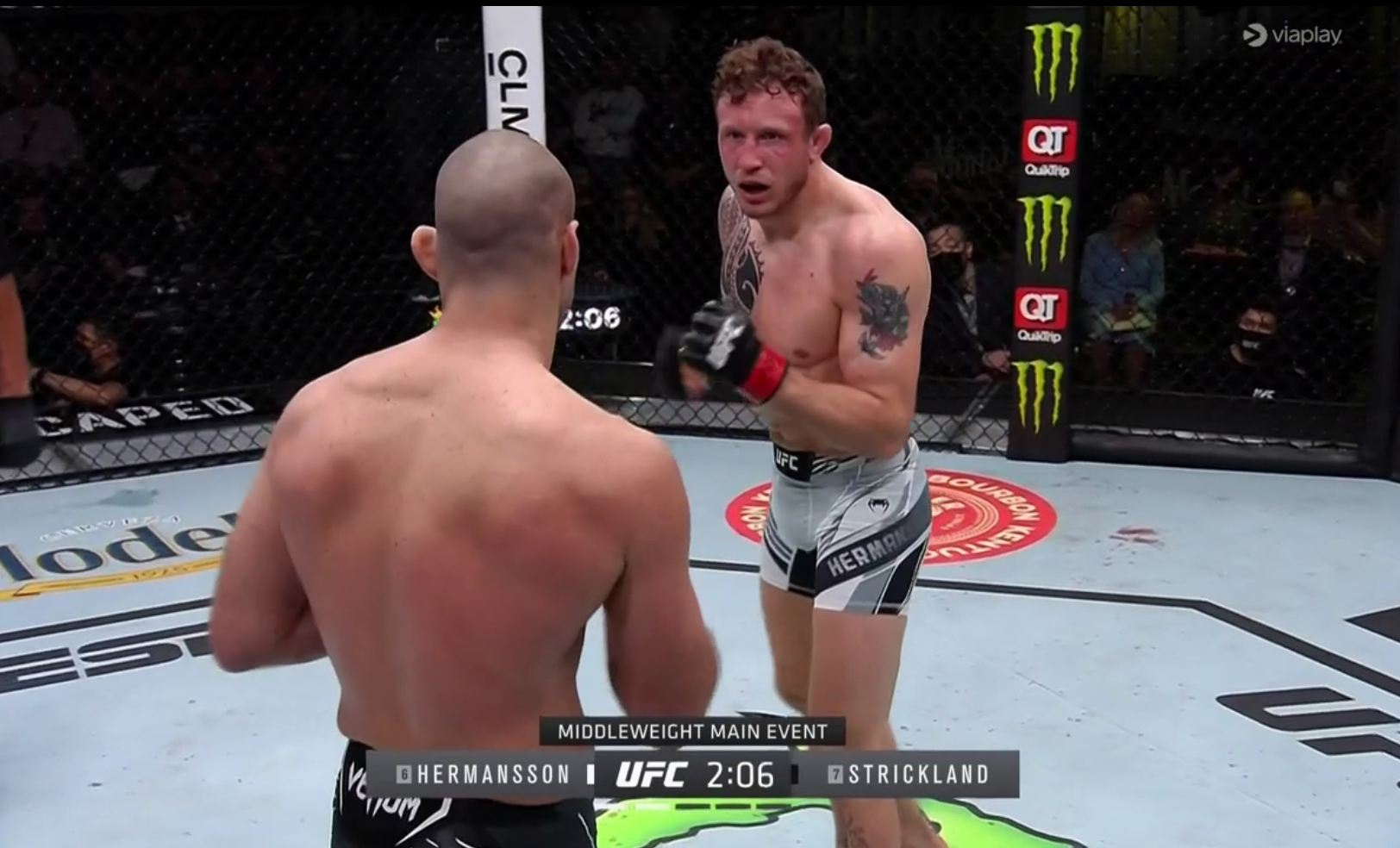 Sean looks real relaxed here, and attacking with punches to the head.  Jack bouncing up and down, waiting to counter, but nothing significant landing.  Sean landing some kicks, and throws a big right hand at the bell that drops Hermansson to his back at the bell, which should earn him what was so far a close round 2.
Jack moving forward, cutting the cage off and trying to land.  Another take-down attempt, but now the Oslo based fighter not really committing.  The American real relaxed and relying on his jab.  Jack lands a good left to the body, and another right calf kick.  Sean just staying out of the way of Jack's punches, and this time defends with a high left kick.  Both fighters active, but Jack just can't land his shots.  That's a Strickland round.
The former Cage Warriors champ fighting with urgency now and moves forward throwing punches.  Jack really commits to this takedown and in on a single, now back up Sean into the cage, and the American defends it again.  Hermansson is now 0 for 6 in takedown attempts.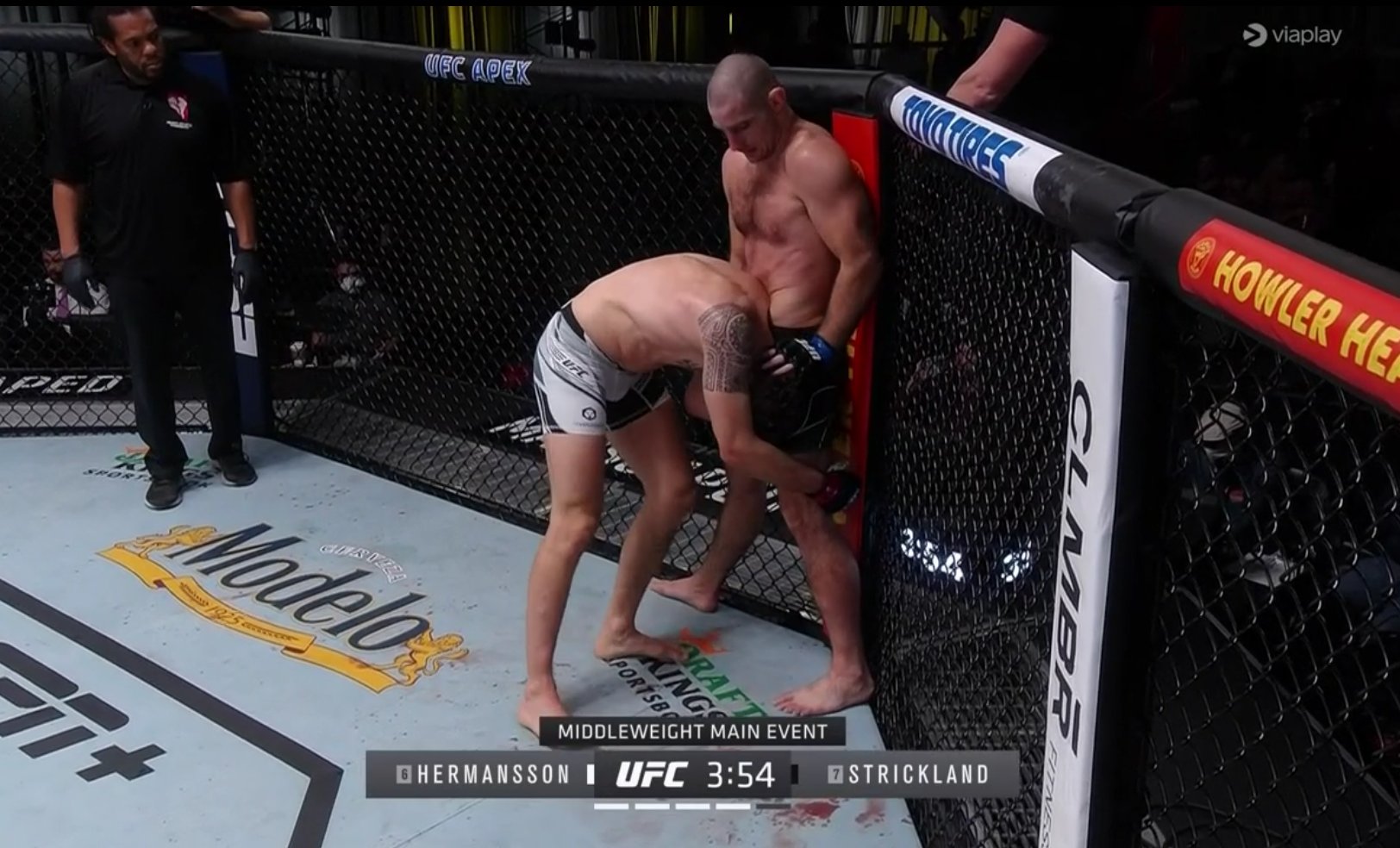 Strickland seems to have Jack figured out on the feet, but really not throwing at any volume.  Jack giving 100% effort in moving forward, and changing levels… looking for an overhand punch to turn the tide, but it hasn't come.  Jack with a series of combinations down low then high, and ends one with a good calf kick.  A close 4th round.  Strickland for the first time has some blood coming out of his nose.
Jack likely needs a finish here, and he is fighting like a man down on the cards.  His punches just aren't coming close to landing.  But, a superman punch lands nicely from Jack that is picking up the pace.  Hermansson has not slowed down in the 22 minutes so far.  Strickland just doesn't engage, while Jack is going all out.  Jack finally in on a double-leg takedown deep, but Sean defends again with a minute left in the bout.  Sean decides to fight 16 seconds in calling out to Jack, but it is the American that moves backwards showing his true character as he starts swearing for no reason.  "You have good takedown defense" says Hermansson to Strickland after the bell.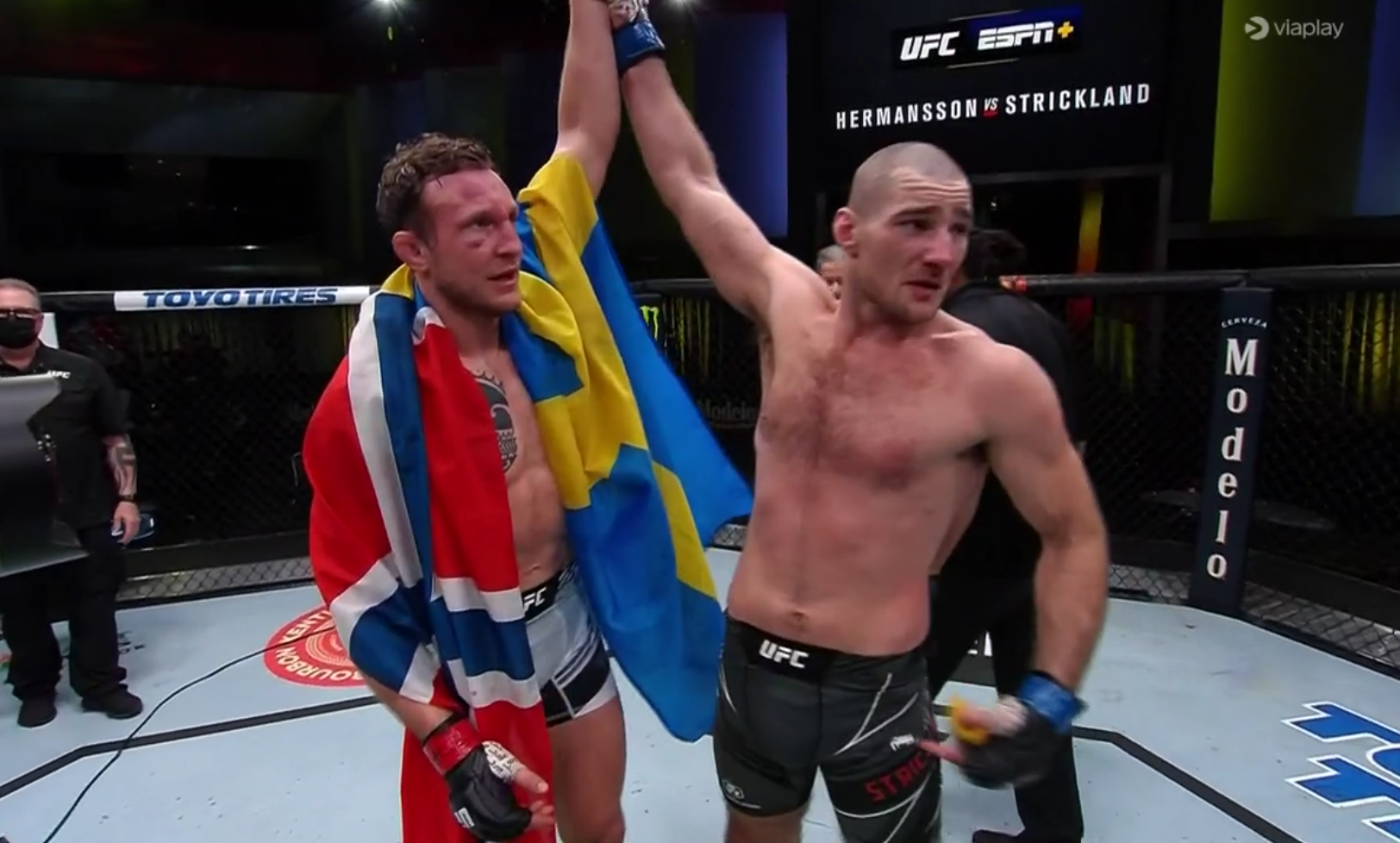 "I fought like a chump" says Strickland, who says he was focused on getting the win bonus.  Strickland won by split decision 49-46, 47-48, 49-46.