Damir Hadzovic (9-2) wants to fight for the Cage Warriors lightweight belt. "Yes, I believe I should be the next one in line." says the Bosnian Bomber to mmaViking.com about a shot at the belt.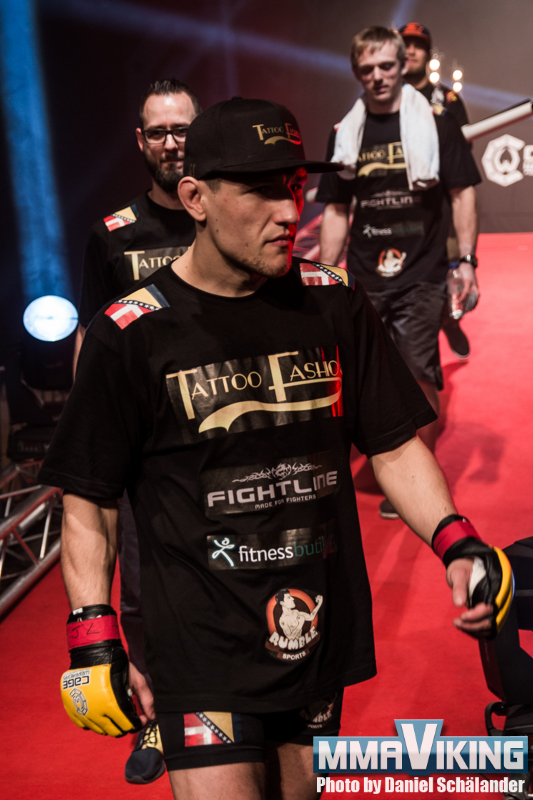 The Denmark based Rumble Sports fighter has been impressive since dropping to 155lbs, KO'ing former UFC fighter John Maguire at Cage Warriors 66 and winning a decision in June over Martin Delaney. Hadzovic is on a five fight winning streak overall, with his only two losses of his career are back in 2011 and 2012 to Andreas Stahl and Krzysztof Jotko, whom are both in the UFC at welterweight.
The man that now holds the belt is Steven Ray (16-5), who just took out Curt Warburton this past weekend. "I fought 2 tuff dudes in Maguire and Delaney, now I want only the top guys in CW." says Hadzovic that is ready for a fight now. "I am training and keeping myself ready."
However, if he needs to wait much longer… Hadzovic has no problem in fighting one more time if needed. "If the title shot is many months away, then YES i would like to fight to keep myself in the good momentum."
Ray isn't shy about saying that he is up to fight the Danish based fighter. "I fight any1 CageWarriors put infront of me =)" posts Ray on Twitter, after Hadzovic took to Twitter to show his desire to fight the new champ for the belt.
Let's wait and see, if we will have a third Rumble Sports fighter in a Cage Warriors title fight.