MMA Viking is cageside in Stockholm to report on UFC Sweden 6. There are 7 Nordic fighters on the card, representing Sweden, Denmark, and Finland. Get your live results here!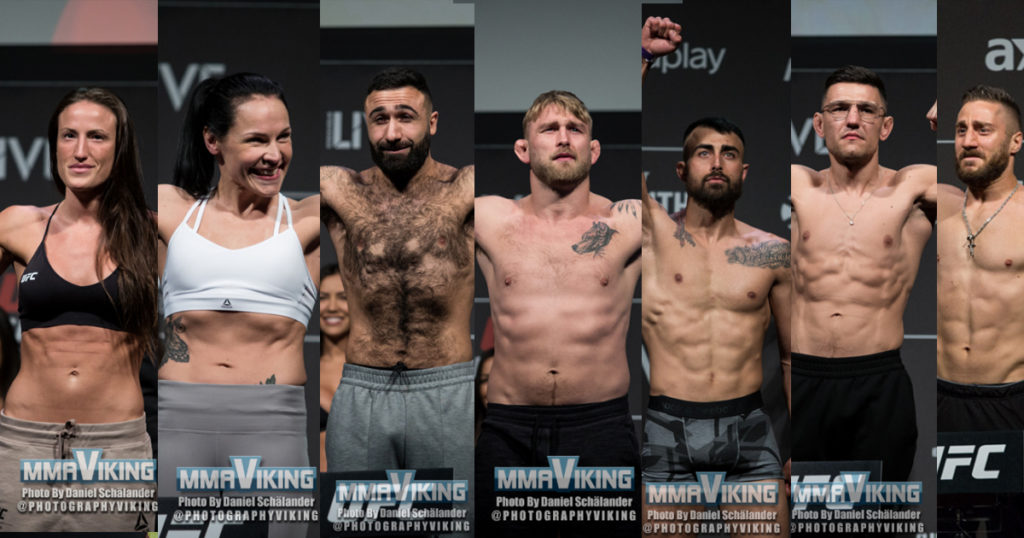 Live Results
PRELIM CARD
Swede Bea Malecki (2-0) vs. Brazilian Duda Santana (3-0)

Round 1 – Malecki is the second to enter the cage. Bea gets tagged twice to start the fight, and both fighters with really long reaches. The Swede is taken down. Bea trying to get up, and briefly caught in a guillotine but gets out. Finally after multiple attempts Malecki is up, but still not getting the best of things on the feet.
Round 2 – After some exchanges, Bea lands in full mount at the both are entangled on the feet in a body lock! The Swede immediately looks for a finnish. Body triangle is locked. Looking for a rear-naked choke, and gets it at 1.59 in the second round.
"It's amazing to fight at home." – Malecki.
Swede Lina Länsberg (8-4-0) vs. American Tonya Evinger (19-7)

Round 1 – Evinger pushes Lina against the cage. The Swede very relaxed, but Tonya upgrades to double-underhook. On the break, Lina lands a right elbow, then immediately back to the clinch. Lina working some knees to the face, and Tonya's face is bleeding bad. Lina gets a take-down, and immediately moves to full mount, landing elbows and more elbows. The American is hurt, might be all over, but they don't stop it in time.
Round 2 – Back to the clinch, and now Evinger is on top. The wrestler takes back, and now puts in both legs. The Malmö fighter si in trouble, as Tonya searches for a rear-naked choke. Oh, a reversal as Tonya rode way too high. 2 minutes left in the round. Some good ground and pound on top, and more and more bleeding from the American with her head stuck against the cage.
Round 3 – Lina defends the take-down nicely. Tonya tries for a take-down throw, but Lina stays behind and is on top. Quickly moves to ground and pound, and the Swede has this one locked up!

Decision win for Lansberg – 30-26, 30-27, 30-26

Swede Rostem Akman (6-0) vs. Russian Sergey Khandozhko (26-5-1)
Round 1 – Rostem gets a big pop the crowd and confidently walks forward to start the fight. Akman defends a throw, and back to standing. A few rights that nearly land from Rostem. A nice kick from the Russian, and now the two are exchanging, but mostly missing. Good combo from Rostem, that has to check kicks as he moves forward. He clips the Russian with a punch that leaves his chin up. Another nice combination that looks to rock Sergey near the end of the round.
Round 2 – Rostem continues to pressure and decides the distance of this fight. Rostem looking to counter punch and hunt wiht his left hand, against the wild-swinging Russian. A big knee to the face of Rostem, that eats it well. Rostem is rocked with a left hand and is dropped! On his back, Akman looks to recover, nearly grabbing a heal hook before both decide to move it back to the feet. Now Rostem wants it on the ground, and moves to a take-down with a body lock. Rostem on top as the round comes to an end, side mount with 10 seconds.
Round 3 – It will come down to the next 5 minutes for the winner. Rostem tries again for a take-down, and chain wresltes, but just can't finish. Rostem seems to be the fresher fighter, even on short notice. half way through the third, and still anyones fight. Nearly a take-down from the Russian, but Rostem reverses it, gets a body lock and a take-down of his own! Up briefly, but Rostem puts Sergy to the floor. 41 seconds left, and Sergey tring to reverse, and does briefly. Now on teh feet. They both hit each other at the same time. Rostem gets hit and is wobled, then lands a shot on Sergey!
29-28, 29-28, 29-28 in favor of Khandozhko
MAIN CARD
Swede Daniel Teymur (6-3-0) vs. Korean Sung Bin Jo (9-0)
Teymur comes out aggressive, and landing some bi-down.g swinging punches before trying for a take-down. The Swede eats a knee before charging in for a double-leg take-down. Good punches from the top. Jo is up, and back to the feet for some more exchanges. A good knee, and almost a big punch from Sung. Teymur puts his arms up, wanting more, but the Korean does not engage.
No fighter is the agresssor in a slow paced round two. The pace picks up in the third, as Jo looks for take-downs, and at the 2 minute and 30 second mark it is Teymur that counter wrestles to get on top. The Korean is craft on thge grab and looking for leglocks, that brings the fight to the ground. Big left, right combination for Teymur.
30-27, 29-28, 30-27 for Teymur

Denmark's Damir Hadzovic (13-4) vs. American Christos Giagos (16-7) 

Round 1 – Damir defends a take-down to start. Good low kick from Giagos that follows up the action with a take-down. Up briefly, but back down on his back. The American is in control on top, as Damir fishes for some opportunity to escape. And now Damir is up, and lands some good shots at the bell.
Round 2 – A nice uppercut from the American, and then a knee. Giagos is really aggressive, and looking for a KO, but Damir puts his chin down and throws a good right of his own. The southpaw is tricky on the feet, and the Bosnian Bomber is having issues, and now taken down to the mat.
Both fighters look tired, but the American can control where the fight takes place, and gets a take-down, then takes back smoothly, looking for a rear-naked choke. Damir nearly counters, but Christos stays on top.
Both fighters looking to land, and Christos is the one landing. Damir avoids a take-down, but can't get any offense going as the American dances around. Wow, a take-down at the bell for the Arte Suave fighter!
Round 3 – The grappling of the American again giving Damir challenges, and taken down twice here half way through the third round. The energy has been sucked out of the Globen arena. Damir counters a take-down and is on top with just under two minutes. Not much damage but control of the end of the bout for the Copenhagen based fighter.
Finland's Makwan Amirkhani (14-3) vs. UK's Chris Fishgold (18-2-1)

Round 1 – Makwan comes out flying, but Fishgold looks prepared and lands some good kicks. A poke in eye, and the action is stopped to let Fishgold recover. The crowd yells "Suomi" during the pause, which is Finland in English.
Makwan is fighting southpaw and cracks with a right hand to the face. A kick from Chris stumbles Mr. Finland. Makwan pumping a left jab, while Chris looking for a counter right hand.
Chris lunges with a punch, and Makwan with a perfectly timed double-leg take-down. The Finn on top with the UK's fighter's back on the cage. A reverse triangle from Chris, but Makwan just punches him in the face to counter. Makwan on top, and nearly locks in a D'arce choke, but time runs out. Chris helps him up to the feet after the bell, which is very gentlemanly.
Round 2 – They touch gloves in another sign of respect. Makwan dodging kicks, and takes his time figurin gout his attack, which includes a flying right headkick to counter the lowkick –it misses. A nice right-left combination. Fishgold now pressing the action. Makwan with a kick right to the groin, ouch. Back in action, and another good kick from the former Cage Warriors champ. Makwan shoots for a take-down, but Chris locks in a guillotine! Makwan counters, and Chris goes for a d'arce. Makwan defends, and looks for the same choke. It is an annoconda choke, but Fishgold defends and defends as they both spin and spin on the mat, but it is now tight enough for the tap!!!
Anaconda Choke in round 2 at 4:25 for Makwan.
Swede Alexander Gustafsson (18-5) vs. American Anthony Smith (31-14)
Round 1 – The two fighters taking it slow, with only 1 punch in the first 90 seconds. Now Smith with a low kick. The place is loud, with Alex, Alex chants.
Alex the taller fighter has teh reach, but Smith controlling the Octagon, and using kicks. GUstafsson's shin is bleeding due to a leg kick cut. A big right hand attempt from Lion Heart.Gustafsson active on his feet. A good left hand from the Swede as he counters a kick.
Round 2 – Alex moving, and dodges a big right hand. The Swede looks slow to get things going. Good movement, but no volume of punches yet. Smith is sitting on his right hand, and tries to let it go. Gustafsson with a good body shot. A good left high-kick from Smith. A few good kicks from Alex, and defends teh first take-down attempt. The American charges at Gustafsson, and is the agressor here. A good left hand from Smith. The Swede picking up the pace here, but other close round.
Round 3 – The two go after to start the third, and Alex is in the pocket firing away for the first time, but both fighters exit without much damage inflicted. Gustafsson is circling away, but comes in for a good right hand before dodging a few bigger right hands that miss. Alex is weary of the leg kick, ad blood pours down his shin. Very even match so far, and fighters going strong with kicks. Gustafsson lands a kick, then stright to a body lock for a take-down. Alex is on top! Ground and pound till the final bell.
Round 4 – After a few exchanges, Smith rushes in for a take-down and ends up taking Alex's back! Both legs are in, and the Swede is flattened to the mat, and now in big, big trouble. A body lock, and now a rear-naked choke. And the quietest Globen arena you have ever heard.
Submission victory for Smith.