Christian Colombo, currently ranked as the #5 heavyweight in the Nordics by MMA Viking, won again Saturday night with a stoppage over Wieslaw Kwasniewski at European MMA 4.  The Dane out of Combat Sports Academy now sports a 5 win and 1 loss record, in a career which hasn't seen a decision yet.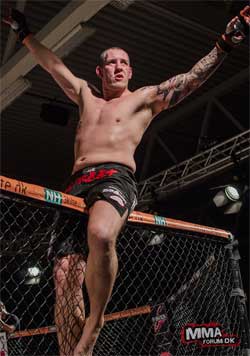 European MMA matchmakers put an undefeated Poland fighter, Wieslaw Kwasniewski, in front of the local for the next challenge in "Godzilla's" career.  Colombo was able to keep control of the whole bout, controlling the tie-up throughout the five minutes of the first round, and land crushing knees throughout.
Kwasniewski, a participant in the K-1 World Grand Prix in Lodz, wasn't able to enforce his game, while the more athletic Colombo used his quickness and athleticism to dominate the match.  The Polish athlete wasn't able to come out for round 2 at Stadionhal in Viborg, Denmark, forcing the bout to go in favor of Colombo.
"Everything went according to plan" posted Colombo on his Facebook page shortly after the bout.  "I am disappointed he didn't have more…. but a win is a win".