MMAViking.com gets insight into the upcoming European MMA 7 card going down at the Vejlby Risskov Hallen in Århus from European MMA owner/promotor Otto Knudsen. "As always there are many exciting fights at EUMMA. But our Main Event between Simon Carlsen and Tomasz Narkun is gonna to be old school, set up as a Striker vs. Grappler." says Knudsen about this Thursday's card.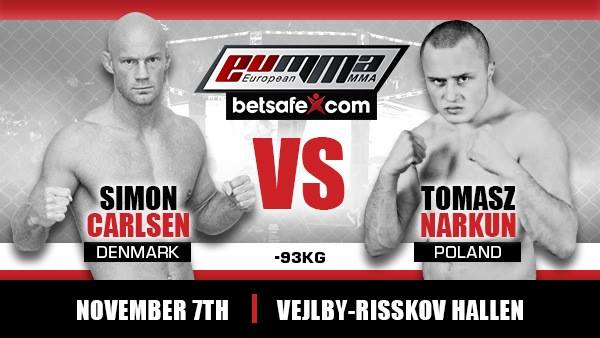 The headlining bout is a EUMMA Champion and Dane Simon Carlsen (8-4), who fights out of Fight Gym Odense and Shooters BJJ Odense, and will headline the event with a title fight against Polish challenger Tomasz Narkun (7-1). "Tomasz is ranked number 79 in the world. So Simon has to come up with his best to win the belt. Either Tomasz will submit Simon or Simon will knock out Tomasz." continues Knudsen about the headliner in Denmark.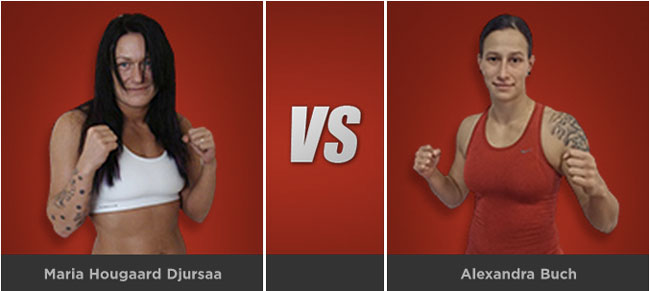 Danish Maria Hougaard Djursaa (4-4) will make her second appearance in EUMMA and look to continue her win streak against the slightly more experienced Alexandra Buch (8-2), that fights out of Germany. "The two girls have a lot on the line here. There is not many girls left in Europe there is not signed up bye either UFC, Invita or cage warriors. So they will both come to fight and sell them self for the big shows OVER THERE." comments Knudsen.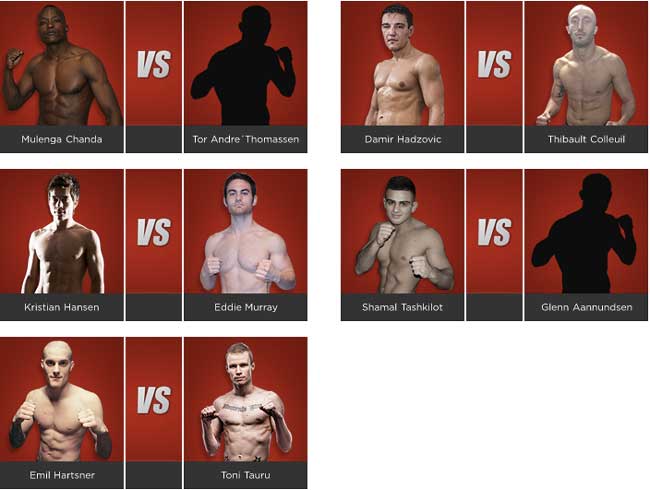 Emil Hartsner (4-0) returns from the States after a short stint where he fought to get into The Ultimate Fighter house and spent some time at the Alliance Gym in San Diego. The Frontier MMA fighter's opponent will be the tough and talented Finn Toni Tauru (7-1-1), who has won his last four fights with a rear naked choke. Knudsen comments "We have signed up Emil Hartsner for a 3 fight deal. He just came home from TUF. Both Toni and Emil are grapplers and have won most of there fights on chokes. I think we will see a chess match on the ground and I expect that one will end with a submission victory on choke."
"We also have Kristian Hansen vs. The local "US fighter" Eddie Murray. Murray is a good wrestler and Kristian Good stand up fighter so again we have the classic set up." comments Knudsen about the international bout.
European MMA 7 Fight Card
Simon Carlsen (8-4, Denmark) vs. Tomasz Narkun (7-1, Poland)
Maria Hougaard Djursaa (4-4, Denmark) vs. Alexandra Buch (8-2, Germany)
Emil Hartsner (4-0, Sweden) vs. Toni Tauru (7-1-1, Finland)
Damir Hadzovic (6-2, Denmark/Bosnia) vs. Thibault Colleuil (5-4, France)
Kristian Hansen (2-1, Denmark) vs. Eddie Murray (USA)
Mulenga Chanda (1-1, Denmark) vs. Tor-Andre Tomassen (1-0, Norway)
Shamal Tashkilot (2-2, Denmark) vs. Glenn Aanundsen (1-2, Denmark)
All European MMA show can be seen live on Viasat Sport 1 in all the Nordic countries from beginning at 21.00 local time in Denmark.
Stay tuned to MMAViking.com and www.facebook.com/mmaViking for live reporting.