Swede Emil Hartsner has been on a whirlwind, living in the USA and losing on the first episode of The Ultimate Fighter. Now he is back to show how much he has improved, and "Megahertz" has picked surging Finn Toni Tauru as an opponent for his next test. Tauru has 7 wins and 1 loss, while Hartsner is undefeated at 4 wins and 0 losses as his TUF match was an exhibition.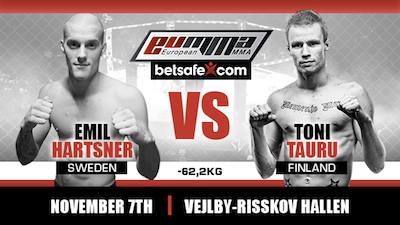 Interview
MMAViking.com talks to Hartsner as he prepares to step in the cage on the 7th of November in Århus, Denmark for the European MMA 7 card.
What do you think of Toni Tauru?
I think Toni is a tough guy, and that's what i like, i don't want to fight cancrushers i want to fight good tough guys, just like toni.
How much have you improved since you appeared on TUF?
I am a new fighter, after a loss you get a receipt of what you're good at and what you have to improve. I been working on my wrestling and standup, feeling very very confident.
But in my head im a new fighter.  The TUF fight wasn't easy, no coach, a lot of pressure and so on. BUT now i have my coaches and the people around my that i trust.
Where have you been training?
I've been training most of the time at my gym Frontier MMA, but before i went to team Alliance, system training center i LA, and with my friend at blackhouse Pedro munhoz.
Prediction for the fight?
We have to see on Thursday.
And thanks to new sponsors Units, worx, Ompu and Frontier MMA!
Video Highlight from Heroes by MMAViking.com
See what Tauru has to say about Hartsner in a recent interview.  Stay tuned for MMAViking.com for live play-by-play and exclusive pictures.