It was an epic night of fights in Kotka, Finland, as the precision striking of Jani Ridasmaa proved to be too much for the Primus Fight Team´s  Kennet Mattsson.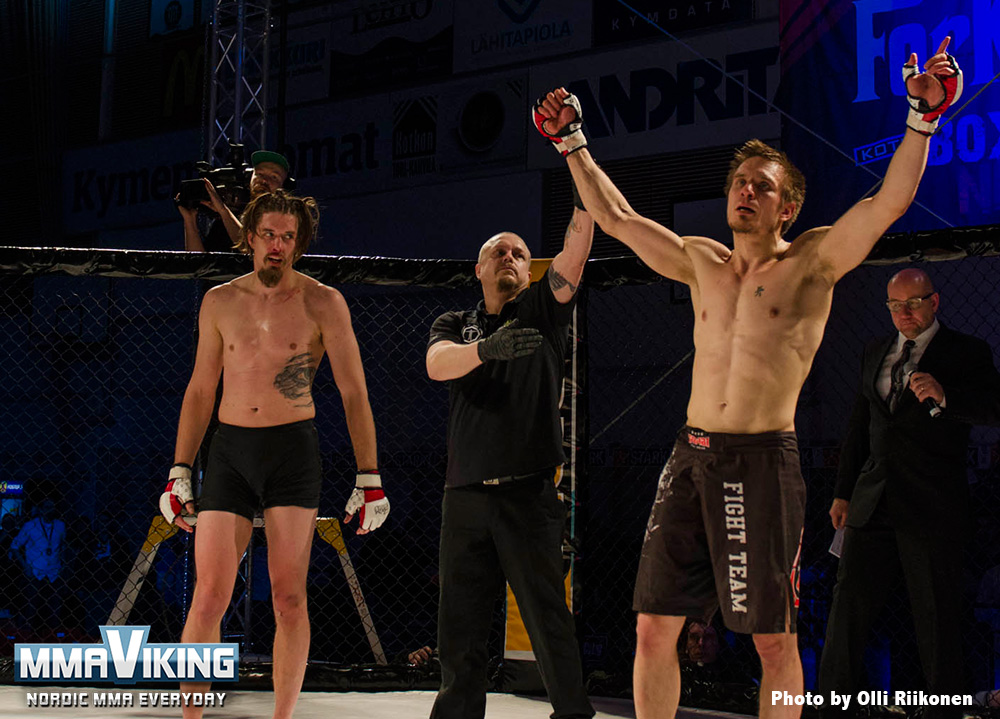 Ridasmaa got into a bit of trouble early as Mattsson threatened with a barrage of leg attacks, but Ridasmaa showed strong composure and defense against the leg-lock specialist. By the third round Mattsson´s takedown attempts became labored and Ridasmaa was able to dominate the stand-up portion of the bout with crisp combinations and counter right-hands. The Team East Front (TEF) fighter improves to 8-4-1 in the unanimous decision victory in front of his hometown crowd in Kotka.
Also on the card was TEF´s Eeva Siiskonen who battled Hungary´s Irén Rácz to a draw, France´s Valentin Deschamps who left Finland´s Jari Illikainen bloodied and battered in a unanimous victory, and Timur Terekhov beat Janne Häkkinen in a close back-and-forth fight.
Finn Marko Tani outpointed Russian Armen Ilyshichev in his pro debut, and France´s Mouman MsSaate beat Joni Sarkala via triangle choke.
Check out photos from Olli Riikonen below.