Finn Glenn Sparv (21-7) was submitted by France's Gregory Babene (20-11) in the middleweight division at the inaugural ARES Fighting Championship event in Dakar, Senegal tonight.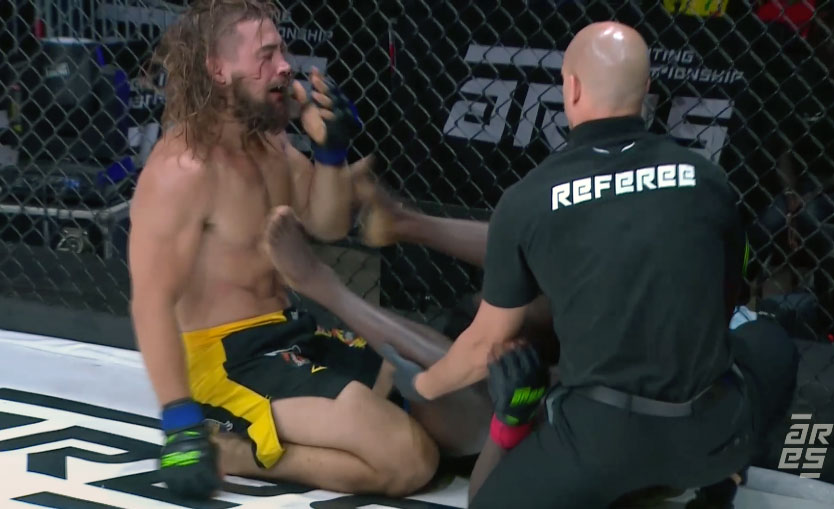 Here is play-by-play of the action leading to the second round finish:
Round 1 – Sparv moving forward, using his jab, and looking for a big right hand.  A miss and Babene is in on a body lock and puts Sparv on his back.  Half guard for the French man, and Glenn using up kicks and hammer punches from the bottom to get distance.  The Finn is able to reverse the position mid way through the round and take back against the cage.  Gregory is able to stand up and but Glenn gets the fight to the ground and land some good punches and knees.  Now back to the feet, where Teddy Bear lands a good right kick.  A good right, then left for Babene, and another few good more looping punches.  A good counter right sends Gregory down to the ground, but not seriously hurt.
Round 2 – Sparv really using that low right kick, and Sparv in on a double leg, putting Babene on his back.  The French man throws up his legs and locks in a triangle against the cage, oh it is tight. 
Gregory Babene wins via triangle choke at the second round ! The very first submission in #ARES history‼️ #ARES1 pic.twitter.com/SG9a6dpClU

— ARES Fighting Championship (@ares_fighting) December 14, 2019
Oh, and he squeezes to get the tap.  A slick submission out of nowhere to end the fight at 2:04 of the second round.