Three Halmstad MMA fighters will make the trip to Koblenz, Germany to do battle at VoteMMA 4. The event is set to take place at the Rhein Mosel Halle at October 24th. The trio is made up of Alan "The Brazilian Viking" Carlos (11-8) and the two debutants Robert Nyström (0-0) and Nikola Novovic (0-0).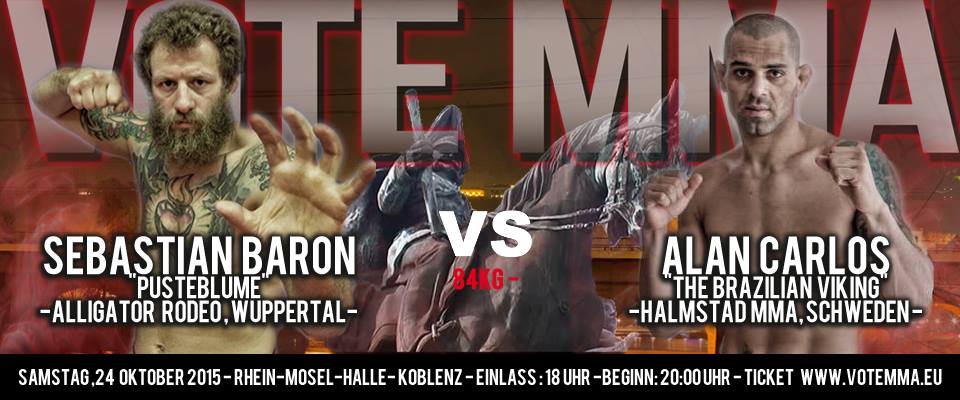 The Sweden-based Brazilian will take on a German veteran in the 41 year old Sebastian "Pusteblume" Baron (10-12) from the Alligator Rodeo Team whom is considered somewhat a pioneer in German MMA. Carlos comes off a win at the Superior Challenge 10 in early May last year where he KO'd Daniel Acacio in the first round. Both fighters have a good grappling record with some nice wins by submission and they both have some KO power, so this will most likely be an interesting match both standing and on the canvas.
Nicola Novovic is a great grappler training under the BJJ blackbelt Alan Carlos who now will make his MMA debut against the German Norman Gaucho (2-1), a fighter known for being aggressive and explosive both in the stand up fight and on the ground. This is a fight that will probably go to the ground and end there.
Robert Nyström the second Swedish debutant of the event who started making a name for himself with strong grappling and good clinch skills at local MMA events in Sweden. His opponent will be the local fighter Daniel Marx who is also making his pro MMA debut, Marx who has plenty of martial arts experience, he has captured a Naga title, competed in K1 and Brazilian jiu jitsu. So this will be a fight between two promising talents.