Swede Herdem Alacabek (5-1) suffered the first loss of his career as he battled American William Knight (5-0) in the main event of Dana White's Contender Series in Las Vegas Tuesday night.
In the end it was a Herdem dominating early using knees in the clinch and control on top, however a big knee turned the tide in the 3rd round, leading to a TKO stoppage once Knight was able to get on top. Read the live play-by-play below.
Round 1
Knight lands a kick early, then tries for a double-leg take-down, but Herdem defends and counters with punches. In the clinch, Alacabek lands a solid knee. The Swede continues to land more knees, but Knight just takes them. A good kick from Herdem after Knight tries a flying knee. Herdem lifts the American in the air with a double-leg take-down, but William grabs the cage to avoid the take-down. But again the Swede lifts William in the air and this time slams him to the ground.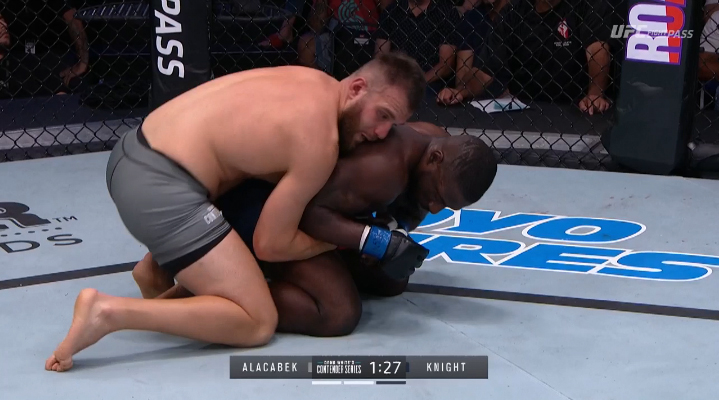 A rear-naked choke for Herdem as Willian turns, and it is tight, but Herdem can't finish. The tiring American gets a reversal, and Herdem is quick to try an armbar. A flurry of punches at the end and a flying knee from Knight as the fight moves to the feet.
Round 2
A counter right as Knight kicks sends the fighter to the cage. Herdem with some good body punches. The 31 year old American is tiring, and Herdem continues with body shots. Knight lands an upper cut. A huge take-down from Herdem half way through the round. Alacabek gets back and land lands some right hands as Knight tries to flee. A slick take-down from Willian, and he moves to full mount and rains down punches with less than 1 minute left, but not enough to force a stoppage.
Round 3
Herdem looking to land a big punch, moving forward. Wow, a huge flying knee from Knight to the head!
Herdem is hurt, hurt real bad! Alacabek gets to the clinch, and looks to be recovering and goes on offense! Knight shoots for a take-down, but Herdem defends. But the American turns the corner, but Herdem is back in the clinch. 2 minutes and 30 seconds left, and the fight seems to e up in the air. As the Swede moves forward, Knight ducks under and gets the take-down. Knight defends a take-down and immediately lands punches and know elbows… and now moves into full mount with 1 minute left.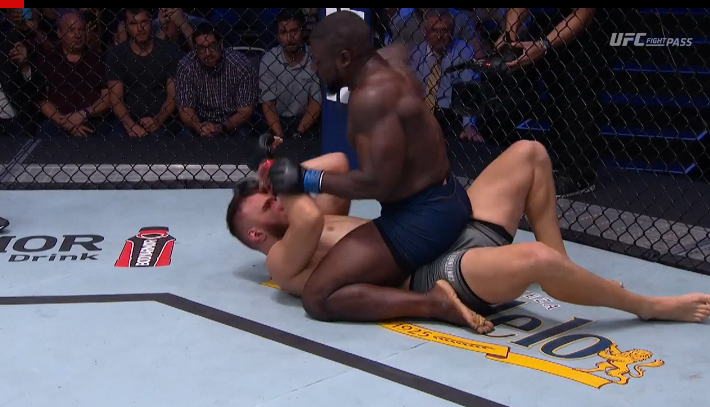 Big fight hand, and Herdem is bloodied. A few more shots and the referee jumps in at 4:34 seconds in the third round by TKO.
"You are in" says Dana White after the fight to Knight, signing him into a developmental UFC agreement.