Jack Hermansson (13-2) will step into the Octagon for the first time tomorrow.  MMAViking.com caught up with the Swede at the fighter hotel as looks to engage with his opponent Scott Askham. "I've been trying to get in contact with my opponent, but he is looking away." says the always friendly Joker that is ready for business in Hamburg.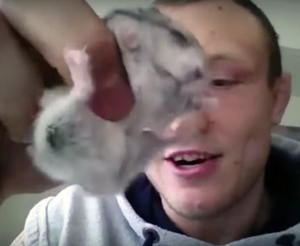 "He is a good fighter… tall ranging with good kicks and jujitsu. We are going to be all over the place." comments Jack about the much anticipated matchup with the lanky fighter.
Hermansson has already had fights in Bellator in 2012 and 2013, where he dropped both matches before turning around his career. "That's why I have 8 straight wins. I grew as a fighter, and much more confident."
MMAViking.com was first introduced to Jack's hamster during a video interview, but times are not so good for the treasured pet. "She had a good life. She was 2 years old." says the Frontline Academy fighter that now looks for inspiration in the recent passing of Tull.
Watch the full video interview here:
Filmed by Jani Mesikämmen. Thanks!