Fight Night 14 has had a round of changes leading up to its event in Lappeenranta, Finland this Saturday.  Team East Front Jani Ridasmaa was supposed to face Kennet Mattsson, but he withdrew from the fight this week. Just last night, it is Sergei Grecicho to the rescue again to face Ridasmaa informs matchmaker Jukka Paananen to MMAViking.com.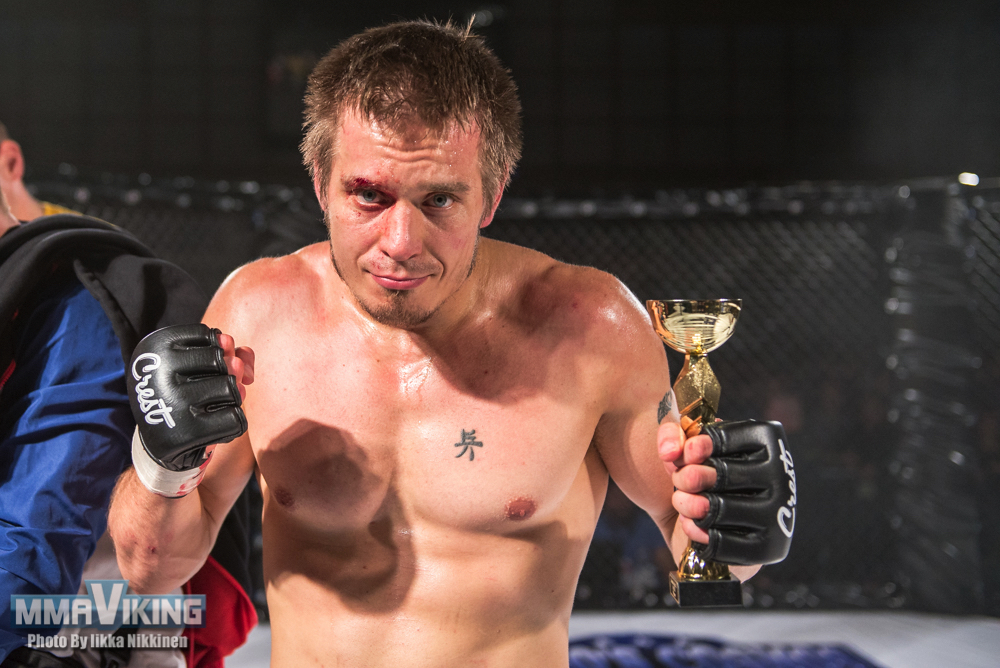 The 30 fight veteran out of Lithuania is no stranger to Finnish MMA, recently coming to LFN 12 to face Antti Virtanen on short notice in April. He also faced Anton Kuivanen at Cage 29 back in February.
Aleksi Mäntykivi (8-3) is in the main event of the card, and the Team East Front fighter is on a roll after winning and stopping his last four opponents. The Finn will face Gregor Weibel (8-3) from Switzerland, a Cage Warriors veteran.
Two Sweden based fighters including Allstars Training Center's Elmir Abasov and Mohammad Babadivand were not able to get travel permits for the bouts and have been scratched from the card.
Fight Night 14
70,3 kg
Aleksi Mäntykivi, Team East Front vs. Gregor Weibel, Switzerland
61,2 kg
Eeva Siiskonen, TEF vs. Diana Belbita, Romania
73,5 kg
Jani Ridasmaa, TEF vs. Sergei Grecicho
70,3 kg
Juuso Halme, MMA Imatra vs. Jerry Kvarnström, Turku Athletes
62 kg
Jari Illikainen, TEF vs. Armen Ilushichev, Russia
70,3 kg
Aleksi Savolainen, MMA Imatra vs. Aleksi Putkonen, Primus
65,8 kg
Edward Walls, TEF vs. Helder Fernandes, Russia
61,2 kg
Joni Sarkala, TEF vs. Matts Norrgård, MMA Team 300
How To Watch LIve
The main card of this Saturday's Fight Night 14 in Lappeenranta will be broadcasted live. Fans can tune in and watch the event on November 28 online as well as with dedicated Android and iOS apps.
"Finnish MMA is on a big upswing. This live broadcast is fantastic for both the sport as well as fans who will be able to get into the Fight Night 14 atmosphere even from their home sofas", says the Fight Night organization's Jukka Paananen.
Fight Night will return to its roots this weekend to Lappeenranta's Kourula sports hall which seats roughly a thousand spectators. Last time around fans packed the venue providing an incredible atmosphere for the event. The main card on Saturday will feature lots of local, south karelian MMA talent from local gyms MMA Imatra as well as Lappeenranta-based Team East Front. The Fight Night 14 broadcast will start on November 28 at 16.45 (UTC +2). As the main event Team East Front's Aleksi Mäntyniemi will take on Swiss Gregor Weibel in the 70,3 kg weight class.
How to watch:
1. Go to www.fanseat.com or download the Fanseat app from Google Play https://play.google.com/store/apps/details?id=com.fanseat or the iTunes App store https://itunes.apple.com/fi/app/fanseat/id1052128304?l=fi&mt=8
2.Check the broadcast schedule at www.fanseat.com
3.Like us on Facebook (Fanseat) and follow us on Twitter (@fanseatcom in Finnish, @fanseatcom_EN in English)
3.Sit back, enjoy our live coverage and cheer for your favorites on social media by using the hashtags #FightNight14 and #fanseat