Swedish MMA pioneer Joakim Engberg gives mmaViking.com an exclusive look into his career, how he starting training Alistair "The Reem" Overeem, and his thoughts on the next star to come out of his gym GBGMMA.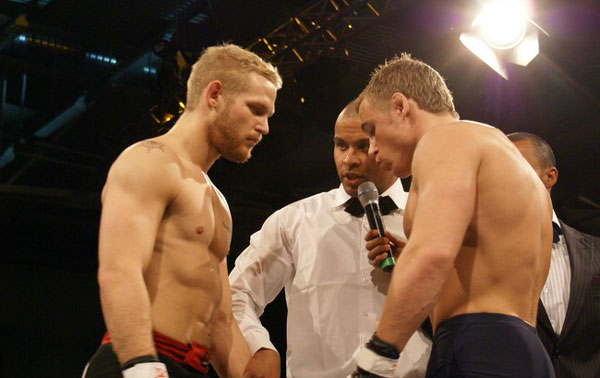 Background
Joakim Engberg's amateur MMA career goes back to 1997, where he started an amazing string of wins extending to 2003 —Sherdog.com's FightFinder page record 17 wins in a row!
After turning pro, he fought on the very first Europen Vale Tudo (EVT) card in Copenhagen, Denmark in December of 2003 along such fighters such as Guy Mezger, Martin Kampmann, Thomas Hytten, and Travis Lutter.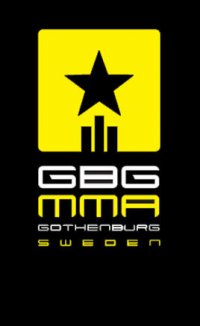 "Jocke" won the bout with a TKO in round 2, and went on to fight with other promotions, including Rumble of the Kings, and Ultimate Warrior Challenge.
The Swede most recently won at Vision FC 2 in Sweden in March of 2011. The 34-year-old lightweight has notched a 7 win, 6 loss, and 1 draw record in his MMA career… which may or may not be over.
Engberg started GBG MMA in 2004, and has been the head coach ever since. Highlights as a coach include being in the corner of Per Eklund as he notched Sweden's first UFC win and Alistair Overeem's win over Brock Lesnar in Las Vegas.
The more notable fighters to come out of the Gothenburg gym include UFC and TUF veteran Hamid Corassani, and UFC-level fighters Assan Nije and Sirwan Kakai.
Today, he continues to drive the Gothenburg gym and building a next generation of fighters coming from the west coast of Sweden.
GBGMMA Highlight
Interview
You have the most incredible record on Sherdog Fight Finder Record where you have 17 straight wins as an amateur. Is this accurate about your early MMA days?
Yes, I would say, though actually I think there are some wins that are not in there. I do not think my early wins are not because I had any special talent, just that I trained harder than anyone else at the time.
I participated in my first shootfighting match in 97 in Sweden and quickly I became more experienced than my coach August Wallen.  This meant that through my entire career, I have been both planning and drilling my own training sessions.
It's nearly 10 years since I started my own association named GBGMMA.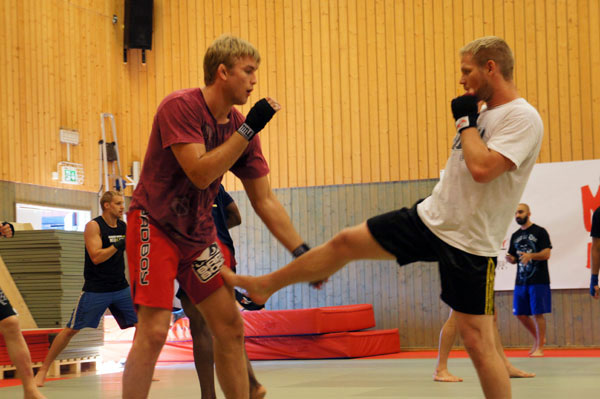 Today you are more known for your head coaching Swedish fighters through GBGMMA's and others like Allistair Overeeem. How did you get involved in coaching and hooking up with "The Reem"?
Coaching and fighting at the same time is far from optimal, and I ended up at a level with both where I finally had to make a decision. Fight or coach. A neck injury along with the chance to coach Alistair tipped the scales to coaching the decision.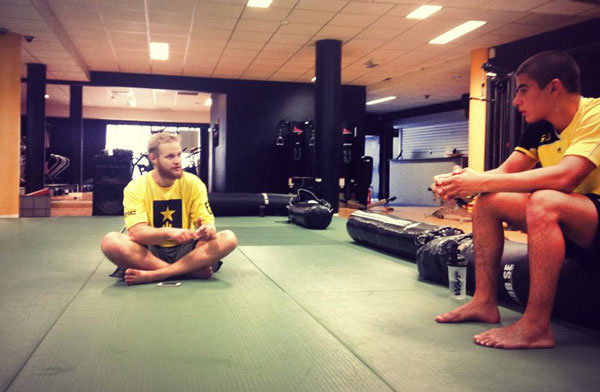 Overeem has for years visited us on GBGMMA to polish his grappling while he help us with our standing fight. In changing with Golden Glory, I got the chance to coach Alistair, a chance which I immediately took.
You last fought in 2011, would you consider a return to the cage?
It's a bit like being an alcoholic. You are never completely free… just recovering alcoholic. I'm thinking about going into the ring every day. But everything has its time. Right now the boys and girls at the club are the ones I put my energy into.
Can you talk about the up-and-coming fighters at GBG MMA that the Nordic fans should keep an eye on?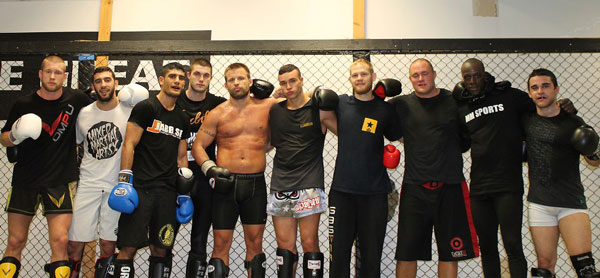 We have very talented fighters coming up! GBGMMA had a small generational change but the future looks bright!  Here is an overview of some of the up-and-comers:
Niclas Danielsson (3 wins and 1 loss in pro MMA –  Sherdog page:
77 kg bull. He is incredibly tough and strong with a dangerous right. He is recovering right now from a serious right knee injury. But it will be fun to see him come back and continue to smash in the ring.
Danielsson vs Dennis Erdogan (Hilti Stockholm)

Botan Tokay (4 wins and 1 loss in pro MMA – Sherdog page:
Has a fantastic double leg. Has the amazing ability to bridge the gap quickly. Botan is training for the first time as a pro and it shows in his improved standing and ground and pound. He has all the ingredients to go all the way.
Tokay Versus Ivan Thomsen Mikenta

Rami Aziz (3 wins and 2 losses in pro MMA – Sherdog page):
Rami has a huge technology and banking experience. Now he has really matured as a fighter and makes everything easier for himself. This has been featured and won a number of big match ups, including Norwegian champion in Thai boxing, and a quick submission win here in Gothenburg.  He also just won in impressive fashion on the most recent The Zone FC card.
MMAViking.com Interviews Aziz after The Zone FC 11 Win

Sebastian Herrera (1 win and 0 losses in pro MMA – Sherdog page):
He has just won the Swedish championship in amateur MMA, twice. Sebastian is an intense and aggressive fighter. Good takedowns and scramble.
Herrera versus Son Le Binh (Gladius MMA)

Jensen Minge:
Minge dances into the ring and continues in the same manner even in the cage. Our version of Anderson Silva. Have some really nice knock outs on his record.
Minge Versus Tyler Phyllips

Johan Emanuelson:
Recently win the SM shootfighting with a high kick. Despite a fast KO grappling is Johan's forte. Will take the step forward in a match this autumn.
Emanuelsson at Swedish Championship Amature MMA & Shootfighting For the Bantamweight title

Christoffer Hilsjö AKA Captain:
Is very calm and controlled in the cage.  He won his first amateur match in Denmark on KO.
Hilsjö Versus Niklas Norberg (Conde BJJ & MMA)

Karin Anderson:
Every time we have someone new guy who's a little too cocky on the mat so I usually match him with Karin. It always ends with the opponent being a little more humble after the session. Karin is awesome grappler with a small title under her belt. She went in the spring semester first shootfighting match that ended quickly and convincingly.
Andersson vs Susanne Johansson (Gladius MMA)

Then of course we have Sirwan Kakai that is just amazing. Also, Assan N'jie has this whole year has been plagued by injuries but will surely soon be back in the ring and continue to crush everything in his path.
GBGMMA is open 365 days a year from 06:00 – 23:00.  The address is Esperantoplatsen 5, 411 19 Göteborg.
Buy Tickets