Khamzat Chimaev (11-0-0) beat Gilbert Burns (20-5-0) on the main card at UFC 273 in Jacksonville, Florida. Read the play-by-play of the intense 15-minute battle below.
Absolute warriors 👏 #UFC273 pic.twitter.com/zSlclmWPN4

— UFC (@ufc) April 10, 2022
Chimaev moves forward and throws an overhand right and in on the lefts, but Burns defends. In on the legs again, and this time Khamzat finishes the take-down. Burns to the feet and front rolls, but Chimaev stays on top. Gilbert with a calf kick, and we got a fight. Burns lands a right hand and Khamzat waves him in. 3 punch combination from the Sweden based fighter. The left hook of burns lands. Good left hand from Khamzat that slips to the mat briefly. A jab lands! Khamzat rocks Burns that flops to his back! Khamzat swarms and burns fires back from his back. 30 seconds left and burns is cut. Good counter from the Wolf, and Burns lands a shot. Round 1 to Khamzat.
Burns in on a take-down attept, but defended. Khamzat lands a good countershot. Burns with a good right hand that stuns Khamzat. Burns landing calf kicks, and Chimaev landing punches. Burns lands a left and swarms with punches and moving forward! Chimaev in the pocket and lands a solid right hand. Half way through the fight, and this is crazy. Low right kick by Chimaev. Both fighters throwing hands. Gilbert attempts a double-leg take-down, but defended. Back to the feet and now Burns moving forward. Good overhand from Chimaev. Khamzat throwing right hand and right hand, but Burns defending. Khamzat closing in but Burns against the cage, but the Brazilian nails him with a BIG right hand, but Chimaev takes it and in on the legs. Burns should get that one, and seems that the third round will decide this one.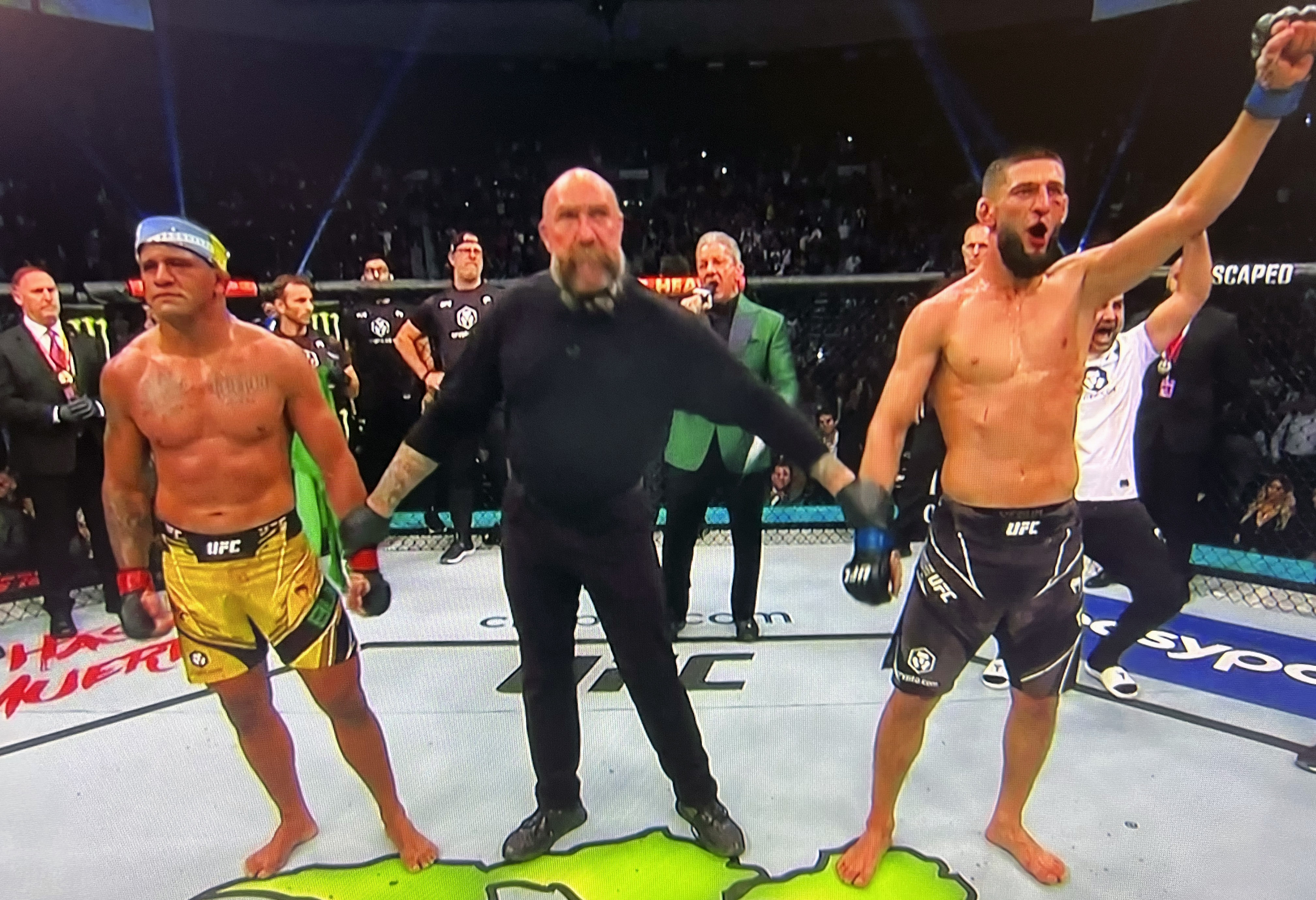 Chimaev lands some good shots, and a nice uppercut from the Sweden based fighter. Burns in on a take-down, but Chimaev defends and stays on the feet. And the two split apart. Chimaev landing shots! Burns looks exhausted! The Allstars fighter landing body blows and a knee. 3 minutes left in the bout. Another right hand and another from Chimaev. Gilbert shows he has something left and throws some shots, but he is bloodied. Khamzat lands a right and left, then a kick to the body. Gilbert lands. Chimaev lands. Gilbert with a left high-kick, Chimaev moving forward. Burns lands a huge shot and another swing that misses. Right from Chimaev, and a flying knee at the end and the two embrace at the end of a 15-minute classic. What a war. Coach Andreas telling the Wolf to raise his hands to show he won. And he does. Chimaev wins 29-28 on all scorecards.