MMA Viking will be posting live updates from London as Iceland's Gunnar Nelson will face Brazil's Jorge Santiago on the main card of UFC on Fuel 7. Stay tuned for play-by-play, exclusive post-fight interviews, and press conference coverage.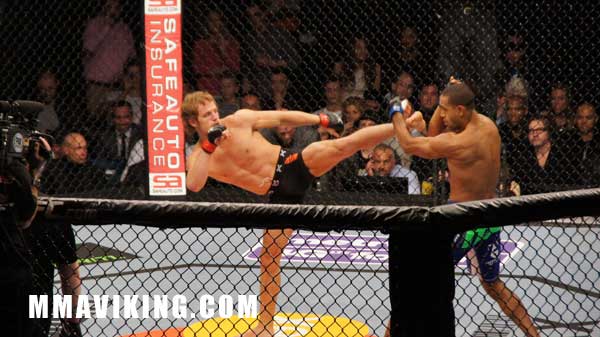 Live Play-by-Play
It is a packed house here at Wembley Arena this Saturday night.  If you have missed the pre-fight interview with Gunnar Nelson, watch it here.  Stay tuned here for play-by-play of the Nelson versus Santiago bout, press conference footage, and a post-fight interview.
It is 9:00pm local time here in the UK, and the James Te Huna versus Ryan Jimmo bout is over. Nelson versus Santiago is up next.
Entrance
Santiago enters first. He is wearing a Gi, and looks more defined than he has ever looked before. The drop to welterweight will be telling, but he looks chistled. Nelson is walking in, and the crowd responds positively. Nelson looks calm, no surprise, and hugs his coaches before stepping into the cage. Nelson raises his hands, and that brings the crowd into the bout with a cheer.
Nelson is crouched waiting for his name to be called. Santiago is bouncing around, practicing his punches, as Nelson relaxes.
Round 1
The two touch gloves, and Santiago looks to strike, but Nelson goes for a double. Quick left and right from Nelson. Nelson in his southpaw stance, and takes a knee and a right hand from Santiago that looks quick at welterweight.
Gunnar chants start in the crowd, and Gunnar looks for some leg kicks. Nelson's hands are down, and Santiago looking for kicks to the exposed head. A front kick from Nelson, and Santiago keeps a nice boxing stance as he moves forward. Nelson with a double leg takedown just over two minutes into the bout, and it is Nelson's world, although Santiago is a black belt. The fight makes it back to the feet, and Nelson trying to size up his opponent and flashes a quick left hook.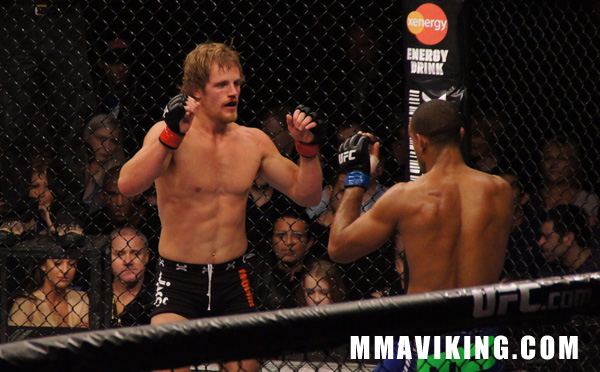 Just over a minute left, and Santiago is looking for some big blows. Nelson dangles his lead hand out as he switches stance, and tries to game plan against the bigger opponent. A few boos come out, but now Nelson is pressing forward. 30 seconds left, and Santiago tries some knees as the two tie-up.
Close round 1. Perhaps Nelson's take-down wins him the round. 10-9 Nelson.
Round 2
Nelson enters round 2, and the Gunnar chants start again. Nelson keeps his hands low, and Santiago again looks for a head kick. A nice left right combination for Nelson, but in the tie it is Santiago looks for knees in the clinch. Nelson with a good flurry against the cage, and a takedown. Nelson on top, looking to pass.3 minutes left in the round, and the Icelander is in control. Nelson with a good left shot to the grounded Santiago. Two minutes left, and the "Gunnar" chants have an Irish accent. After a few more punches, Nelson passes guard and now takes full mount. 40 seconds left, and Gunnar deciding where to go from here. A right elbow is his choice, and a right hand, and another elbow… a right and left, and big round for Nelson.
Nelson 10 -9.
Round 3
Round 3, and Nelson looks to be breathing heavily. Santiago looks to be in good condition, but his right eye is busted up. Nelson takes a punch from Santiago snapping his head back. Both fighters seem a little weary, but Nelson Nelson goes high with a head-kick. Big right for Nelson, but he backs off. Santiago lands some good knees to the mid-section, and the two break the tie. Santiago looks tired, and Nelson looking for an opportunity. His left hand has snap, and he goes low with a kick.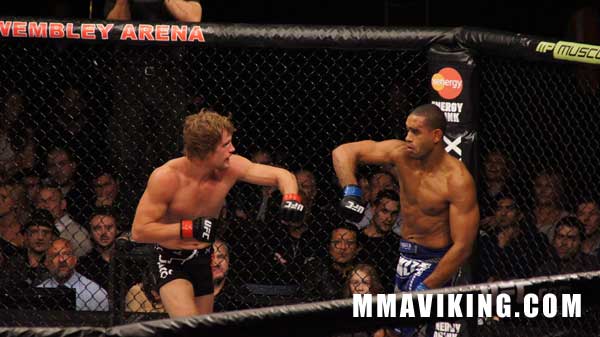 A big hand from Santiago, and Nelson is upset, and lands some big punches backing up Santiago against the cage. Nelson looks to be back in control iwth over a minute left. Big uppercut from Nelson, and he is looking for the kill. Santiago legs are wobbly. 40 seconds left. Give left from Santiago, and the two are leaving it all out in the cage. Knee from Nelson and a right left combo, and it is Santiago going all out at the end, and catches Nelson a few times.
Nelson 10-9.
MMA Viking scoring 30-27.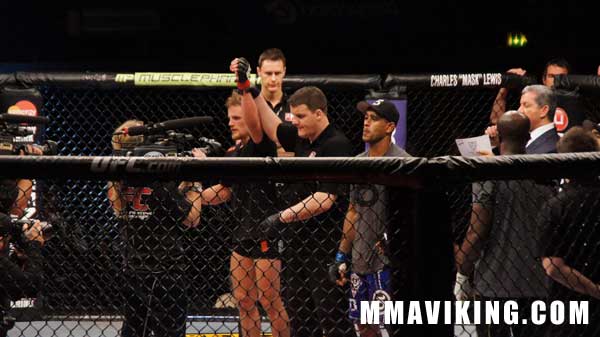 OFFICIAL RESULTS – 29-28, 29-28, 30-27 official decision for Gunnar "Gunni" Nelson declares the Bruce Buffer.