BRAVE CF 37 in association with Bulldog Fight Night goes down today without any fans in Stockholm, Sweden as part of the first of three events over the next three weeks.
The main event will be a welterweight battle between Finland's Henri Lintula and Denmark's Louis Glismann. Lintula is an unbeaten prospect, who has a record of 5 wins with 4 of those wins coming via submissions and one via TKO. Glismann is also a great grappler with a record of 6-1. After the defeat via unanimous decision in his pro debut, Glismann runs a 6 fight winning streak with 4 of those fights being won via submission.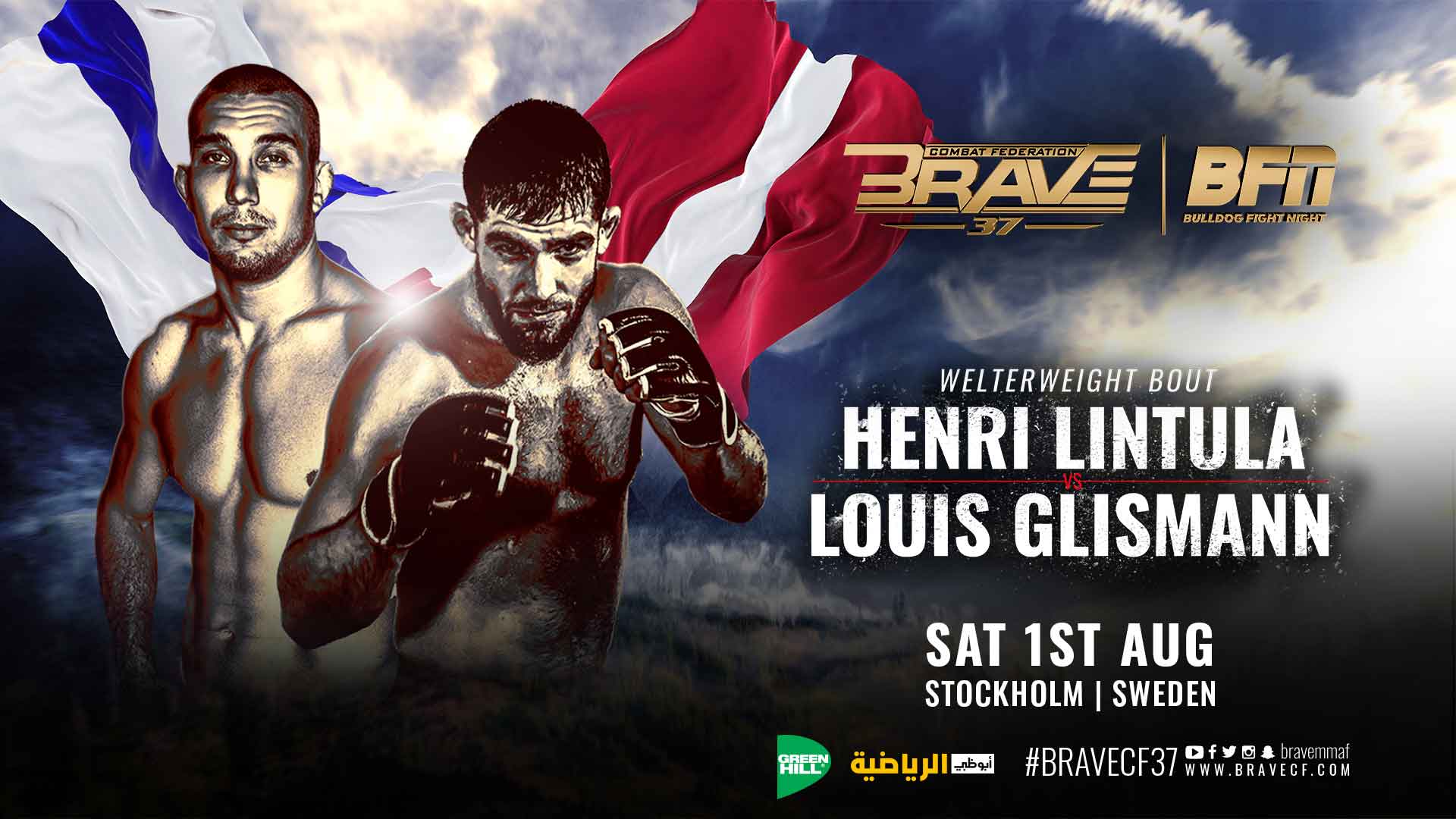 IMMAF champ Irman Smajic from Sweden will face Fatih Aktas from Turkey in the co-main event. Smajic, who currently runs a 2-0 record as a pro, with both of the wins coming by a TKO.
Get event results here.
Live Results
PRELIM CARD – Amateur Bouts
Baysangur Makaev wins by decision over Jakob Valegren
Mattias Henriksson wins by KO over Lucas Wallhager
Martin Corney wins by submission over Dimitris Dimitriadis
Erik Wahrolen wins by submission over Ehsan Sheikh
Abdallah Habib wins by decision over Mamadaliyev Mashrab
Josefine Lindgren Knutsson wins by decision over Nina Back
MAIN CARD – Pro Bouts
Mohamed Zarey (0-0-0), Norway vs. Ahouzi Kouamé (0-0-0), Sweden – WW¨
After some back and forth on the feet, it is Zarey that gets a nice single leg finish. On the ground, the Norwegian based fighter looks very slick, and eventually locks up a heelhook for the finish in the first round.
Hamid Sadid (0-0-0), Sweden vs. Seyedmasud Darake, Iran (0-1-0) – FW
Another short fight, as this goes just over a minute as Sadid lands big and forces a TKO stoppage.
Veera Nykanen (2-2-0), Finland vs. Bianca Antman (0-0-0), Sweden – SW
Round 1 – Both fighters just throwing down here. No steps back and both looking for overhand right hands.
Goos left kicks to the body from the Swede, and Veera keeping her left hand down and sneaking in a jab when she can. A blast double-leg takedown from Veera just as round 1 ends.
Round 2 – The fight stays standing, and a close stand-up war. Nykanen goes for a single leg with a minute left, and just punished as she tries to finish, but the Finn eventually lifts and finishes on the ground.
Round 3 – Bianca is really moving forward here, and senses she need something big to get the win. And out of nowhere, a left headkick leading to a TKO to finish the fight.
Fernando Flores (6-7-0), Sweden vs. Michael Deiga-Scheck (7-3-0), Brazil – FW
Dominant performance from the Swede that is able to get the fight to the ground and eventually get the submission win!
Anton Turkalj (5-0-0), Sweden vs.Athanasios Herkeletzis (3-2), Greece – LHW
Round 1 – Turkalj instantly gets his opponent against the fence and lands some good knees. He works hard and gets the fight to the ground, landing in full mount. He rains down punches as his opponent gives up his back. There is very little defense and after mixing in a few elbows Anton gets the finish in the first round.
Fatih Aktas (5-4-0), Turkey vs. Irman Smajić (3-0-0), Sweden – HW
Round 1 – Smajić takes the centre of the Octagon before pushing Atkas up against the fence. He keeps in control and maintains the position before taking Atkas down. Smajić manages to get the back of Atkas at the end of the round but it's too late as the buzzer sounds.
Round 2 – From the off Smajić is all over Atkas and gets him to the ground, taking his back. He starts to add in some strikes before getting into mount. He rains down some strikes looking for a finish but nothing significant enough and the round ends.
Round 3 – Both men embrace before getting back into action. 2 minutes into the round the fight is back on the ground with Smajić on top. He's made Atkas ver uncomfortable here, just constantly on top of him mixing in some strikes and staying active. A good decision win for him.
Henri Lintula (5-1-0), Finland vs. Louis Glismann (7-1-0), Denmark – WW
Round 1 – Both men are straight into, trading strikes from the off. Lintula tries to get Glismann up against the fence but fails and they're back to striking. Glismann is the aggressor here, moving forward often and being the more active of the two. Glismann scores a takedown and lands in his guard. Both stay active on the ground as it comes to an end.
Round 2 – Both men look to land in the early seconds of the round before Glismann takes it the mat and lands in side control. Lintula gives up his back and Glismann locks in a rear-naked choke. It's in tight forcing the Finn to tap, Glismann improves his record and hands Lintula his first pro loss.