BRAVE CF 38 in association with Bulldog Fight Night goes down this Saturday. This event will become the second one to take place in Stockholm as a part of the three events scheduled in the capital of Sweden in three weeks. In the main event Russia's Abdoul Abdouraguimov (10-1) is facing Carl Booth (9-3) from England in the Super Welterweight division (79.4kg). But Nordic fans are here for the high profile matchup of Swedes Elin Oberg (2-1-0) and Malin Hermansson (5-1-0), Dane Joakim Jankovic (1-0-0) versus Robert Nyström (4-3), and Swedes Dilmurod Molvonov (2-0-0) versus David Jacobsson (6-2).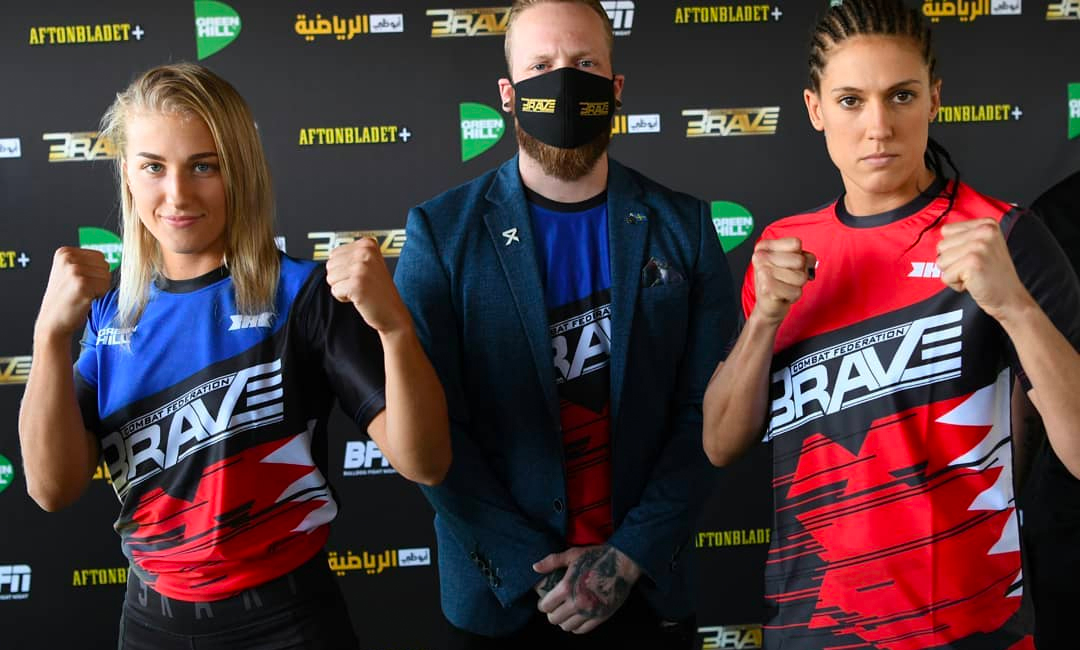 Live Results
PRELIM CARD – Amateur Bouts
Jonna Timesgård beat Alline Torquato by unanimous decision.
Rahmads Stromanis beat Ola Jacobsson by unanimous decision.
MAIN CARD – Pro Bouts
PK Zadeh (2-0-0), England vs. Wasiu Idowu (0-0-0), Sweden – Catchweight (68kg)
Zadeh using his wrestling to take advantage of the Swede, but Idowu did get on top with a nice little throw. But on the ground it is PK that has an advantage and even takes back. To start the second, the UK fighter is. in on the legs almost immediately and back on top. Wasiu out of Nigeria is now based on Sweden to make his pro debut against a tough fighter. But, in this fight it is Zadeh's grappling all the way through that controls the bout and gets the unanimous decision.
Jonny Touma (0-0-0), Sweden vs. Moheb Azizi (0-0-0), Sweden – BW
Touma with some good strikes early. and with two minutes left just a classic single leg finish, and on top into full mount. Now an armbar on top and rolls for the finnish, but Aziza defends perfectly and is out. Back to the feet. Azizi just charging forward, oh crap a spinning backfist! Azizi is dropped, but gets up like a zombie. Another spinning backfist. Touma is on fire!
Moheb just marching forward. Some success in the grappling from Moheb that is able to get in on the legs. However, half way through the round Jonny starts to take over, getting the takedown and sitting on top in full mount. Perhaps the Pancrase fighter is looking to catch his breath. As the two come up, it is Jonny with an obvious illegal knee to the face. But, Moheb takes it well. And they are back at it after a short break. Big right hand by Jonny, but Moheb just absorbs it like a champ.
Azizi knows he needs a big round is just stalking Jonny here. A flurry and Jonny is on his back and gets away with some kicks from down. BIG shot from Touma, but Mohen again just takes it. Perfectly timed takedown from Touma as Azizi marches forward too aggressively. A triangle and armbar attempt from Touma, but as Azizi gets out it is called an illegal upkick to face of a downed opponent. One point taken away from Touma.
Big knee from the taller Azizi, but Jonny lands another power right and then goes in for a take-down. They are back to the feet as the bell rings, and a solid left kick from Jonny to end the fight.
A unanimous decision goes in favor of Jonny Touma.
Joakim Jankovic (1-0-0), Denmark vs. Robert Nyström (4-3-0), Sweden – Catchweight (72kg)
The two come out very clam. Nyström a southpaw looks to land a big left. The two tie up, a body lock by the Dane. Big take-down from Jankovic as he lifts and slams Robert down to the mat. Robert does turn in and gets a take-down for a reversal of his own! Just over a minute left. The two scramble as Joakim escapes, but quickly in on the legs where Nyström grabs a nasty guillotine. No arm, and it is tight putting Jankovic out unconscious quickly. First round submission for Robert Nyström at 4:46 in Round 1.
Dilmurod Molvonov (2-0-0), Sweden vs. David Jacobsson (6-2-0), Sweden – Catchweight (74kg)
Molvonov after taking a leg kick, rushes in to get a body lock and puts David to his back. In guard now, but David is crafty on his back. Eventually David is able to reverse the position. Now it is Dilmurod that reverses. Close round one.
Molvonov in for a take-down in the second, but David is able to get the fight up to the feet. Now a body lock from the Halmstader and knee to the body. Molvonov is able to get on top, as David eases down to his back. Half way through the second. Jacobsson threatening with a traingle for a bit, but nothing there. Just a kill shot of a right hand from Dilmurod, but the two end up in a scramble and now David on top in full mount landing shots on top. What a round!
The two are in the clinch, and Jacobsson getting in some knees to the body with his corner cheering on. Big punches from Molvonov! David might be rattled here, but Dilmurod goes back into the tie-up. Dilmurod battling for the take-down, but now he falls to his back and David is on top and could be getting the best of this round at the end. Big elbow and now punches for David. Great fight.
And the winner is David Jacobsson by decision 30-27, 30-27, 29-28.
Elin Oberg (2-1-0), Sweden vs. Malin Hermansson (5-1-0), Sweden – Catchweight (56kg)
Öberg landing nice variety of kicks early. Malin looking to counterpunch. Elin is quick on her feet, and the Örebro fighter catches a kick and able to get the fight to the ground. Closed guard for Elin this is just chilling, but waits for the right time to pop up and get the fight back to the feet. Elin punishing that fron left leg, that is now red. A take-down attempt from Malin, that wants the fight on the ground. The "Hermanator" has back and standing with her arms around the waist, and now jumps and takes back and looking for a rear-naked choke. Elin is holding up both of their body weights. Malin squeeeeeezes on the rear-naked choke hoping to get a tap, but they fall to the ground and Elin is out to survive the first round.
A nice job and more leg kicks from Elin to start the second round. Elin lands a left head kick, but as she pulls the leg back, it is Malin that gets on top. Malin has back and now squeezing on a rear-naked choke again. Öberg is able to flop to her back, but there is blood all over coming out of Mailin's nose, and it is Hermansson's, which must have come from that solid jab at the beginning of the round. Elin just lets Malin up. Elin just targeting the inside and outside of that front leg. Big right hand for Elin. What a back and forth round.
A HUGE left headkick from Öberg! Elin is now just peppering punches and kick. Malin gets the fight in a clinch, and Malin's face is just a mess. The Örebro fighter wills her way to a take-down. Malin on top for a few minutes, and Öberg is able to get out and lands a solid right hand before Malin scores a last second take-down. What a fight!
29-28, 27-30, 29-28 for a split-decision win in favor of Elin Öberg. "It could have gone either way" says "The Amazon."
Djamil Chan (15-7-0), Netherlands vs. Issa Isakov (7-2-0), Belgium – Super Lightweight (74.5kg)
Isakov wins by decision.
Bernardo Sopai (7-1), Albania vs. Tariq Ismail (6-0), Canada – Bantamweight (61.2 KG)
Sopai won by decision.
Mario Saeed (13-4-0), England vs. Benoit Saint-Denis (5-0-0), France – Super Welterweight (79.4kg)
Denis won by TKo in round 2.
Carl Booth (9-3-0), England vs. Abdoul Abdouraguimov (10-1-0), Russia – Super Welterweight (79.4kg)
Abdouraguimov won by submission in round 1.