Elin Öberg (3-1) had a breakout performance over Malin Hermansson (5-2) at BRAVE CF 38 in Stockholm, Sweden. It was an absolute war with the "Hermanator" almost getting a rear-naked choke in the first, and then Öberg landing a huge headkick in the third to get a split decision victory in the 56kg bout. Read the live play-by-play below.
Öberg landing nice variety of kicks early. Malin looking to counterpunch. Elin is quick on her feet, and the Örebro fighter catches a kick and able to get the fight to the ground. Closed guard for Elin this is just chilling, but waits for the right time to pop up and get the fight back to the feet. Elin punishing that fron left leg, that is now red. A take-down attempt from Malin, that wants the fight on the ground. The "Hermanator" has back and standing with her arms around the waist, and now jumps and takes back and looking for a rear-naked choke. Elin is holding up both of their body weights. Malin squeeeeeezes on the rear-naked choke hoping to get a tap, but they fall to the ground and Elin is out to survive the first round.
A nice job and more leg kicks from Elin to start the second round. Elin lands a left head kick, but as she pulls the leg back, it is Malin that gets on top. Malin has back and now squeezing on a rear-naked choke again. Öberg is able to flop to her back, but there is blood all over coming out of Mailin's nose, and it is Hermansson's, which must have come from that solid jab at the beginning of the round. Elin just lets Malin up. Elin just targeting the inside and outside of that front leg. Big right hand for Elin. What a back and forth round.
A HUGE left headkick from Öberg! Elin is now just peppering punches and kick. Malin gets the fight in a clinch, and Malin's face is just a mess. The Örebro fighter wills her way to a take-down. Malin on top for a few minutes, and Öberg is able to get out and lands a solid right hand before Malin scores a last second take-down. What a fight!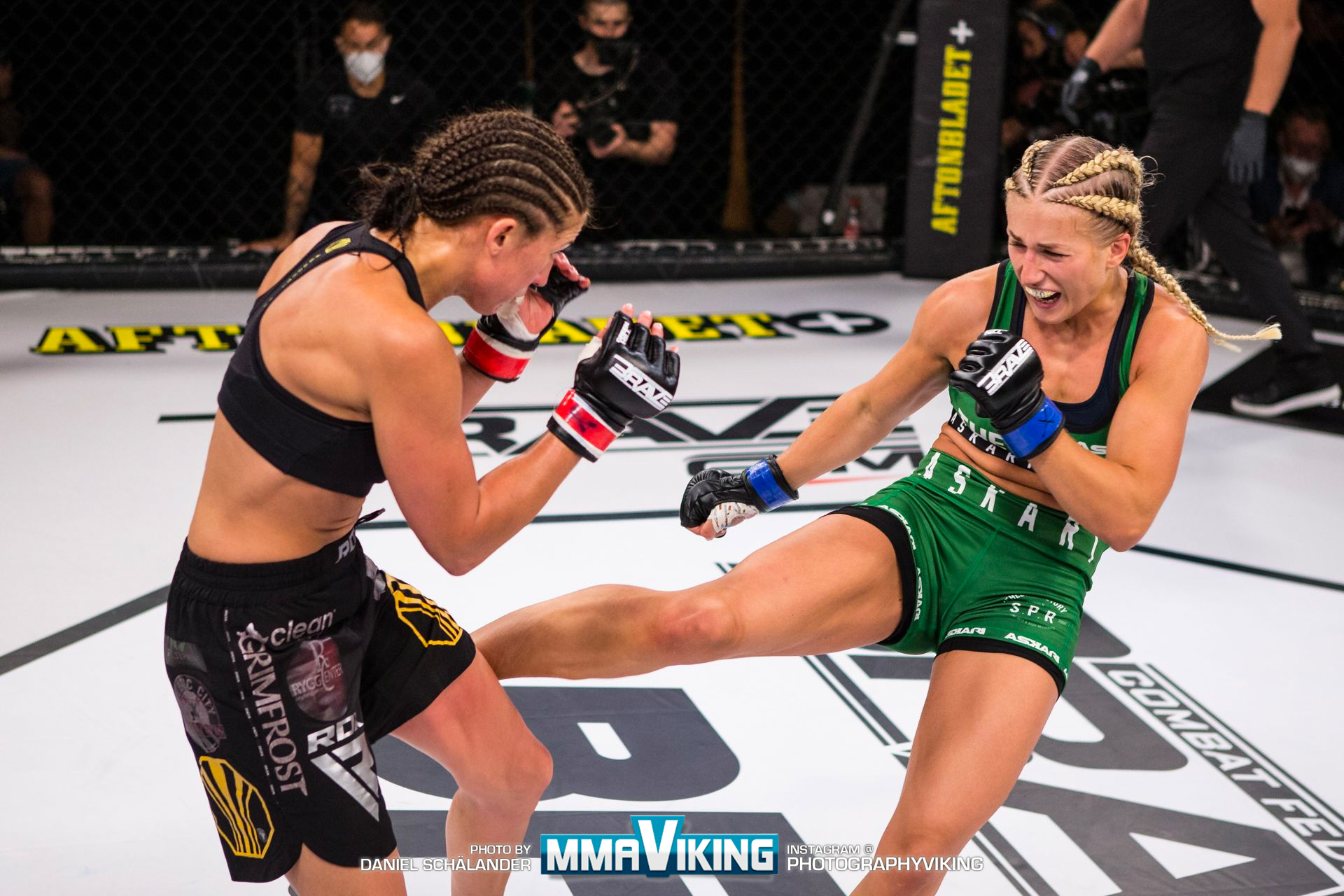 29-28, 27-30, 29-28 for a split-decision win in favor of Elin Öberg. "It could have gone either way" says "The Amazon."