Emil Weber Meek (5-1-1-1) will fight tonight at Fight Exclusive Night (FEN) 8: Summer Edition against Polish fighter Albert Odzimkowski (7-2) in Kołobrzeg, Poland.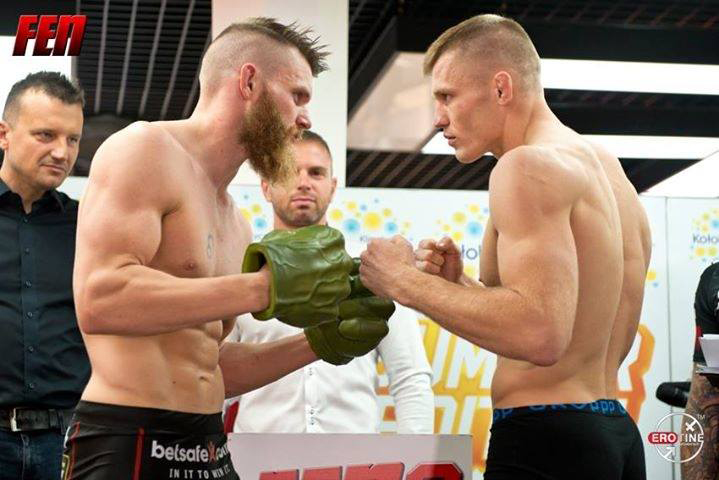 Live Results
The fights tonight will take place in a square ring, with netting below the bottom rope.  The audience seems quite full with about 2,000 or so fans filling the event area.
Oh, they called Meek a "viking" as they introduced him. The Hulk has his game face on and is the first to walk into the cage. The red corner is introduced next, Odzimkowski. Nice little platform with the ring girls and then red carpet entrance to the cage.
Round 1
Quick take-down for the Polish fighter as he lifts and dumps Meek to his back. Meek stands up, and lands a right hand BOMB and has his opponent hurt bad as he follows up with hammer fists. But Odzimkowski recovers and is able to pick up and slam Meek in this wild exchange early. Another takedwon from Odzimkowski and he punches Meek in the face. Fast paced fight! Just two minutes in.
They are on the fight, both with hands high looking for their opening. Meek with back to the ring. Good knee from Odzimkowski, but Meek swings back with a big right hand. What a fight. Right hand rocks Meek, and Odzimkowski is following up with rights and lefts and rights and lefts… Meek puts one hand on the mat as he goes down. More punches and the fight is over.
TKO for Odzimkowski in the first round. The Polish fighter does a backflip, and Meek congratulates him on a fight well done. What a battle.