Fight Club Rush 6 is going down at the Bombardier arena in Västerås, Sweden. Get your live results from the 5 pro fights on the main card here.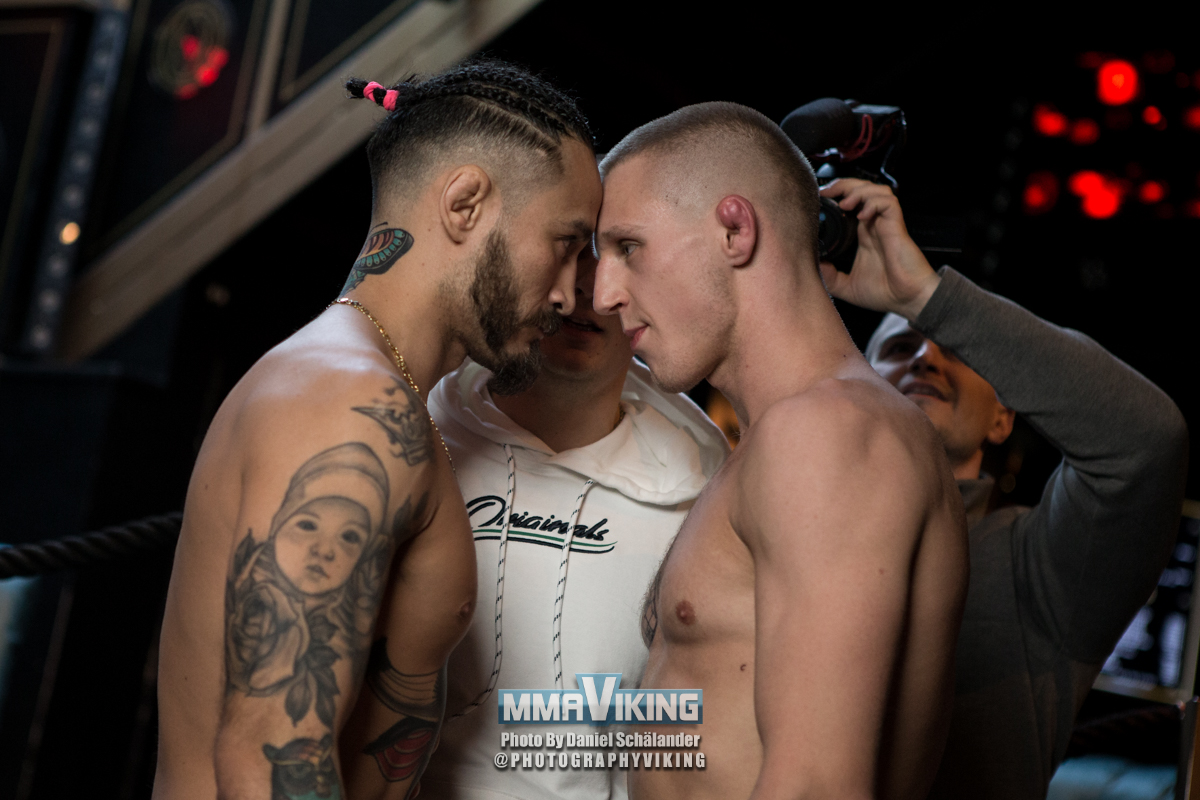 Oskar Sivard vs. Oskar Karlström Biller
Biller is the local fighter gets a nice take-down after the two have some powerful exchanges early in the welterweight bout. Biller gets full mount after a grappling exchange. Sivard out of Allstars tries to reverse, but is caught in a triangle. It is tight, and Sivard goes out cold… and the fight is all over at 3:37 in the first round. Winner by submission Oskar "Killer" Biller.
Ali Taleb vs. Hoger Salih
Taleb from Malmö and Salih from Stockholm. Ali moving forward, and Hoger trying to find an opening to counter punch.  Both fighters getting in their punches.  TAleb is holding his right hand high, and Salih finding a home for his overhand right.  A HUGE right hand for Ali that drops Salih!  Salih and his back and Talib jumps for a tight head and arm choke in on top, and Salih is tapping and it is finally stopped.  What a tight choke, and it is all over at 3:57 of the first round.
Amir Malekpour vs. Ilaz Zabeli
Malekpour out of Pancrase Gym and Arte Suave fighter Zabeli out of Malmö with girlfriend Pannie Kianzad in his corner.  This is a 63 KG catchweight fight.
One, two combination for Amir that is also looking for kicks.  Zabeli with a good left kick, but it is caught and Ilaz drops to his back inviting the grappling, but Amir doesn't want any part of it.  Nice calf kick from Ilaz and a good right from Amir that looks to wobble Ilaz.
Oh a HUGE right hand from Zabeli and Malekpour is hurt!  Ilaz is all over him and lands again, and now looks for a front choke. Malekpour escapes to his feet, and lands a bomb of his own and is now ground and pounding going for a finish!  This is nuts!  Ilaz now looking for a kneebar, but taking punches to the face.  Side mount for Amir, but Ilaz is slick on the ground and gets up and lands a good right hand at the end of the round and a take-down at the bell.  Wow.
The second round starts and Malekpour lands some solid shots, and Malekpour with a nice throw then immediately jumps on top takes back and finishes with a rear-naked choke in a fun scrap.  Both fighters left it all out there.  3:18 in round 2, and winner Amir Malekpour.
Ahmed Vila vs. Arman Popal – Co-Main Event
The two are taking their time early, and now a takedown for Vila.  Vila gets back and both hooks in!  A rear-naked choke is in!  Oh, Popal is comforable even through the RNC was so tight.  Back to the feet, and Vila lands a big punch at the end of the round.  Popal is not happy and a stare-down at the end of the first.  it's on!
A few big punches miss.  Ahmed is calm, and Popal looking for an opportunity.  Vila looks for a take-down, but it is well defended.  Popal moving forward and forward, with Vila throwing a shot here and there.  Ahmed with a good combination toward the end of the round.
Arman probably needs this third round to win.  The pace picks up and Popal lands, now Vila backpedals and lands big.  Arman picking up momentum here and stalking Vila.  The two are just throwing down in the picket.  Half way through the round, and Vila looks cut, but now in on a take-down.  Arman back to his feet, but Vila throws him back down.  Popal back up to his feet.  And with 100 seconds left goes for his own take-down!  Vila likes it on the ground and invites Popal back to the guard.  Oh, and quickly a super tight armbar for Vila, and looking for the finish!  Popal fights out after he fights out of belly down and nearly taps. Wow!
29-28 Popal, 29-28 Vila, and 29-28 Popal say the judges that give the fight to Popal via split decision.
Tobias Harila vs. Fernando Flores – Main Event
Harila with a flying knee, and Flores comes in looking for a right hand.  The Umeå fighter looks bigger here, and in on a take-down 30 seconds into the fight.  Fernando with knees to the back of thigh.  The hometown fighter is out.  Front kick by Fernando, and a straight punch in return from Tobias.  In on another take-down for a bit is the fighter born in Chile.  Good low kick from Tobias.  Counter left hand but again Fernando is in on a take-down.  Spinning backfist to get out against the cage.  Both fighters looking to land frontkicks.  Harila with hands down and feeling comfortable, and a left shot to the liver from Harila.  A solid right hand, oh and big left hand and Flores is dropped.  It is all over right at the bell!  Flores is out as the second punch lands, and that is it.  4:58 in the first round KO for Tobias Harila to earn the Bad Boy of Sweden belt.