Nordic Fighting Championships' (NFC) Helsinki Fight Night will go down this evening. The debut show is headlined by Juho Valamaa (11-3) versus Michal Wiencek (6-2). MMAViking.com is cageside to cover the action.
Results
Hannan Housmand, FFG vs. Karri Itkonen, Gladiator Factory -61 kg
Round 1
Housmand presses forward with a one-two and then lands a hook from the clinch sending Itkonen to the mat. Itkonen lands an illegal upkick, and the ref briefly stops the action. The match resumes and Housmand forces Itkonen to the cage and scores a takedown. Housmand has his man pressed against the cage and rains down hammer-fists while Itkonen tries throwing-up a triangle. Housmand lands several big shots and Itkonen´s face is now covered in blood.
The doctor stops the fight after the first round due to a cut over Itkonen´s eye.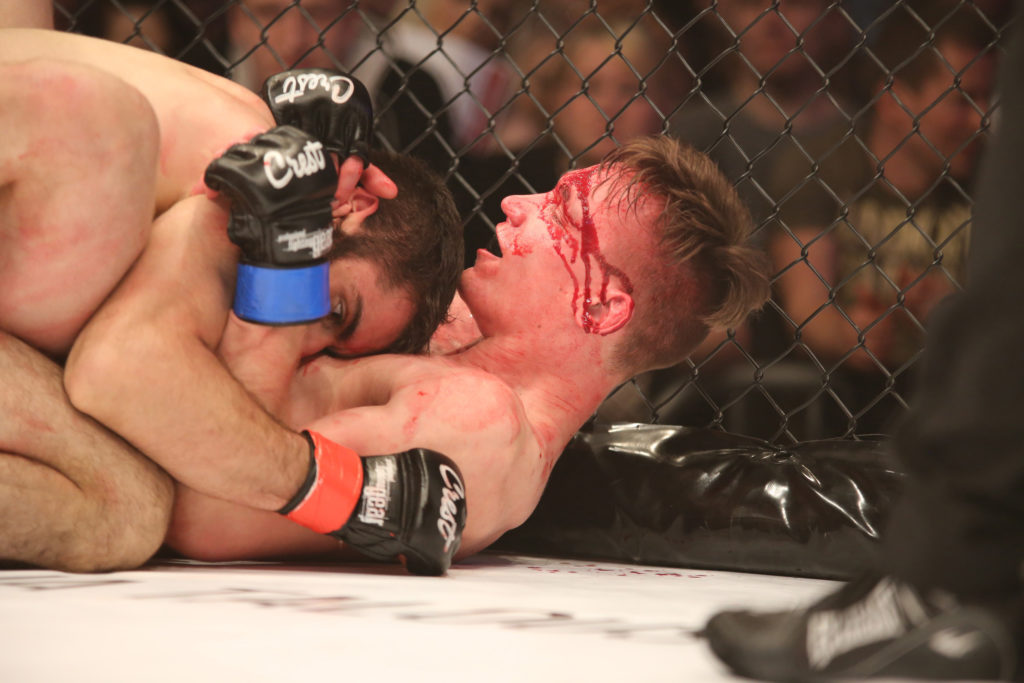 Edward Walls, TEF vs. Manolo Scianna, Italy -65,8 kg
Round 1
Walls catches Scianna´s kick and takes him down. Walls lands a few precision shots, but Scianna is able to scramble to his feet. The two trade straight punches in a close back-and-forth fight. The bell sounds ending round one.
Round 2
Scianna presses forward landing a few big shots. Walls shoots a double-leg and takes Scianna down. Scianna quickly throws-up a triangle choke and submits Walls early in the second round.
Scianna wins by triangle choke.
Patrik Pietilä, Primus vs. Jani Ketolainen, MMA Kotka -72 kg
Round 1
Pietilä takes Ketolainen down early in the round. Ketolainen sweeps, and gets on top. The two go back-and-forth in a grueling grappling exchange. Ketolainen threatens with a kimura late in the round, but the bell rings.
Round 2
Ketolainen takes Pietilä down and briefly threatens a rear-naked-choke. Pietilä reverses position and lands a few shots from the top. Ketolainen scrambles to his feet and the two tie-up in the clinch. Ketolainen scores another take-down, and gets Pietilä´s back again. Pietilä defends well and the bell rings, ending the second round.
Round 3
Ketolainen comes out strong in the third and lands a take-down. He tries another kimura, but Pietilä rolls and scrambles to his feet. Both fighters look tired after a hard fought contest.
Ketolainen wins by unamious decision.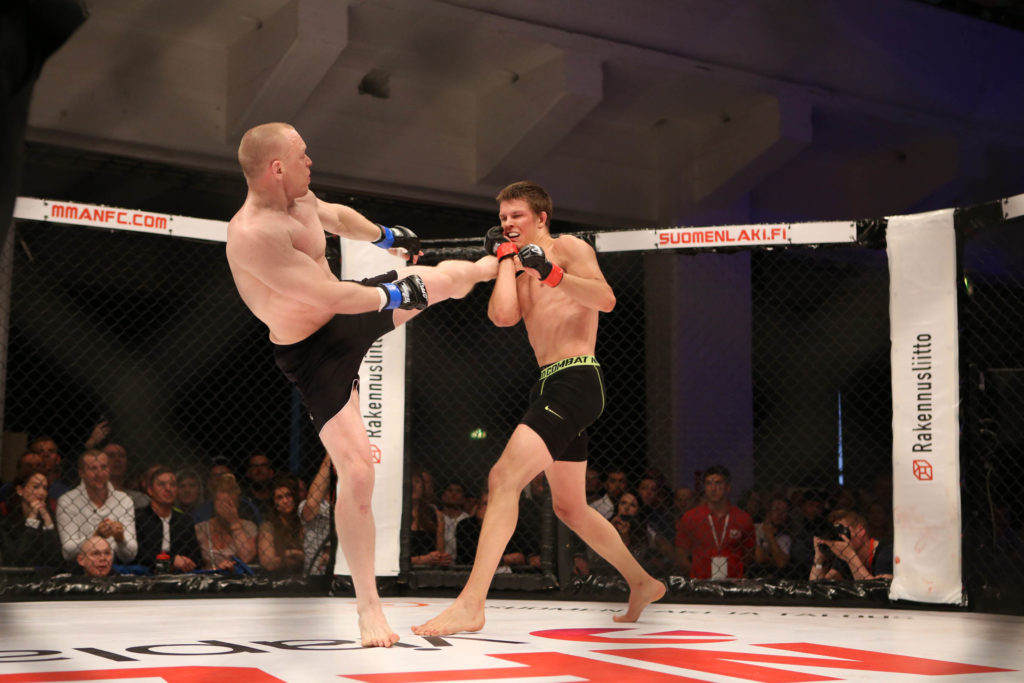 Niko Myllynen, RNC Sport Club vs. Rashad Muradov, Russian -70,3 kg
Round 1
Myllynen starts the match with a hard leg kick and Muradov counters with a straight right hand. Muradov takes Myllynen down twice, but both times the Finn is able to get back to his feet quickly.
Muradov takes his man down a third time and this time is able to land some ground-and-pound. After about a minute on the mat, Myllynen scrambles to his feet, but eats a right hand for his troubles. Muradov has landed several hard rights and there´s some swelling starting to appear under Myllynen´s left eye.
Round 2
Myllynen comes out with a sense of urgency in the second round, throws a leg kicks, which Muradov catches and then cracks Myllynen in the face. Myllynen responds with a nice one-two and takes the center of the ring.
Myllynen lands a nice jab as he looks to pick his shots on the outside. Muradov lands a heavy leg kick, and Myllynen looks to be favoring his left leg. Muradov delivers a spinning  back kick at the end of the second round.
Round 3
Muradov scores an early takedown, but Myllynen is able to quickly return to his feet. Muradov hits a low-single and takes Myllynen down. He quickly advances to mount, but just as he´s about to posture-up and rain down punches, Myllynen reverses position and winds up on top. The Finnish fighter lands some heavy elbows, but Muradov defends well. The bell sounds, and we are going to a decision.
Muradov wins by unanimous decision.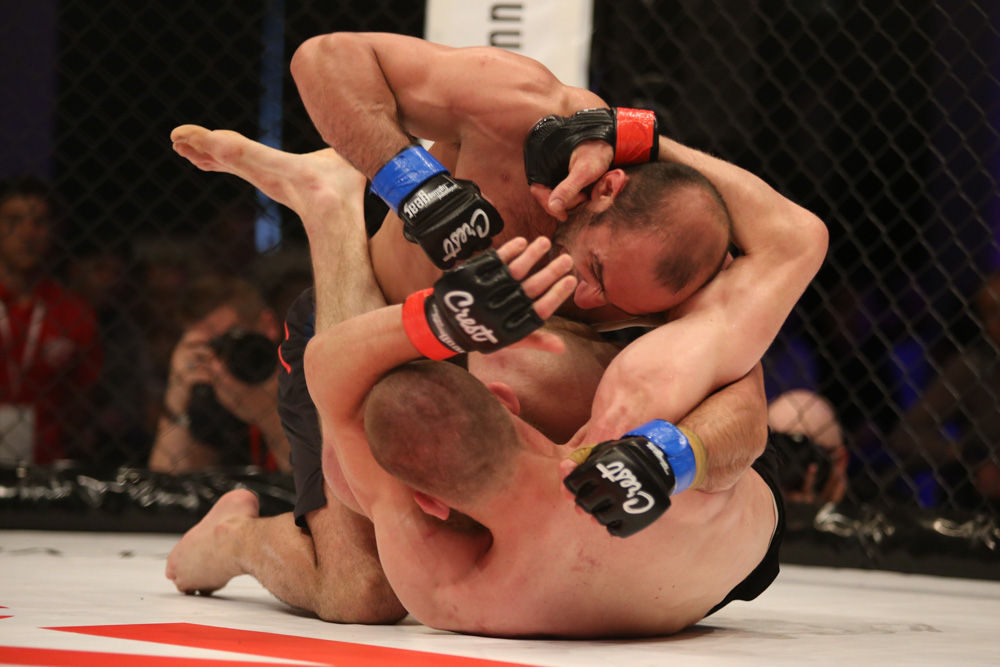 Sergei Bal, Team East Front vs. Mohamed Grabinski, Germany -72,57 kg
Round 1
Bal comes out fast, landing a hard leg kick and Grabinski presses him up against the fence.  Bal catches Grabinski´s kick and sends him to the mat. Bal works to keep top position, but Grabinski powers out with a strong under hook.
The two scramble to the feet, and Grabinski takes Bal´s back an lands a few knees. Grabinski briefly gets him down, but Bal is able to get ot his feet and land a nice spinning back kick. Grabinski answers with a spinning wheel kick that just misses its target.
Round 2
Grabinski comes out strong in the second as he powers Bal to the cage. He hits a single leg and quickly advances to half guard. The German lands a few shots, which forces Bal to give up his back.
Grabinski controls the back for the better part of the round, landing short shots as he looks for the choke. Grabinski sinks in the choke but time runs out.
Round 3
Both fighters come out noticeably slower in the third after two hard fought rounds. Grabinski takes Bal down and goes to half guard. Body, head, body, head, Grabinski mixes it up nicely from a dominant position.
Bal uses a lockdown to threaten a sweep, but to no avail. Grabinski closes out the round raining down punches on Bal.
Grabinski wins by unanimous decision.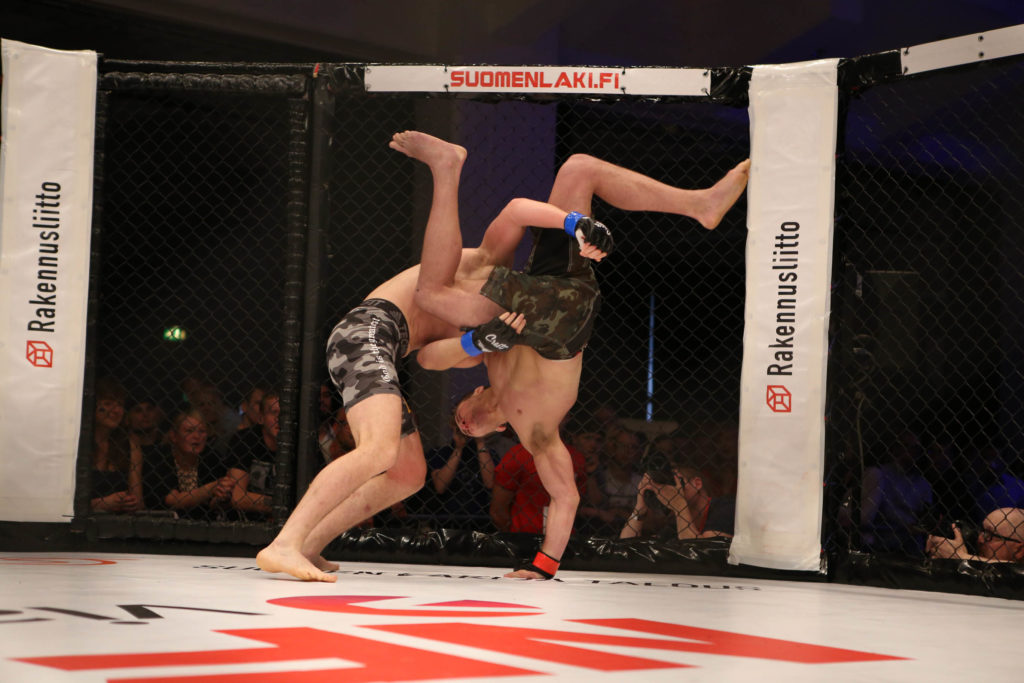 Ott Tonissaar, Primus Estonia vs. Daguir Imavov, France -70,3 kg
Round 1
Tonissaar lands a quick takedown and Imavov tries for a guillotine. The fighters scramble to the feet, andTonissaar presses Imavov to the cage.Tonissaar trips Imavov, and the pair crash to the mat with Tonissaar landing on top.
Tonissaar passes to half guard and then mount with 20 seconds left in the round. Imavov is able to shake him off as the bell signals the end of the round.
Round 2
Tonissaar comes out strong in the second and rushes Imavov to the fence. Imavov lands a hard knee, but Tonissaar is able to take him down. He takes his back and it looks bad for Imavov as he´s completely flattened out. Imavov wisely hip escapes and improves his position.
Tonissaar is relentless though, and threatens the RNC, but Imavov shows great heart, finishing the round on top.
Round 3
Tonissaar lands another takedown and starts working the body. He lands some heavy ground-and-pound and advances to half guard. The pressure of Tonissaar appears too much for the French fighter, as he powers to mount. Tonissaar rains down elbows, and Imavov again gives up his back. They scramble and Tonissaar secures a triangle from his back, but the time runs out.
Tonissaar wins by unanimous decision.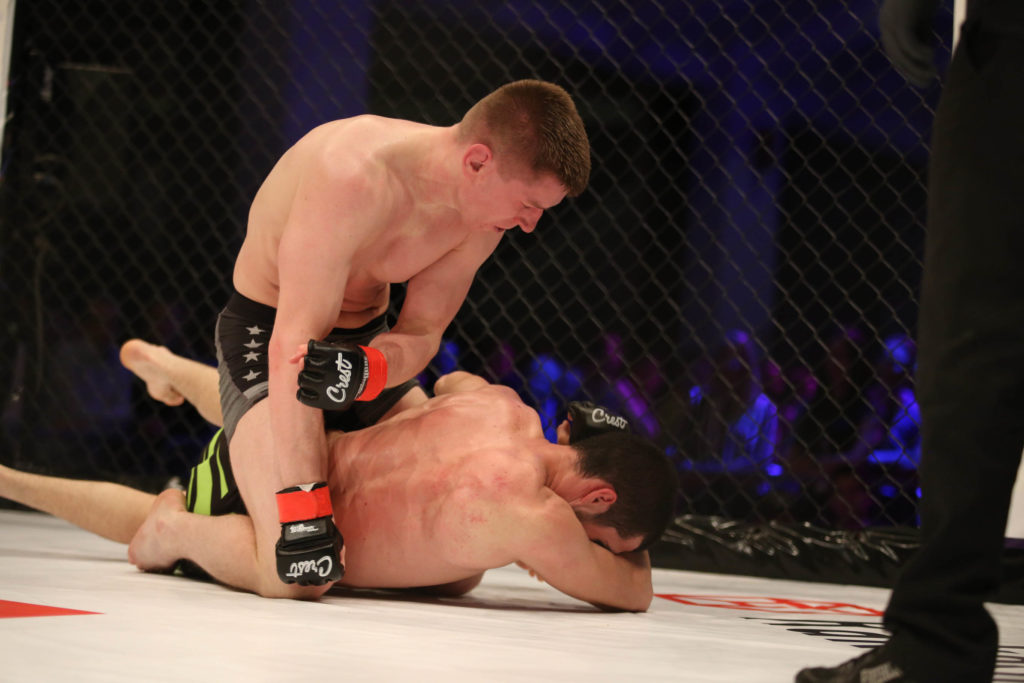 Niko Puhakka, Espoon Kehähait vs. Viktor Tomasevic, Lithuania -77,1 kg
Round 1
Tomasevic comes forward and lands a quick takedown to start the first round. Puhakka defends well and sweeps the Lithuanian. The ref stands them up after a lull in action.
Tomasevic scores another takedown, but Puhakka quickly gets to his feet and lands a takedown of his own. The Finn slams a few knees to the solar-plexus to close the round.
Round 2
Tomasevic starts the second with a quick takedown and quickly transitions to the back. Puhakka defends well, but is unable to improve his position. Surprisingly, the ref stands them up.
Puhakka charges and scores a late takedown to finish the second. It´s a close back-and-forth fight with two rounds in the books.
Round 3
The fighters slap hands to start the third. Puhakka powers through a takedown early in the round and starts peppering Tomasevic with short hammerfists. Again, the ref stands them up after a break in action.
It´s anyones fight with two minutes left in the round. Puhakka scores a much needed takedown and finishes the fight on top.
Puhakka wins by split decision.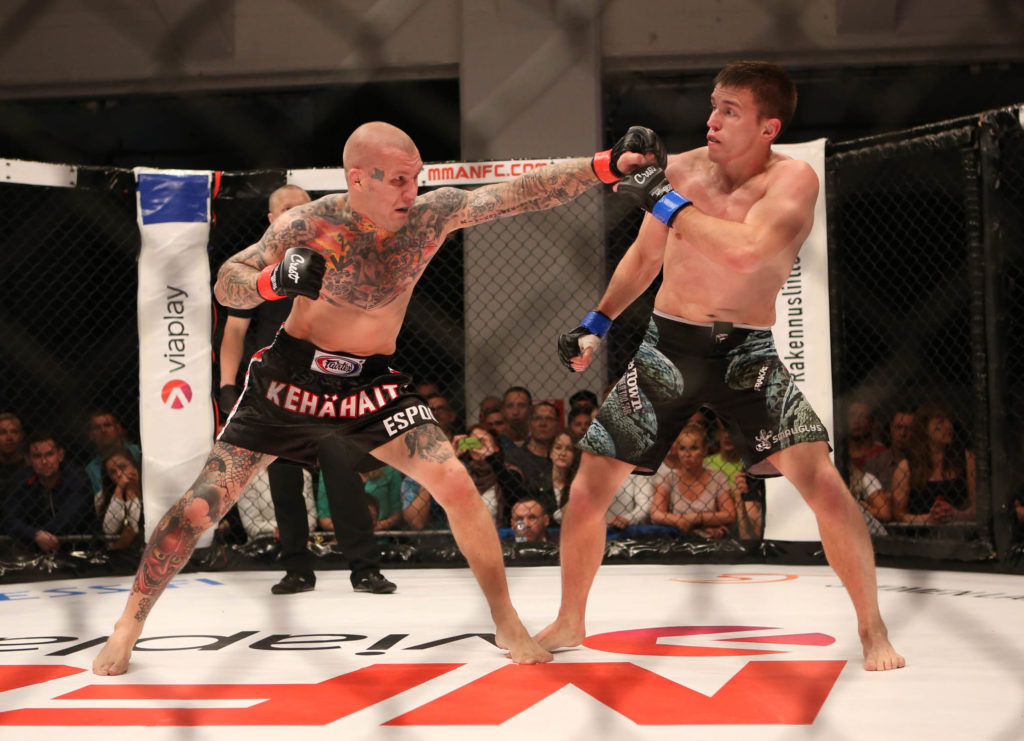 Toni Valtonen, Combat Society vs. Arunas Vilius, Lithuania +93 kg
Round 1
Valtonen wins best walkout song of the night with ACDC´s "Thunderstruck". Vilius looks to grapple early on, pressing Valtonen to the cage. He lands an illegal knee and ref briefly stops action.
Valtonen tries to take Vilius down, but Vilius winds up on top. Vilius lands a few slicing elbows, but Valtonen manages to reverse position and get on top to finish the first round.
Round 2
Valtonen lands a big shot, and Vilius immediately looks to tie-up. Vilius delivers another illegal blow to the family jewels, and the refs stops action. No point is deducted.
Action resumes and Vilius pins Valtonen to the cage. He drives knees to the thighs, but it´s not enough, the ref breaks them up, and action resumes in the middle. Vilius lands a nice combination and tries to take his man down, but Valtonen reverses mid-air and lands on top. The crowd erupts as Valtonen thumps the head of Vilius with thunderous elbows.  It´s anyones fight after two rounds.
Round 3
Round 3 starts with both men trading heavy leather. These giants are going toe-to-toe like they are fighting insides a phone booth. Vilius presses Valtonen to the cage and sends home a few knees. What a fight! They left it all in the ring tonight.
Valtonen wins by split decision.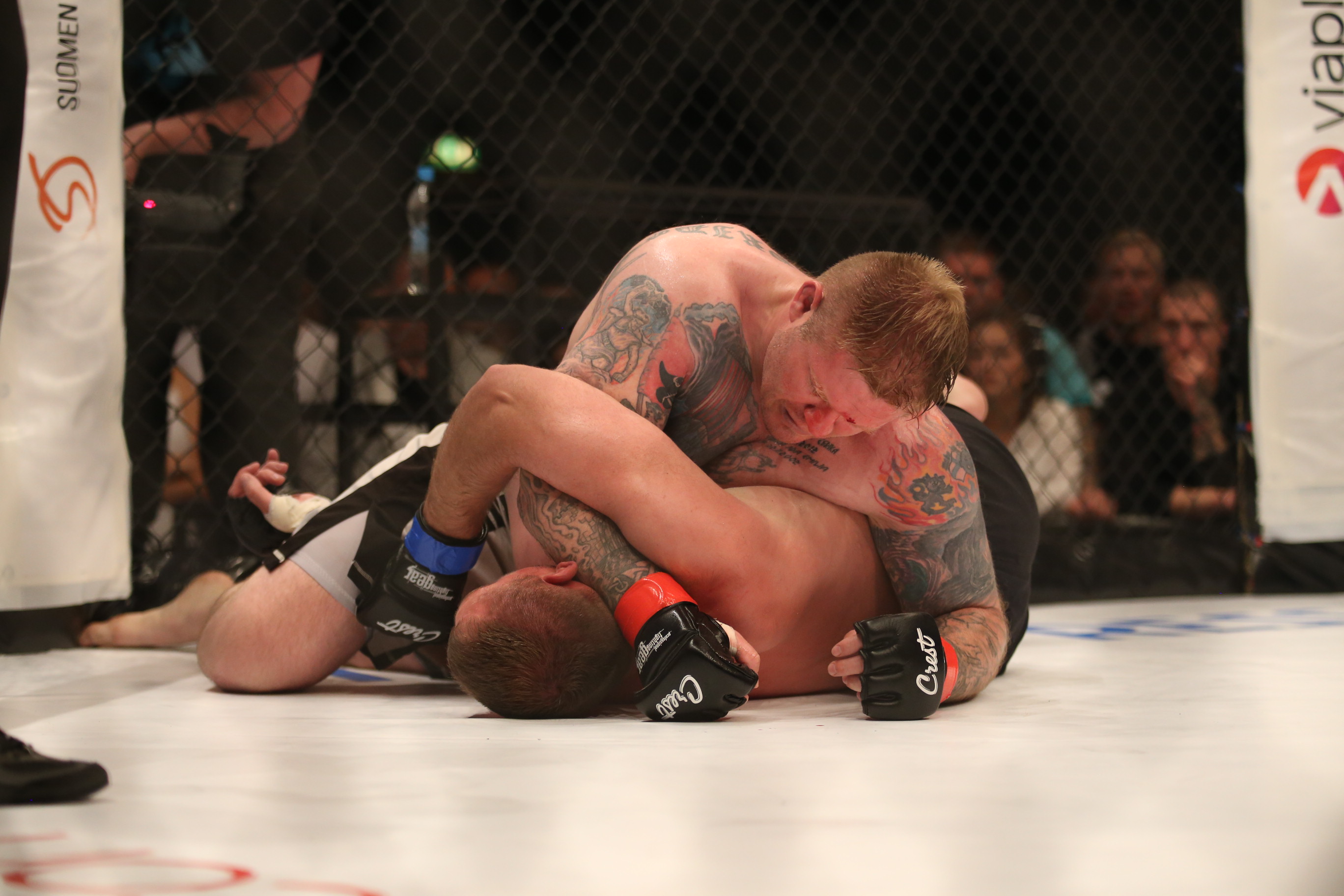 Juho Valamaa, Primus Fight Team vs. Michal Wiencek, Poland -77,1 kg
Round 1
Valamaa comes out peppering the body. Wiencek answers with a four hit combination. Valamaa scores a takedown, takes the back and chokes him out.
Valamaa by RNC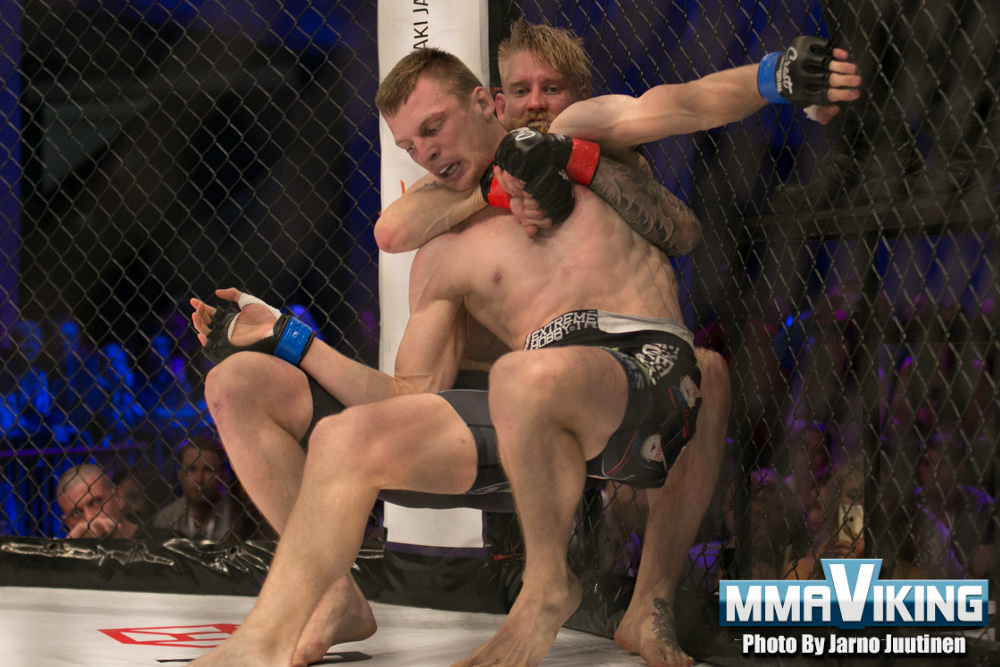 "First round submission. Next!" says Valamaa who has now won his 6th straight fight, with the last three coming by submission!
MMAViking.com will have fight pictures shortly, so please come back!