Tonight, the always entertaining Dane, Nicolas Dalby is stepping into the UFC octagon for the 3rd time in his career. His opponent this evening, is the American Zak Cummings, who brings experience and 5 wins in his last 6 fights to the cage. His only UFC defeat comes from the hands of Gunnar Nelson, who took out the American with a rear naked choke back in July of 2014.
Will Nicolas add another mark to his win column? Find out tonight, as MMAViking.com is cageside to report the action.
Play-by-Play
Round 1
Dalby looks fired up! Dalby starts quick, throwing kicks but keeping his distance. Circling Cummings on the outside. Cummings lands a punch. The fight has slowed down a bit. The danes in the crowd makes some noise. Dalby is hit by an uppercut and drops to the ground, but remains calm. Cummings follows him down and into side control. Cummings is going for a Darce Choke but Dalby scrambles out and is back to his feet. The crowd cheers! Dalby's is throwing a lot of kicks and the crowd likes it. Dalby keeps circling on the outside and Cummings is pressing the action, landing minor punches here and there. Dalby is hit hard but is unfazed. Cummings misses a big uppercut. The round ends. Dalby has some serious swelling under his left eye.
Round 2
Dalby is mixing up his kicks, but lands nothing major. Cummings is getting the best of the exchanges at the moment, landing several punches. Cummings seem to have momentum, but Dalby stays in it. Some minor exchanges, but nothing major lands form either fighter. Dalby presses forward and gets unintentionally poked in the eye. The fight is stopped for a brief moment. We move on. Dalby throws his Question Mark Kick and the crowd likes it. Cummings lands to the body. Dalby is once again circling on the outside while cummings hunts the action. The round ends.
Round 3
Dalby throws a kick to the body, and it is almost caught. Cummings presses Dalby to the cage wall and clinches. The fighters separate. Dalby is moving forward. He lands a big high kick, and tries the Question Mark Kick again. Cummings doesn't look intimidated although it hit. High kicks from Dalby hits clean air, but they look very dangerous. Dalby trips as he goes for a low kick, Cummings hovers above, and eventually follows to the ground into full guard. Dalby has one butterfly in. Cummings passes to side control and is landing short punches. 1:15 minute to go. Dalby scrambles to his feet and the arena cheers as he moves forward, throwing it all at Cummings. Dalby lands 2 knees to the face of Cummings while clinching. Cummings gets another takedown. Time is running out for Dalby. The round ends and we go to the score cards.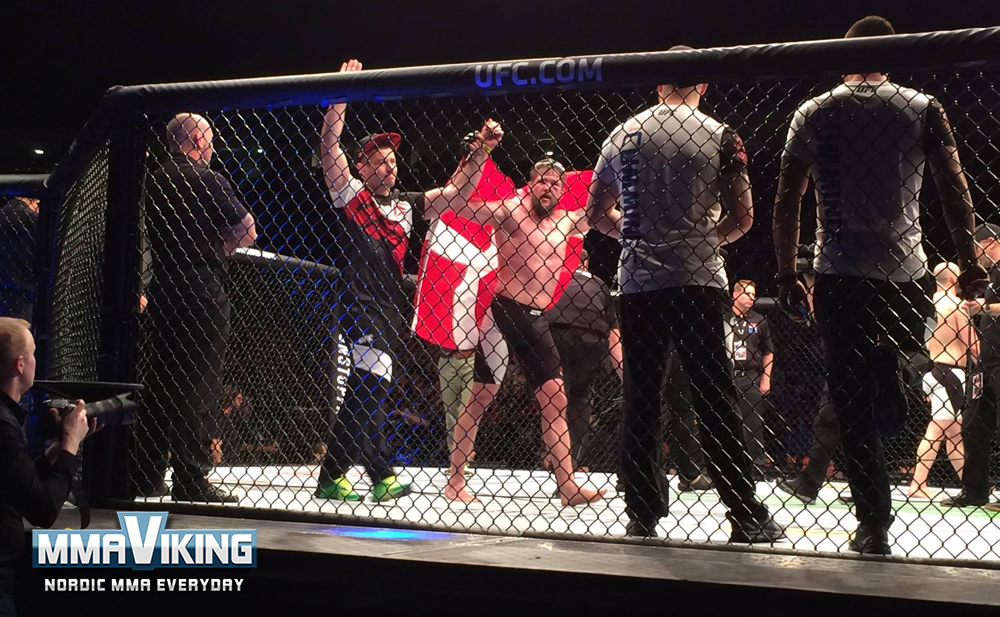 Winner by unanimous decision: Zak Cummings (30-27)
"Physically I'm a little beat up, but I feel fine. I did what I did in the Octagon, Zak did what he did. I'm not sure I agree with the 30-27 scorecards, but what happened, happened and I just have to focus on my next fight. I don't have any excuses."