Superior Challenge 16 goes down tonight in Stockholm at the Eriksdalshallen. Swede Michel Ersoy will challenge UFC & Bellator vet Diego Nunes for the featherweight title in the headliner, and champ David Bielkheden will defend his welterweight title against Anton Radman. MMA Viking is cageside to give you live results, pictures, and more.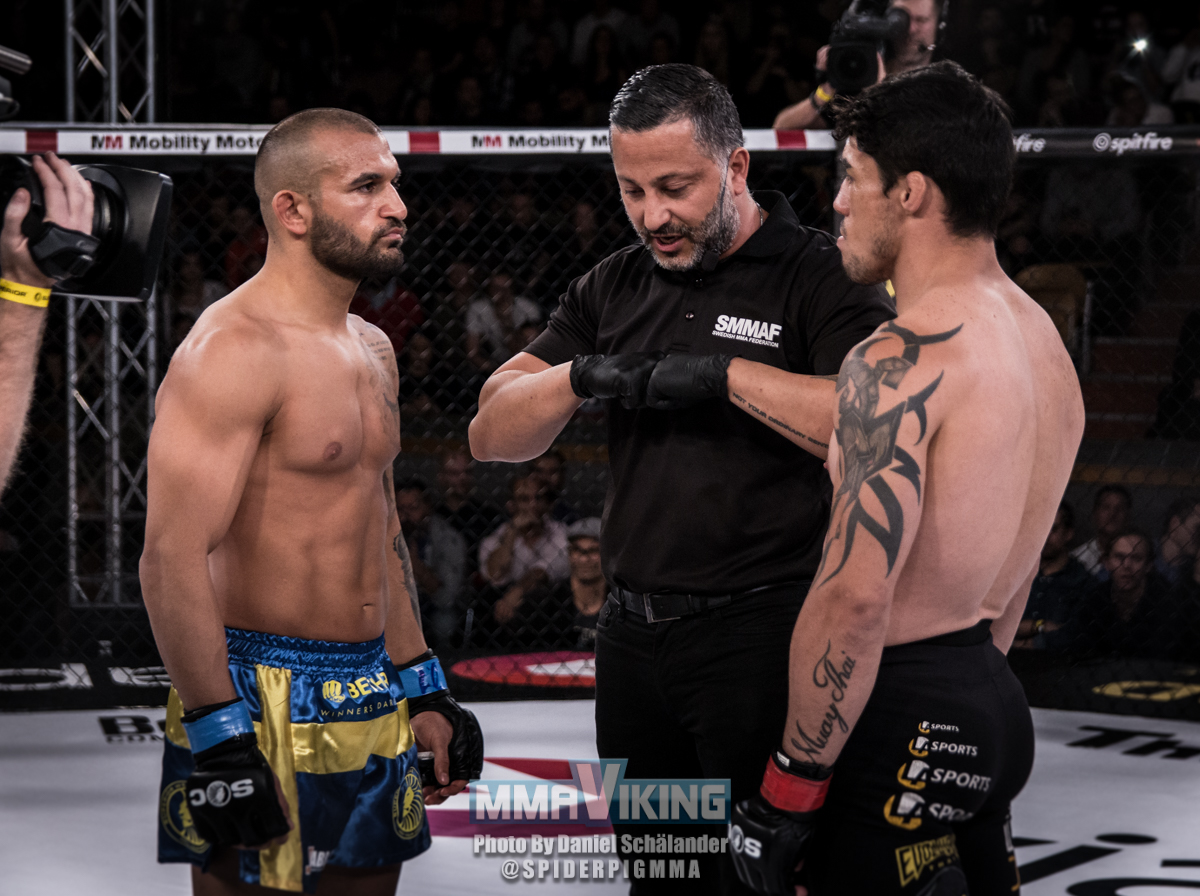 Live Results
Gard Olve Sagen  vs Rostem Akman
Round 1: Both fighters are taking it easy in the beginning.
There are some exchanges and no one is backing off. Akman is getting the best out of the exchanges so far and tries to put on the pressure. Akman is looking confident but Sagen is also holding his own and tries to make a fight. Both fighters look good.
Sagen gets enough of the exchenges and goes for a takedown at the end of the round. He gets the takedown and almost takes Akmans back. But Akman defends well and the are up again just before the round end.
Round 2: Tough exchange in the beginning of the second round. Akman tries to go for a takedown but it well defended by Sagen.
A bit into the second round Sagen tries to pressure Akman in the stand up.  Sagen gets in a hard right and Akman goes down but is up really quickly. Protects him self by wrestling pressure.
The round ends with a few really good exchanges where both fighters get good hits.
Round 3: Akman puts the pressure in the the biginning of the third and gets in a lot of good strikes.  Sagen is wobbely but defends by wrestling. They break up and Akman continues to pressure with strikes. And eventually Sagen has had enough and goes down after a last straight left and the judge jstops the fight.
Winner: Rostem Akman
Gabriella Ringblom vs Malin Hermansson
Round 1: Hermansson goes forward and tries to get in some good strikes. Gabriella protects her self good. Ringholm tries to mix puches and kicks. Both fighters are very strategic. No takedown attempts so far in the first round.
Illegal groin kick from Ringholm.
A lot of good triking exchanges. Ringholm tries to go for a takedown but Hermansson defends well during the last minute.
Good round from both fighters.
Round 2: Good exchanges in the beginning and Ringholm tries to clinch up, but Hermasson moves out.
Ringholm works in and out with her strikes while Hermansson tries to counter. Both fighters get good hits.
Hermansson keeps a really low guard while Ringholm works in and out with her strikes. She tries to get in an uppercut. A few clinch and takedown attempts by Ringholm at the end of the round but Hermansson Defends well.
Round 3: Ringholm tries to put in pressure by strikes. But hermansson gets a good countering series. And follow follows jup by a few more good series. Where she manages to get in both strikes and kicks to the head. Ringholm is tough and survives.
Ringholm is chasing while Hermansson does a good cjob moving out of the harms way and gets in some strikes.
While Ringholm moves forward she manages to get in some hard punches of her own too. During the last 10 seconds of the fight Ringholm puts pressure against the cage. And we wait for the judges decision.
Winner by split decision: Malin Hermansson
Arman Popal vs Jonathan Ramon
Round 1: Both fighters are tring to put on the pressure. And both are working good woth puches and strikes.
After the initial first exchanges both fighters are being more carefull.
Popal get in a hard punch so Ramon goes down. Popal follows up and works his gound and pound untill the judge stops the fight.
Winner by TKO: Arman Popal
Marthin Hamlet Nielsen vs Hassen Rahat
Round 1: Nielsen pressures and controles the center of the ring in the beginning. Rahat tries to circle with his back agains the cage. Not many exchanges in the first minute.
Nielsen puts Rahats back to the cage. Slams him to the ground from there and goes straigt for the armtriangle and holds it untill Rahat taps.
Winner by armtriangle: Marthin Hamlet Nielsen
Sadibou Sy vs Nikos Sokolis
Round1: Sy is trying to get his right distance with low kicks mostly in the beginning. Those low kicks are getting harder and harder. Sy switches stands and works his low kicks insider and outside. A left round kick to the head makes Sokolis knees wobbly and opens up for strikes from Sy. Sy works with uppercuts against the cage until the judge stops the fight.
Winner by TKO: Sadibou Sy
Martin Akhtar vs Samir Faiddine
Round 1: Boh fighters are feeling eachother out in the first minute. Then Faiddine goes for a takedown and gets it. Akhtar tries to get a giljoutine choke. Faiddine gets out and is on top. He tries to get a good ground and pound while Akhtar  gets in some good strikes from the bottom.  Faiddine passes to the side and then to the back. He tries to get the choke from the back and puches to open up.
After a while Akhtar manages to scramle into his guard, and goes for a leg-lock. both do and boh defend.
Round 2:  Good  exchange  and Faiddine goes for takedown and gets it. They scramble up and he goes for giljoutine. Akhtar survives and goes for  his own giljoutine, and rear necked.
Acktar blasts with strikes and submission attempts but Faiddine survives.
Akhtar get in a good puch and Faiddine goes down but survives.
they go upp again. Faiddine goes for a takedown and gets it. He finishes the round in mount and ground and pound.
Round 3: Faiddine Goes for a takedown. He controls Akhtar on the ground against the cage with ground and pound. He goes for rear necked but Akhtar survives.
Akhtar scramles and ends up on top. He tries to go for submissions and knees grojunded upponent in the head. The judge breaks up to check the fighter.
He is ok and the fight continues. Both fighters get in good strikes and submission attempts. A lot och scrables and ground and pound from both fighters.
At the end of the fight Akhtar goes for another takedown but Faiddine defends well and ends on top. He works some ground and pound but Akhtar scramble up and the fight end with both fighters standing.
Winner by unanimous decision: Martin Akhtar
Simon Sköld vs Kim Thinghaugen
Round 1: Sköld starts with kicks. He gets in a few good ones to the legs and body. Thinghaugen closes the distance and clinches up. He manages to get Sköld down with good pressure and takedowns but Sköld manages to scramble up.
After a good exchage from both Thinghaugen gets a bouble leg against the cage. He controls Sköld a while in the guard until Sköld scrambles up again.
After a few good exchanges Sköld manages to get in a good left. Thinghaugen is shaken and runs to the other side of the cage. Sköld chases and continues punching him agains the cage until the judge stops the fight.
Winner by TKO: Simon Sköld
David Bielkheden vs Anton Radman – Welterweight Title
Round 1: Bielkheden buts good pressure and connects well. Radman goes down and attacks Bielkhedens leg. Bielkheden defends and end up in guard.
Biellkheden passes and goes to mount. He works some ground and pound and gets in some good strikes.
Radman scrambles and attackes Bielkhedens leg again. But Bielkheden defends well and end upp in half guard where he works in som good punches in ground and pound.
Bielkheden passes to mount and gets in more good strikes. Radman truns and ends up flat on his stomach. Bielkheden punches untill the judge stops the fight.
Winner by TKO: David Bielkheden
Papy Abedi vs Cheick Kone
This bout was cancelled as Abedi injured his knee days prior to the event
Michel Ersoy vs Diego Nunes – Featherweight Title
Round 1: Hard pressure from Ersoy. Nunes works on counters. Nunes gets takedown betwwen Ersoys strikes. Nunes controls from top. Halfguard, side, mount. Ersoy scramles and is almors up but gets taken down again. Nunes goes for the same kind of  control and Ersoy works on getting up.
Ersoy scrambles and is up. Nunes is tired and the round is over.
Round 2: Ersoy puts hard pressure in the beginning of the round but gets hit in  one oth the initial exchanges. He tries to get some distance but  Nunes jumps in a knee that graces Ersoy. He goes down  and Nunes follows with ground and pound. Ersoy scrambles but end up in a guillotine choke and has to tap eventually.
Winner by submission: Diego Nunes