Fight Club Rush 5 goes down in Västerås, Sweden Saturday night. Henri Lintula (3-0) will be traveling from Finland to face local Robin Roos (2-1) in the main event.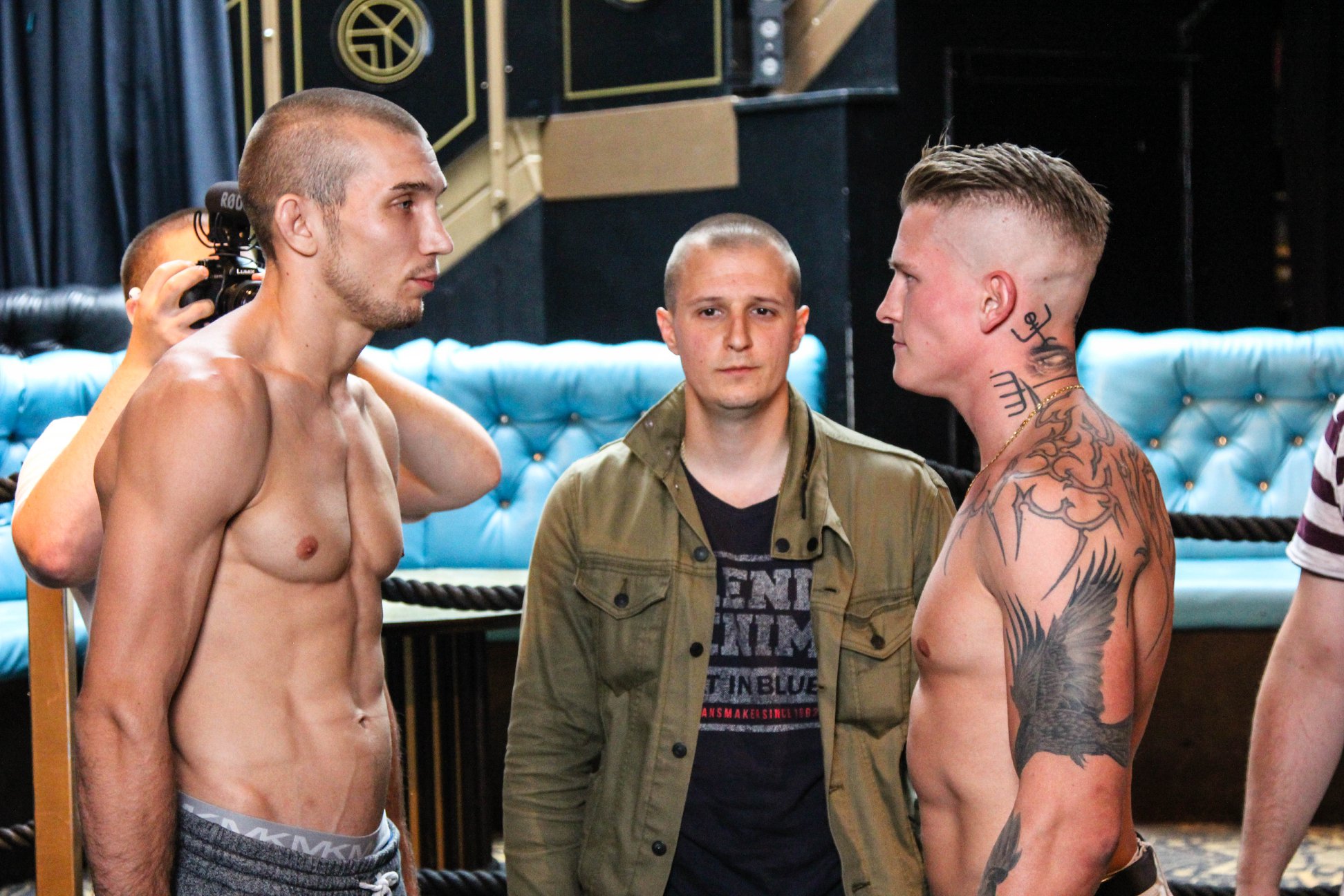 MMA Viking's Ryan O'Leary is providing updates below and on Instagram and Daniel Schälander ( @photographyviking on Instagram) will be taking cageside photos.
Amateur Bouts
Safiullah Husseini vs. Nashwan Aziz (Nor) – 63KG
Aziz from Norway walks in first, and he will face Husseini a local. Slow start to the fight, with the fighters clinching for the first two minutes. Both fighters standing straight up at distance, then Husseini gets in for a take-down and in half guard to end the first round.

Aziz lands a few good low kicks to start the second round, and looking for a big right hand to land, but keeps missing. Good exchange and the Norwegian seems desparate and tired as Sufiulla lands some good strikes and kicks.

Again Aziz is backing up, looking for a counter right, but the Västerås fighter is patient and lands a few good kicks. After missing a throw, turns and gets on top. The Frontline fighter has little time to work here. Its 30-27 on all scorecards in favor of Husseini.
Bilal Kerchiev vs. Morteza Arabzadeh
Bilal throws a punch, and Kerchiyev is in on a takedown quick and moves into side control. Oh, Morteza battles out and looks good in the clinch and lands a few good knees to the body. We got a fight! Takedown for Bilal to start the second, but Morteza shows he is crafty when back to the feet. Oh, wow Arabzadeh has a no arm guillotine locked, but somehow he is not choking Bilal unconscious. Ref is staying on top of action till the end of the fight. It is Morteza Arabzadeh who gets the decision victory.
Abdurahman Nasrutdinov vs. Benjamin Dehesi (Nor)
Dehesi is the first in the cage, and only the 3rd fighter on the card not based in Sweden. A Russian fighting locally is Nasrutdinov. Real nice kicks from Abdurahman, including some spinning stuff. Wow, both fighters real dynamic with their attack. Big throw and Dehesi is on top briefly but eventually the Russian fighter gets on top for some good ground and pound for the finish at 2:10 in round 1.
Rekar Zana vs. Rohullah Yousofi
Zana the longer fighter looking to keep distance, but Yousofi gets on top and cranks an armbar once he gets to hs back. And a tap. Another backflip on the cage that wasn't as impressive as the finish. The FCR fighter is disappointed int he loss. 2:32 of round 1 finish for Yousofi.
Theodor Berggren versus Khalid Kherchev
Khalid with a take-down early, but Theodor gets out. A throw from Khalid, but he ends up on his back. This Berggren looks to be confident on the feet and lands a good lowkick. Big right hand for Berggren and a surprising take-down.
Khalid is tired and Theodor is just landing hard shots. High and low. Should be a matter of time here, but Kherchev shows heart and grabs a body lock briefly. Wow, did Berggren just get tired, too? Now Theodor is on his back! Both fighters just exhaused!
Take-down from Khalid that might be the fresher fighter! Holy crp…. Kherchev with two suplexes to end the fight and bring the crowd to their feet. Split decision for Berggren after starting the fight strong.
Awat Kohzadi vs. David Hedlund
Awat has a triangle locked in after David took the fight to the ground early. The second round starts as the first, but this time Hedlund avoids being tied up as he gets the fight to the ground, and even lands some ground and pound. Eventually it is Awat that goes for a take-down in the scramble, and David locks up a guillotine for the finish in the second right before time runs out.
Vincent Petersson vs. Naib Itayev
Oh, a Stockholm based fighter from Allstars arrives in Petersson. A good right hand after a missed spinning kick from Naib, and Vincent crashes to the ground. A few punches and the ref jumps in. The Västerås fighter gets the win at 30 seconds in the first.
Ilaz Zabelaj vs. Alexander Lööf
Zabelaj from Malmö is in the cage first. Oh, that is Pannie Kianzad's boyfriend, and she is coaching ringside. Nice guy. Lööf lands a big right to start, but Zabelaj recovers and looks for a submission from his back. Oh, slick move from Alexander that takes back. Armbar lock is locked and fully extended, this looks to be over, but wow Zabelaj stays calm and gets out. Now a Japanese necktie, it is tight and Zabelaj with the sub. Wow, what a turn of events. Sub at 1:26 in first.
Pro Bouts
Ali Taleb vs. Shoeb Karar Akrami – 63 KG
Teleb coming from Redline Training Academy in Malmö and Afgan born Akrami traveling from Uppsala with lots of fans. Two really athletic fighters looking to land. Akrami gets a take-down, but gets way too high on back and flips over top, so Ali takes back. Up to the feet and Taleb lands two good right hands. Shoeb trying to get a take-down against the cage, but retreats after taking a knee. Good left hand and flying knee from the Redline fighter.
Akrami landing some good strikes to start the second. Ali has his right hand ready, but not letting it go. It is Shoeb that is back-peddling. Good strikes landed through the end of the round as the Malmö fighter is taking control.
Karar is tired, and wants to sit on the mat to rest for the next round. An eye poke stops the action, and the doctor comes in to see Taleb. The fans really cheering on the fighter from Upsalla and he wings a few left hands and kicks. Good overhand right for Ali. The fight is stopped to look at Akrami, and the doctor waves the fight as over. That is it. TKO for Ali Taleb late in the 3rd round.
Renato Vidovic vs. Eli Elias – Bantanweight
Gothenburg sends Vidovic to the cage, and UFC vet Yousef Besam is in his corner. Eli has a body lock against the cage. Both fighters try and land a big punch in a flurry, and this looks like a quality matchup so far. Renato with a nice throw, getting Elias to the mat. A nice combo ending with a left hook from Renato and Eli is on his back. Follow-up with strong ground-and-pound and now the referee jumps in to stop the fight. A very disappointed Elias stays down. 3:37 in round 1 for the first pro win for Renato.
Amir Malekpour vs. Delshad Morad – 63.5 KG
Morad now repping Malmö and Melkpour out of Stockholm's Pancrase gym. Morad looking for straight counter shots. Both fighters up straight till Delshad goes for a take-down but is flipped upside-down by Amir. Back to the feet, and both fighters trying to land flying knees. Morad is trying to clear his eye that was poked. Right high kick from Amir, but Morad drops him with a big punch and looking for the finish, but just can't land enough on the ground to get the ref to jump in.
"Amir" chants start, but then "Delshad" cheers come. Morad is really quick with his strikers, and lands some nice straight shots, and a few more and Amir is rocked. Delshad jumps on a guillotine and forces the tap. It is all over at 1:42.
Andreas Gustafsson vs. Givago Francisco (Bra) – Middleweight
Gustafsson gets the fight to the ground and starts to land some knees. Now gabs a head and arm lock, looking like a wrestler going for a pin. The Brazilian fighting out of Portugal is defending well on the ground. Gustafsson is looking for a big throw, but the Brazilian drops for a knee bar. Andreas defends well. Gustafsson in side mount and just punishing the visiting fighter.
Gustafsson rushes in and grabs a body lock throwing the Brazilian to the ground, up again and back down again for the controlling wrestler. Now on the side landing knees and more knees to the legs for a dominant second round. An upkick lands, but Andreas shakes it off. The Swede grabs back with seconds left looking for a rear-naked choke, but not enough time.
The third starts the same as the second with the Västerås Fight Club fighter getting a take-down early and just punishing Francisco. The worst comes with 10 seconds left with a series of left elbows to the face.
Ouch, the scorecards are 30-25, 30-25, 30-24 in favor of the Swede Gustafsson.
Robin Roos vs. Henri Lintula (Fin) – Welterweight
Wow…. Finland in the house! Lintula from Sisu Gym comes out to the cage first, but all the cheers are from the hometown "Pretty Boy."

Lintula moving forward controlling the cage. Robin looking for some right lieg kicks that land, and the Finn has a quick left jab that is landing. In on a single leg and the Finn is on top! Robin is relaxed and gets into half guard, but Henri is working his way up looking for full mount. Two minutes left.
The Finn takes back, and as Robin rolls to his back the rear-naked choke is in! Oh, it is tight and Henri re-adjusts… will Robin tap? No, and Roos survives the round. That was close!
Round 2 and Henri lead swith kicsk, but Robin lands a good one of his own. Now a left hand from the Swede, but Henri is in on a double-leg. Roose grabs a guillotine, but Lintula looks to bate him into a squeeze to tire him out. Lintula on top with over three minutes to work. The head pops out and the Helsinki fighter pops to full mount. Looking for a rear-naked choke, Robin is flat, but battles out. A body lock and now the finish. Rear-naked choke, and there is silence in Västerås. All the fans immediately walk out of the building.
"I feel pretty damn good. This was my first time in a proper training camp. I wanted to take him down and take him out. Those low kicks hurt, but I was able to take him down."