Fight Club Rush 14 goes down again at the Västerås Arena in Västerås, Sweden.  Check out the live results here.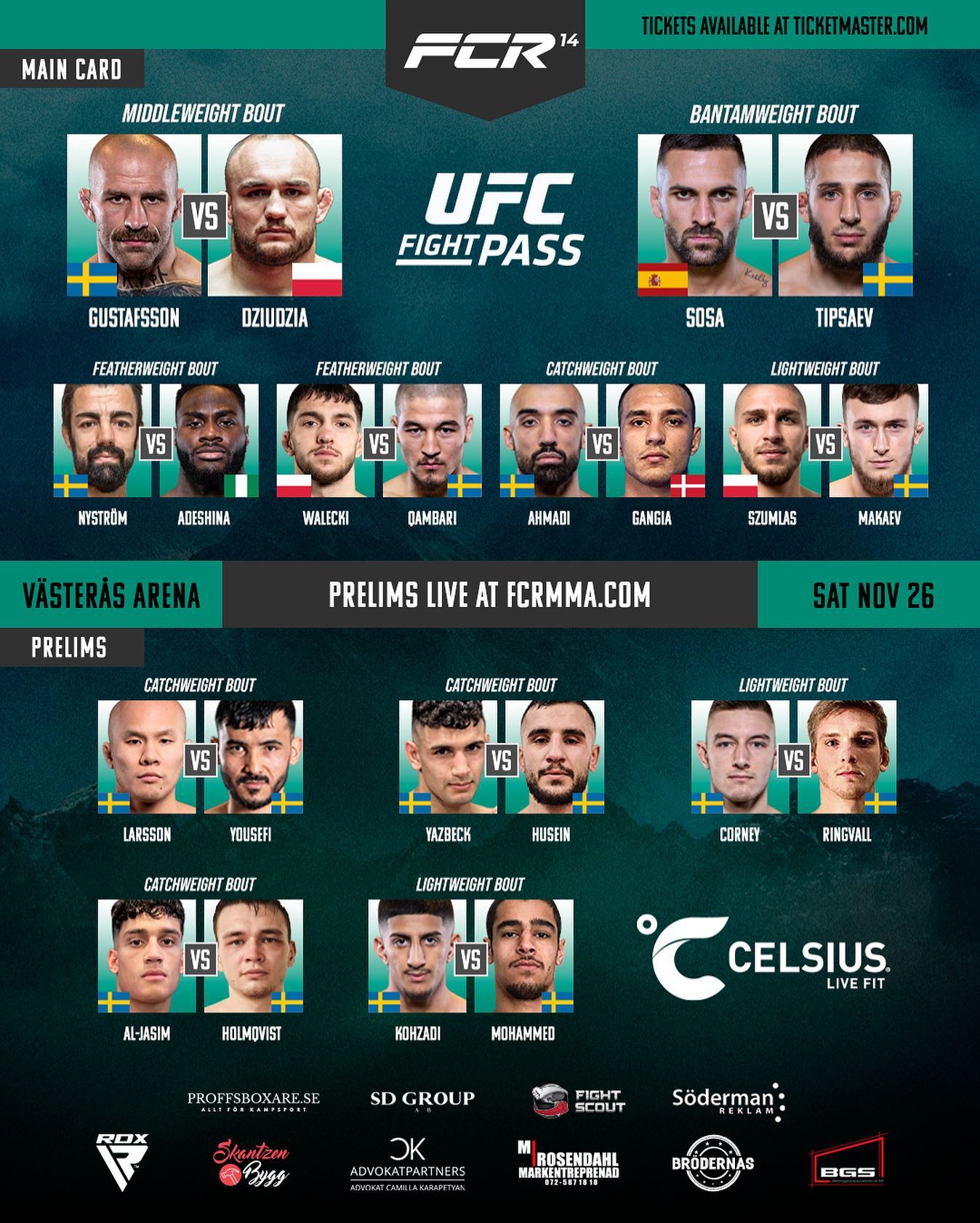 Anton Larsson (3-10-0) vs. Rohullah Yousofi (1-2-0)
Yousofi wins by KO in round 2.
Paweł Szumlas (1-3-0) vs. Baysangur Makaev (1-1-0)
Makaev with a big take-down, leading to a strong ground and pound and to a first-round finish at 4:02 of round 1.
Moein Ahmadi (4-4-0) vs. Rick Gangia (3-3-0)
Moein uses his grappling expertise with a kimura transitioning to the back and eventually a rear-naked choke at 3:55 in the first round.
Eryk Walecki (1-1-0) vs. Sakhi Qambari (1-1-0)
Qambari wins an exciting three round affair. 29-28, 30-27, 29-28 for the Allstars Training Center fighter.
Robert Nystrom (7-8-0) vs. Wasi Adeshina (3-2-0)
Adeshina with a barrage of combinations early, and Nystöm is hurt bad. A few more lands and the referee jumps in for the quick stoppage as Robert covers up on his back. Adeshina with the KO at 52 seconds in the first.
Enrique Hecher Sosa (4-1-0) vs. Bilal Tipsaev (4-2-1)
Tipsaev with a take-down toward the end of the first, and even lands a few good punches. Sosa threatends with a flying knee. Bilal locks on a standing guillotine and squeezes in the second, going for the submission, but Sosa is so tall the Swede can't get the squeeze. Bilal gets a take-down but Enrique is so active gets it back to the feet and lands at the end of the frame.
Tipsaev lands a huge overhand right and Sosa just eats it with no reaction. Good right from Sosa, and a kick. A flying knee. Bilal wants it on the ground and gets a take-down. But, Sosa pops up to the feet! Bilal again for a take-down, but he can't get it and Sosa just goes around for a take-down and now landing punches. Bilal is tired! But, the Allstars fighter stands up and escapes. Tipsaev with a good punch, and now Sosa scrambling from his back as he tries to lock in a reverse triangle at the bell.
Sosa wins by unanimous decision 29-28, 30-27, and 29-28.
Andreas Gustafsson (7-1-0) vs. Lukasz Dziudzia (6-5-1)
Gustafsson with two left punches that land and Dziudzia is realing to his back. The Swede picks him up and slams him to his back as he is now in guard. Lukasz gets in on his legs and picks up Andreas in the sky and puts him on the ground! Back to the feet. Bane with inside position and a body lock as he mixes in shoulder shrugs to the face. Some nice ground and pound on top from the Swede as the Swede finally takes the bout to the ground at the end of the round.
Gustafsson pushes forward and lands on top of Lukasz. The Swede wants a finish and gets on top and lands an elbow then a right hand and another and another and another. This fight is over! TKO at 49 seconds of round 2.