Sweden's Reza Madadi (13-3) will be the third fight on the main card coming back after a 2 year absence.  Mad Dog will take on Northern Ireland's Norman Parke (20-4-1). This bout was promoted as a co-main event with the shuffle of the card this week. MMAViking.com is cageside in Dublin to provide updates on the action here!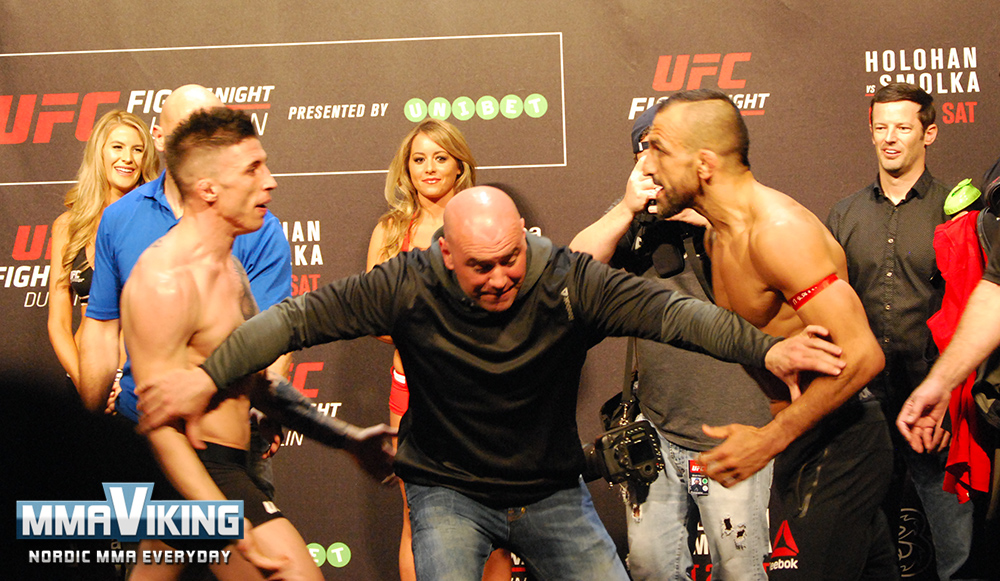 Live Play-by-Play
Round 1 – Madadi lunges for a single leg and gets it, but Parke defends easy. They tangle on the fence, trading positions as they both look to grapple. Parke lands a front kicks to the body, utilizing his reach advantage from the southpaw stance.
The Allstars Training Center fighter gets in deep on a single-leg and drives Parke to the cage but again he can't complete get it. Madadi rolls back to try and finish the take-down, but doesn't get it and back up they go again. Parke lands some punches. Mad Dog doesn't set that one up, and doesn't finish the take-down.
Close round. 10-10. (mmaViking.com's score)
Round 2 – Parke uses his southpaw stance to try and land punches, and now sneaks in a left hand and a high-kick, but it is blocked. Madadi keeping his hands high, but Norman is the aggressor now. Madadi tries an uppercut, but misses, and now a take-down and gets Parke down for a bit. The pace is slowing a bit here. Nice left hand from Madadi, and another… and now the two are tied up again. Against the cage, and this is a grinding bout now. Two minutes left. Madadi looks to land the right uppercut, but misses. Left kick to the body for Parke, and now a nice one two punch and the two acknowledge the battle.
Parke with a single leg, and tries to take the Sweden based fighter down, but he can't do it. The two are exchanging knees. Nice upper cut from Madadi at the bell.
That was Parke's round. 10-9 Parke. (mmaViking.com's score)
Round 3 – Norman landing kicks from teh outside to start the round. A couple good shots from Reza, and now in on a single leg.. but Parke eases back and is against the cage. Madadi looking for a punch to turn this one around, and he does land a few good blows. Madadi pushing forward here. Madadi gets a hold of the neck here, but nothing is there. Evenly matched bout, and there is two and ah alf minutes left. Reza lands three good strikes, and this is the best he has looked.
The Allstars fighter gets in on a double, but doesn't get it… but Parke does as he takes down Reza… but Madadi is up trying to fight the hands. One minute left, and the pace has really slowed. Madadi dives in for a double leg take-down. But Parke now pushes the Iranian against the fence as this comes to a close. The two acknowledge each others effort.
Reza landed some nice punches, but that takedown from Parke may have done it. 10-9 Parke. (30-28 Parke – mmaViking.com's score)
OFFICIAL 30-27 unanimous decision from Parke on all three scorecards.