Dane Nicolas Dalby (14-0) will fight second on the main card, also stepping back into the Octagon for the second time against another defeated fighter in Darren Till (13-0) from England. MMAViking.com is cageside in Dublin to provide updates on the action here!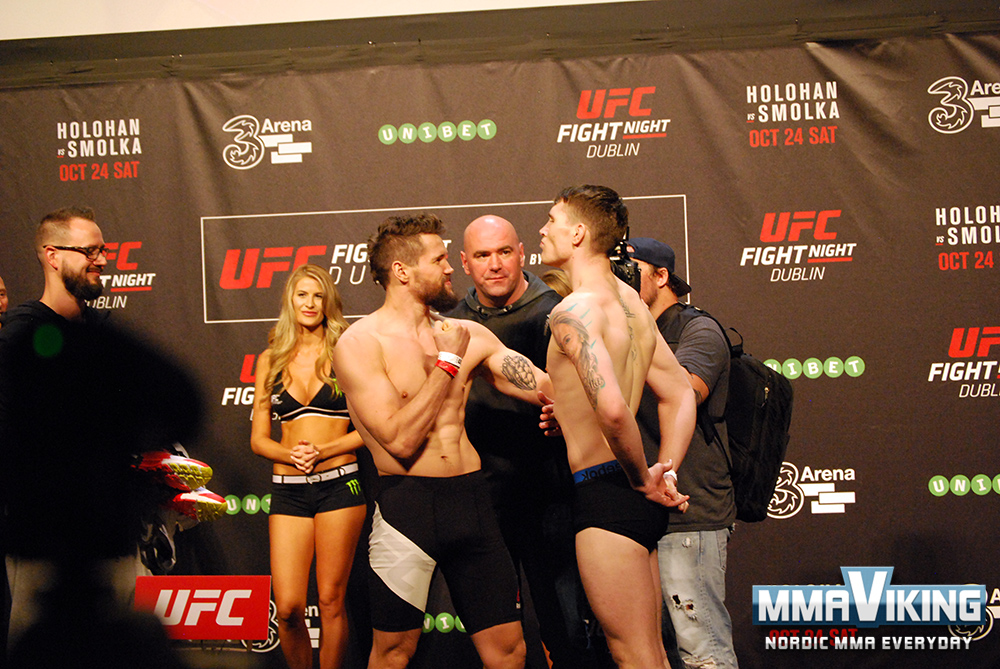 Live Play-by-Play
Here we go! Neal Seery just won the first fight on the main card, and now the Sharpshooter is next!
It is Till that walks out to the Octagon first. He looks calm and relaxed as he enters. Dalby comes out to some hard rock and looks like he had a good warmup as he enters with the Danish flag. The Rumble Sports fighter crawls into the cage and is ready to go.
Dalby staring down his opponent as he paces back and forth during the introductions, much like Matt Hughes used to do in his reign as champion.
Round 1 – Till looks to have a real reach advantage and his southpaw stance is giving Dalby problems early as he lands some left crosses. And another one lands. Dalby has a tight stance and darts in but gets counter punched in the face. Till ties up Dalby with a tha clinch, and now works left kick to the body. And another, and he looks to have a good style versus the Sharpshooter. Now a body lock from Dalby, but he lets go.
Till looks real confident now, shaking his head after Dalby misses a kick. Another body lock from Dalby, and ne lands a nice knee to the face of the Brazilian based fighter. Left headkick, partially blocked. Dalby switches stances, but gets his right leg smashed. Dalby looking to figure out this puzzle and he charges in, but it is a slick left hand from Till that drops the Dane to his back.
10-9 Round for Till (MMAViking.com score)
Round 2 – They exchange leg kicks early. Till continues to land punches to the head, and Till not impressed with Dalby's effort so far. You can see the concentration of Dalby that is looking for openings with each opportunity. Missed upper cut from Till, but lands one there… and Dalby just can't get off. Till wraps around the body and had a body lock, as the Rumble sports fighter turns his back to the cage. But nothing there. Right kick to the body from Till. Takedown for Dalby, but Till pops back up. Nice left knee to the face of Till, and probably the best strike from the Dane all fight. The straight left from the UK fighter hits the mark again to end the round.
10-9 Round for Till (MMAViking.com score)
The two come out with a furious pace, and Dalby lands a nice kick! Goes to land a fight ending punch, but canät land it. Till gets a single and lifts it up, but Dalby is too flexible and punches with his leg raised. Dalby pushing it here and gets a takedown. Till gets up, and a knee to the head. Dalby is landing punches! Another punch, and Dalby has Till HURT! Dalby lands again!
Half way through the round, good knee. Big takedown, and Dalby moves in full mount. PUnch and punc in full mount! Dalby looking to finish. More punches for Dalby, but Till is up, but he can't stand. Dalby gets a body lock and a big knee. Takedown, but Till gets up. 30 seconds left. More punches to the face, and Dalby is pouring it on! Huge knee to the face.
We go to the judges. @DalbyMMA vs. @darrentill2 at #UFCDublin. Who takes it? pic.twitter.com/62rD5hfDlB

— #UFCDublin (@UFCEurope) October 24, 2015
10-8 Round for Dalby (28-28 Draw – MMAViking.com score)
28-28 Draw (MMAViking.com score)
MAJORITY DRAW IS OFFICIAL DECISION (29-28 TILL, 28-28 DRAW, 28-28 DRAW)