Pannie "Banzai" Kianzad beat Milana Dudieva at the ProFC card in Rostov, Russia tonight.  The Swede won by unanimous decision to take her unbeaten record to 4 wins and 0 losses.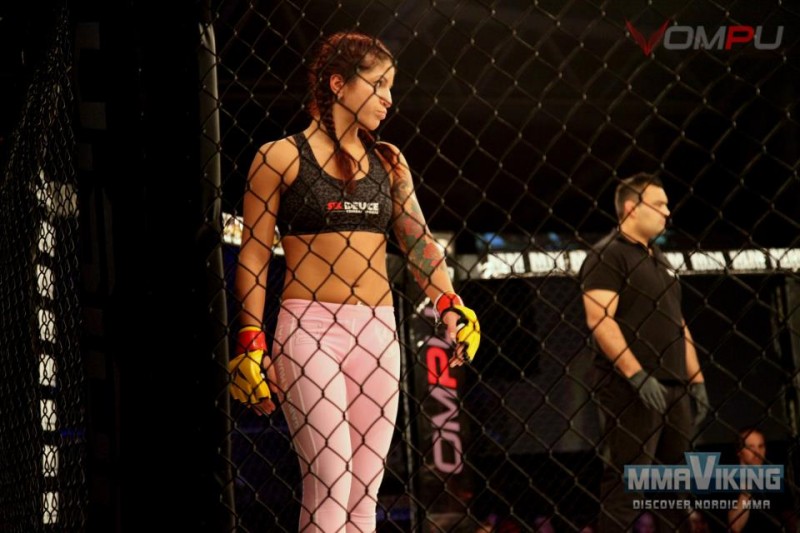 This bout was scheduled for the summer, but the whole event was postponed until tonight due to an injury of Alexander Emelianenko who was scheduled for the main event.
Kianzad scored the most impressive win of her career against the Russian Dudieva, who came into the bout at 8 wins and 2 losses.  Dudieva at age 24 has won 8 straight fights from 2009 – 2012, and seen as a top European woman's fighter.  She even notched a win over UFC veteran Sheila Gaff.
Kianzad is moving quickly up the ranks, and has 4 wins in the last year and a half since turning pro. This big win moves her closer to the UFC, as she impressed Zuffa officials with her TUF 18 tryout making it to the final days of the show.
Head Coach of Rumble Sports Tue K. Trnka Comments :


Pannie dared to do, what so many fighters are afraid of. She went to Russia, and beat the local hero at her turf. She showed a lot of mental strength, fighting away from home and had to overcome a bunch of obstacles to claim a huge victory.

Technically, she showed some improvements, but Milana Dudieva is very awkward and difficult to look good against. I still think, Pannie has a lot to learn, and in many ways she made The fight unnecessary hard on herself.

She's young and ambitious, but still she has so much to learn. This is a big win, and it puts her up amongst the best out there.
The Swedish/Persian fighter made it through the bout without her head coach Tue K. Trnka, who couldn't arrange to make it to the bout due to work obligations. In Kianzad's corner was top Danish fighter from Rumble Sports Nicolas Dalby. "Nicolas Dalby showed he can coach as well as kick ass, and it was a pleasure watching them in action from the gym.  They did well." comments Trnka.
Kianzad lives in Helsingborg, Sweden and was the Swedish champion in Shootfighting +60kg. She comes from a boxing background but she is now a all-round MMA fighter, and now spends time training at Rumble Sports in Denmark. Learn more about Kianzad in this recent video interview with MMAViking.com.