Carelia Fight 13 goes down today in Imatra, Finland. MMA Imatra's Juuso Halme (5-1) will be facing Swede Fernando Flores (4-2) in the main event. Maiju Suotama (formerly Kujala) will make her return to MMA in the co-main event.
Live Results
MMAViking.com's photographer iikka Nikkinen is cageside in Imatra to capture the action and Jarno Juutinen is working the play-by-play and results below.
IMMAF amateur fights
9 IMMAF rules amateur fights were fought and winners are: Paavo Rantanen (TKO), Kaupo Kokamägi(RNC), Inka Räty (triangle choke), Charlie Janze (Points), Niko Ahokainen (Points), Madis Maeste (Split), Ilir Ramadani (KO), Anette Österberg (Points) and Tony Kiander (TKO/towel).
Ville Mankinen, FFG Turku, Finland vs Viktor Gustavsson, Renyi Umeå,Sweden
Round 1
Sharp and aggressive striking from both fighters. Mankinen controls the center of the cage and his strikes are finding their targets. Gustavsson throwing mostly (good) low kicks. As two minutes is left Mankinen gets a textbook takedown and ends up on top / half guard. Swedish fighter escapes and the fight is back standing up. Another takedown for Mankinen. The Finn goes for a kimura, but no success with that.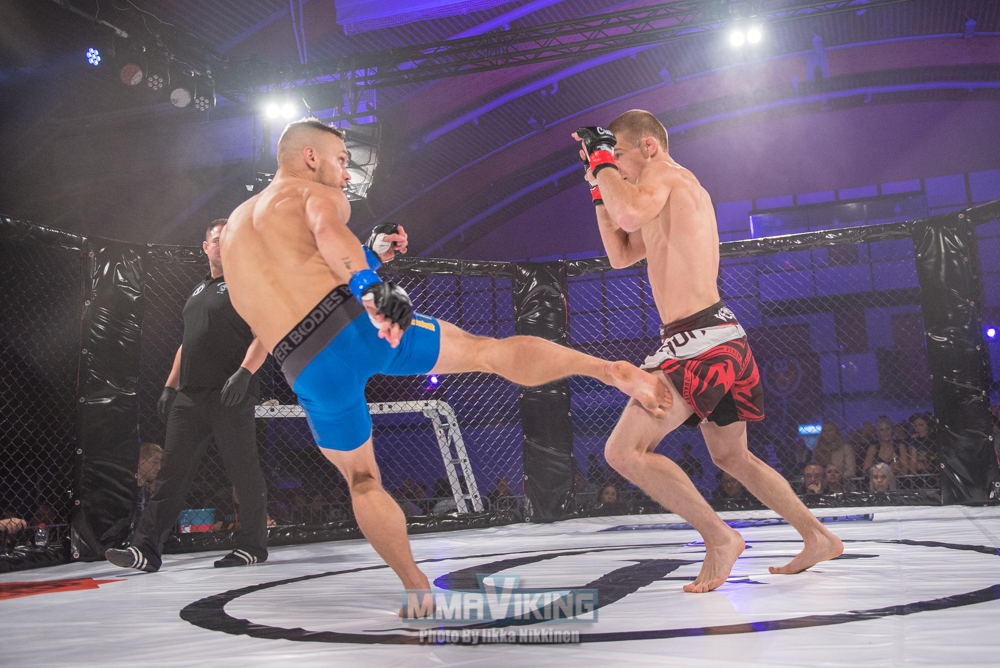 Round 2
Gustavsson succeeds with a high kick. Mankinen takes the fight to the fence and applies heavy pressure. Mankinen gets a takedown and ends up on top half guard. Mankinen tries to pass guard but Gustavsson defends nicely. Referee orders the fight back up as there is one minute left on the clock. The Swede scores with couple of nice jabs.
Round 3
Same pattern as in previous rounds: Gustavsson successful with his stand up game, but Mankinen takes the fight to the fence and applies pressure. Ref orders the fight back to the center of the cage. Gustavsson seems like more crisp with his strikes and kicks. Fight ends to the ground and swedish fighter is on top. Gustavsson delivering GNP. Gustavsson takes the back but changes it to mount and starts pouring on punches. Referee comes to halt the fight and it's over!
Winner: Viktor Gustavsson by TKO in round 3.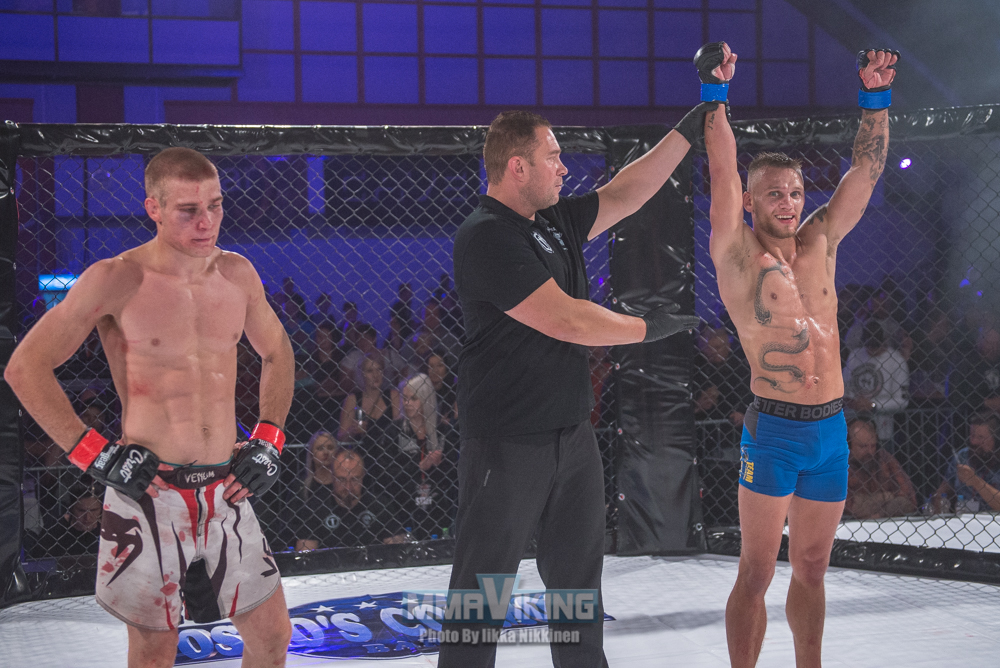 Ville Vanhanen, Jyväskylän Fight Club, Finland vs Ivan Bogdanov, Gladiators Team St Petersburg, Russian
Round 1
Neither of the fighters are not holding back as they are striking with full power. Bogdanov's nasty upper cut finds it target and Vanhanen hits the canvas. Russian fighter starts delivering more punches and referee stops the fight. It's all over.
Winner: Bogdanov, TKO, 1st round.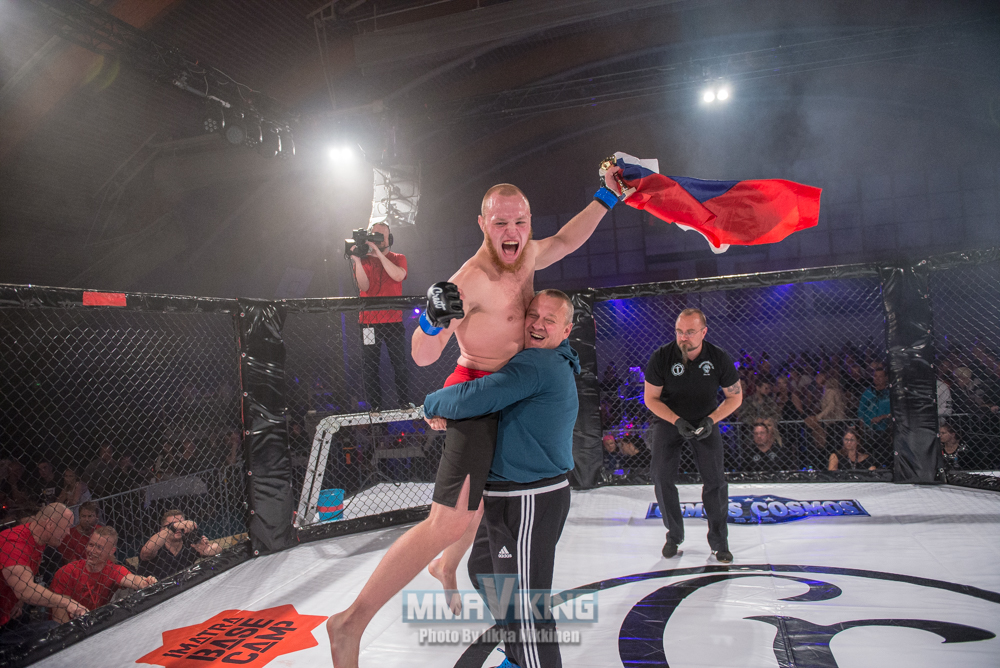 Hannan Housmand, FFG Turku, Finland vs Denis Ignatiev, Gladiators Team St Petersburg, Russian
Round 1
Fight ends up to the ground as Housmand is on top / full guard. Housmand threatens Ignatiev with a slam and Russian fighter opens the guard. Housmand scoring points with punches from top. Referee orders the fight back up. Both fighters are swinging for the fences. Housmand goes for a guiljotine choke, but lets it go. Round ends as fighters are grappling against the fence. Russian fighter has quite a big cut over his eye.
Round 2
After 1:30 minutes of standup Housmand takes Ignatiev down. Ignatiev is striking from bottom as Housmand delivers punches from top. Housmand goes for a guiljotine but Ignatiev defends and takes the fight back standing up. Both fighters are successful with their striking. Housmand scores yet another takedown.
Round 3
Due to problems with video stream beginning of this round is not covered. Housmand is on top and delivering more GNP. Both fighters look tired. Fight is back up and neither of the fighters are holding anything back. Housmand goes for a takedown but Ignatiev sprawls.
Winner: Hannan Housmand by points.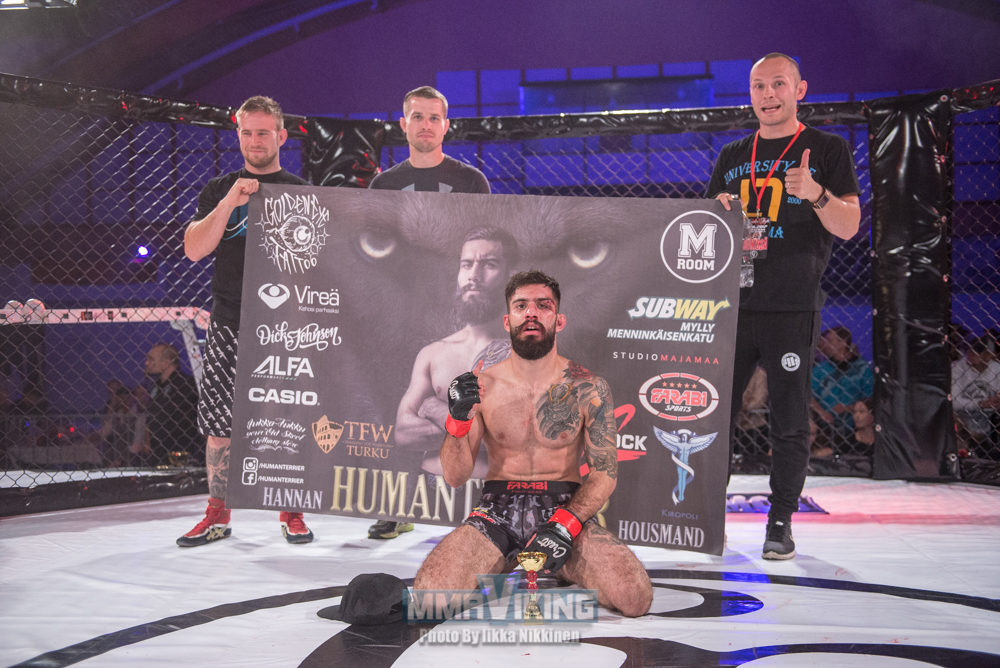 Maiju Suotama, MMA Imatra, Finland vs Hatice Ozyurt, Tatsui Dojo, Netherlands
Round 1
Suotama takes the fight immediatelly to the ground but Ozyurt gets instantly back up. Suotama executes second takedown and starts to pass guard. Suotama has a side choke ready but she exchanges it to mount position and starts delivering heavy punches. This is bad for Tatsui Dojo fighter. Suotama keeps on delivering ground and pound. Suotama is dominating: elbows, hammer fists and all.
Ozyurt turns her back to defend herself from Suotama's strikes. Suotama has both hooks in. RNC is locked in tight and it's all over! Suotama gets W after 6 years of layoff from MMA. Extremely strong performance by MMA Imatra's fighter.
Winner: Maiju Suotama by RNC, Round 1.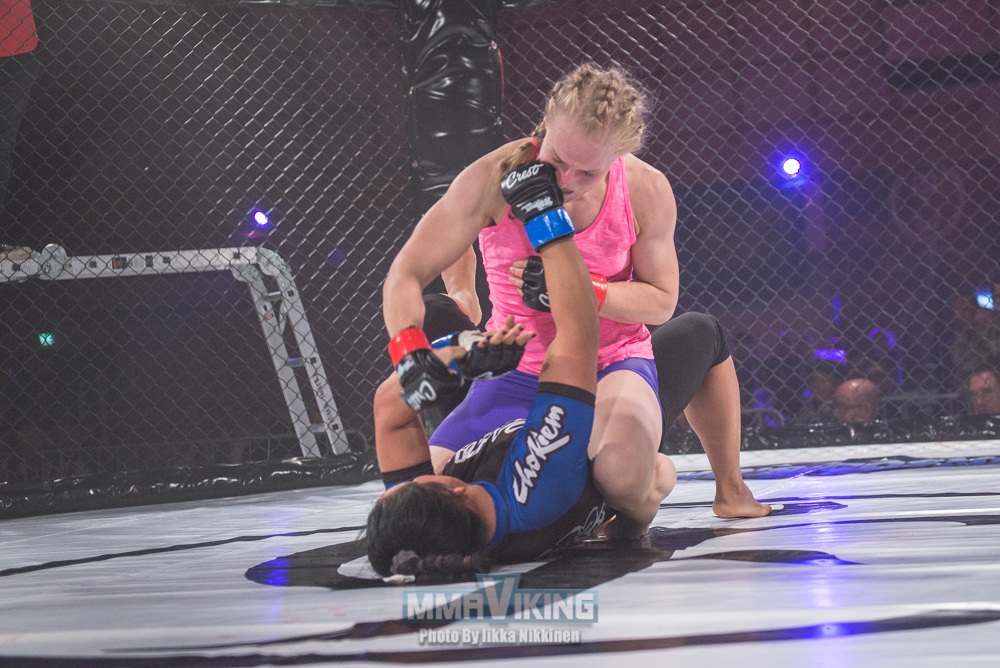 Juuso Halme, MMA Imatra, Finland vs Fernando Flores, Renyi Umeå, Sweden
Round 1
Both fighters are striking and kicking actively. Flores tries to take Halme down, but Halme defends nicely. Flores is pushing Halme against the cage and is looking for a takedown. Flores lifts Halme up and takes the fight to the ground. Halme has a kimura locked in and he uses it to get back up. Flores is bit more active with standup as the round comes to it's end.
Round 2
Flores is striking 1-2 combinations and Halme is mostly countering. Flores pushes Halme to the fence but Halme doesn't let the Swedish fighter take him down and disengages from the position. Both fighters are innovative and active in their standup game. Halme goes for a takedown but Flores blocks it.
Round 3
Beginning of the round is spent standing up and trading punches. Halme has good success with his punches. Flores goes for a takedown but Halme defends. MMA Imatra's fighter is displaying some serious takedown defence. Flores manages to take Halme down and fight ends up to half guard position. Halme is using "old-school" sweep technique to get back up. One minute left in the fight as fighters are trading punches. Bell rings and it goes to the judges score cards.
Winner: Fernando Flores by split decision.