Royal Arena, the biggest MMA event staged in Denmark, took place last night at Brondby Hall.  Below are results of the event:
Un-Aired 
Søren Bak vs. Jason Forsell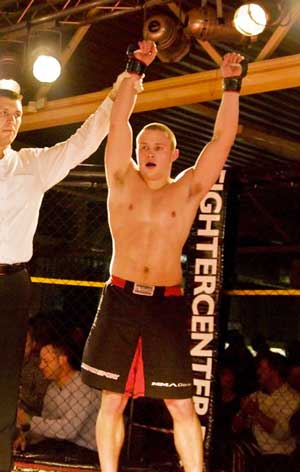 Winner : Søren Bak submission in first round (rear naked choke)
Under card
Philip Fortuna vs. Marcus Carnefjord
Winner : Philip Fortuna submission in second round (choke) 
Nicola Gozzi vs. Jonathan Svensson
Winner :Jonathan Svensson by points (decision 2-1)
Mulenga Chanda vs. Ales Jezisek
Winner : Mulenga Chanda by second round submission (guillotine choke)
Joachim Christensen vs. Wojciech Antczak
Winner : Joachim Christensen by first round submission (rear naked choke)
Main card

Kenneth Rostfort vs. Ivica Truscek
Winner : Ivica Truscek by points (decision 3-0) 
Nicolas Dalby vs. Acoidan Duque
Winner : Nicolas Dalby by points (decision 3-0)
Simon Carlsen vs Nick Osei
Winner : Simon Carlsen by KO in first round
Mikkel Parlo vs. Marcin Tondryk
Winner : Mikkel Parlo by KO in first round
Results from FightFan.dk.  Stay tuned for a full event recap and pictures to be posted shortly.