Finland's Joni Salovaara takes on Jim Alers for the vacant Cage Warriors featherweight title, and Sweden's Mats Nilsson takes on the UK's Chris Scott on the main card. See results and play-by-play below.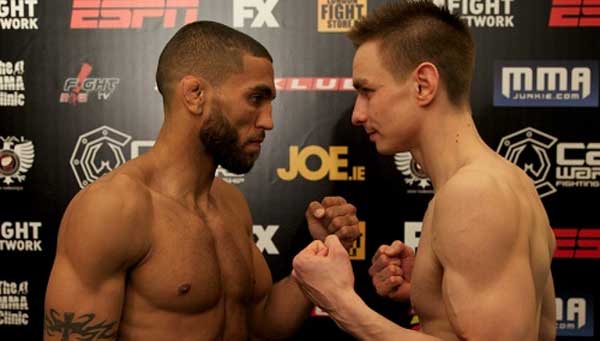 Play-by-Play & Results
Chris Scott (185lbs) v Mats Nilsson (184.8lbs) – middleweight
The intro is done by famous Swedish soccer player Henrik Larsson to get som attention for his fellow Swede Mats Nilsson.
Scott enters the ring first, with Nilsson coming in after with coach Tue K. Trnka from Rumble Sports.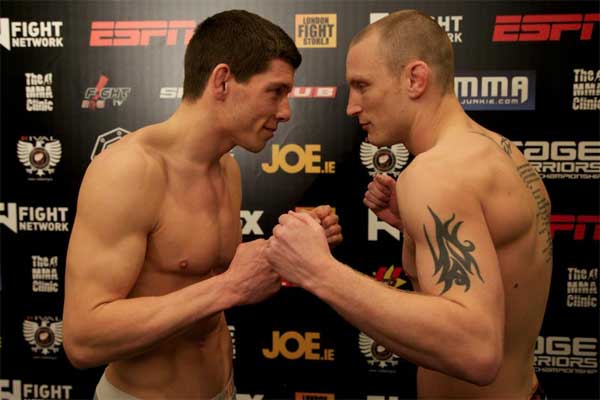 Round 1 – The two exchange punches early, but both keeping their hands tight. Nilsson looks to be improving his striking as he uses a combination to set up a nice double-leg take-down. Nilsson looks to pass, but Scott defends and keeps his opponent in the guard.
Nilsson tries and works some elbows, and punches from top position. Scott fires back with some elbows from the bottom. Again Nilsson tries to work his top game, but nothing significant. Nilsson on his feet, looks for ways to land something of impact, but catches an upkick instead. The Swede tries to come down with a big right, but nisses to end up on top.
10-9 Nilsson in Round 1 as scored by MMA Viking
Round 2 – Nilsson moves head head nicely, and clinches up. Scott lands some good punches, but the grappler grabes a single leg. Nilsson presses the UK fighter against the cage, and is able to bring the fight to the ground. Again Nilsson controls the bout from the top, and keeps his opponent to the mat. 2 minutes left, this round and the control of Nilsson is bringing the fight into a slow grappling match. Again, Scott makes it to the feet, but Nilsson drops him back to the ground.
10-9 Nilsson in Round 2 as scored by MMA Viking
Round 3 – Scott realizing his unbeaten record is in jeopardy strikes with some intent. A nice right by Nilsson, and another. A shot by the Swede that is shaken off, ana couple of nice body shots Scott. Nilsson keeps it on the feet, but tries to force the bout to the ground. Elbows, but the UK fighter again and again on the cage for some nice damage and success. In a quick turn of events Nilson lands a good punch, and Scott is on the ground with Nilsson raining down punches. Just under 2 minutes left, and a back and forth round. The Swede is bouncing on his feet, still showing good movement, but his back is on the cage and Scott goes for another short elbow.
Scott looks to the body on the feet, but again it's Nilsson with a nice takedown. The Swede ends up on top. The two embrace and celebrate each other's performance.
10-10 Round as scored by MMA Viking (30-28 for Nilsson as scored by MMA Viking)
Official Winner : 30-27, 29-28, 29-28 for Mats Nilsson – "I'm tired" "I tried the best I could" "It didn't pan out as I wanted." commented Mats Nilsson at the post-fight interview in the cage.
Joni Salovaara (144.6lbs) v Jim Alers (144.4lbs) – Vacant CWFC Featherweight Title bout
This is a 5 round fight for the championship. Joni Salovaara is the #3 ranked Nordic fighter. Alers comes in second, and seems to be the crowd favorite in Scotland.
Round 1 – Salovaara is wearing black shorts, with Alers wearing red shorts. Alers looking to land a big right, and Salovaara with the left jab. Alers with a take-down 45 seconds into the bout, and takes side control. Now Alers in full mount with less than two minutes into the bout, and the American now transitions to back mount and is under the chin looking for a rear naked choke. It's tight, but Salovaara defends and looks safe for now. Now in mount, and Alers is being aggressive with punches and elbows, and Alers again as back. 20 seconds left, and total dominance by Alers, but the round ends with Salovaara on top.
10-8 for Alers as scored by MMA Viking
Round 2 – Good exchanges early, as both fighters are finding thier range. Salovaara looks to have gotten a bit of his confidence back, and mixes in a punch kick combination with 1 minute into the round. Alers looking for a big right, but non have landed so far. This now looks like a boxing match, with no shots taken from either fighter. A spin kick missed by the Finn. The fight is back to the ground as Alers takes the bout to the ground. The fight now goes back to the feet, and Salovaara lands another kick.
10-9 for Alers as scored by MMA Viking
Round 3 – Salovaara shakes off a take-down, but now landing good jabs. Tide seems to be turning a bit as Salovaara is landing a bit more as the two exchange some punches in the first two minutes of the third round. Again Salovaara can't defend the takedown. Alers with some attempted ground and pound, but Salovaara reverses it and gets on top.
10-9 for Alers as scored by MMA Viking
Round 4 – Nice exchange from Alers, and he tries a take-down, but Salovaara switches the situation. Alers tries to secure a triangle, but can't get it. Salovaara passes, and looking to take full mount… but it's tight against the cage. The Finn trying to work his top-game, and lands a few punches. Alers has full guard, and looking for subs. The fight is called to its feet with 2 minutes left in the round.
Salovaara with a nice take-down, bring the fight to the ground, but its Alers looking to take advantage of the position. And the American does it with a submission, with a triangle locked he tightens it as he goes after the arm. A tap and finish for the title.
Official – Alers wins by submission in the 4th round.