Superior Challenge has put together the puzzle of featherweights without opponent by matching Simon Sköld versus Michel Ersoy for the upcoming event on October 6th. Read the press release sent out by the organization today :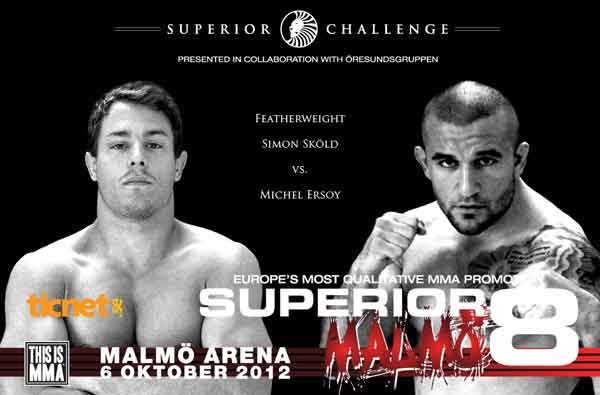 Press Release
Both Simon Sköld and Michel Ersoy gets new opponents with less than two weeks left to Superior Challenge 8 at Malmö Arena on October 6th. They are planed to fight each other.
Simon Sköld's first planned opponent Dennis Olofsson was forced to cancel his participation due to an injured knee. Michel Ersoy that had fought his way to the Kimura Talent 2 final bout, found out last week that his opponent Rami Aziz, at the last minute decided not to fight him because of some aspects not related to the tournament. Rami sadly ignored the promoter's attempts to reach, and didn't cared to inform the promoter about that he didn't want to participate at the event, until Superior Challenge demanded a response. Only 2,5 weeks before event day he answers and informs that he's not going to fight because of some diffuse explanations. This can be seen as disrespectful to Michel Ersoy who strived for months for this bout, and with 2.5 weeks left to the event, it's incredibly difficult for a promoter to find a replacement.
Both Simon's and Michel's fights were scheduled as Featherweight bouts, so Superior Challenge has decided to not cancel these two hungry fighters participation on the October 6:th card, and instead match them against each other.
Both of these gentlemen have begun their careers in various seasons of Kimura Talent in partnership with Superior Challenge. A tournament in which participants competes for the prize of one-year contract with Superior Challenge and Superior Management. The tournament has developed a series of young fighters such as Niclas Danielsson, Jonathan Svensson, Nicklas Bäckström, Dennis Olofsson mm. and Superior Challenge has built up and been a stepping-stone for the Swedish MMA elite towards the world's biggest events, for athletes such as Reza Madadi, Sami Aziz, Hamid Corassani, and Magnus Cedenblad mm.
Babak Aghavali, CEO Superior Group International:
– When you think you have heard and seen everything about drop-offs you always get surprised once again, but as soon as they arise, we have to restructure andcontinue working forward. Everyone has their reasons for dropping off, which does not really matter to us. Our focus is to find replacements for those athletes who are left standing without a fight, at the same time as we try to organize better and better events for our fighters and for the MMA audience. It's an incredibly tough job. We at Superior Challenge sacrifice a lot of our effort to create a platform for young talents to build their careers on. Ittakes an incredible amount of energy, time and resources to offer our Swedish athletes the opportunity to compete against fighters such as Joachim Hansen, Thales Leites, Jeremy Horn, Rich Clementi, Marcus Davis mm. and also to offer TV exposure to more than 100 million viewers around the world. Therefore, we only try to work with professional and serious athletes, who appreciate hard work, dedication and professionalism.
– Both Simon and Michel were completely devastated about their opponents dropping off from the card, but we chose to offer them a bout against each other so that all their training for over three months wouldn't been in vain, even though both belong to the same management team. Both were very quick to say yes. It shows that they know what they are doing. Big respect to the athletes Simon and Michel who sees this as a sport and have chosen to compete against each other, although both are under the same management.
– I must say that this match-up is incredibly more interesting than both of the previous ones. Here we have two true warriors who are known to deliver highadrenaline action. This bout definitely has the potential to become the fight of the night.