Former Ultimate Fighter contenders meet in this featherweight match-up between Sweden's Akira Corassani (9-3) and England's Andy Ogle (8-1). Neither guy has yet to have a fight in the UFC so this will be the first one for the both of them.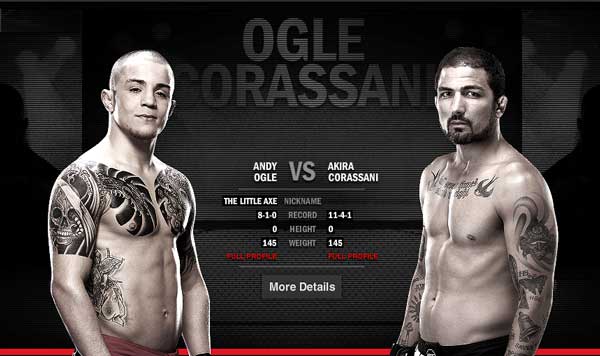 Akira Corassani, formerly known as Hamid Khorassani, is a Swedish fighter with parents are from Azerbajdjan. He started his MMA career in Gothenburg where he trained at the GBG MMA that is one of the top gyms in Northern Europe. Since then Corassani has training also at the Kaobon gym in England and lately at Renzo Gracie's in New York City. Before he joined the Ultimate Fighter Corassani racked up a 9-3 record in four years. He holds notable wins are over Graham Turner and Ivan Buchinger.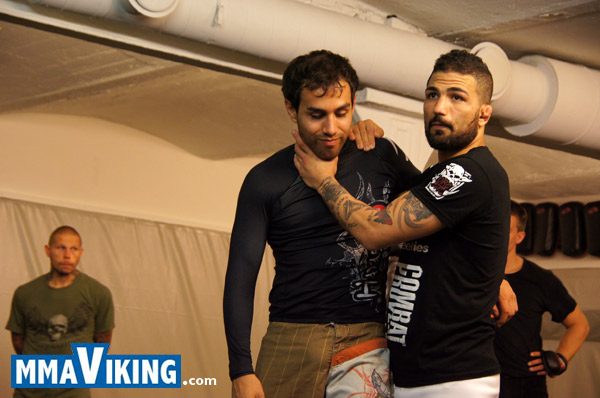 In his last official fight at the Zone 8 Corassani got knocked out in the second round by Paul Reed.  On the Ultimate Fighter season 14 Corassani won his first bout by knock out over Brian Pearman. He then progressed to semi-finals with a controversial decision win over Dustin Neace. In the semi-finals Corassani was choked unconscious by Dennis Bermudez. Corassani was set to fight Steven Siler in December of 2011 and Jason Young in April of 2012 but the Swede pulled out of both fights citing an injury.
Corassani is an allround fighter with a preference to striking. While his striking has not been very diverse in the  past, he has shown that he has respectable power in his hands. For the past year the Swede has been training at Renzo Gracie's in NYC and with the UFC lightweight star Frankie Edgar. One would expect that Corassani has improved in all areas and that his grappling especially has reached new levels.
Akira Corassani Highlight

Andy Ogle was a member of the Ultimate Fighter season 15 crew. Ogle started training MMA in high school and turned pro in 2009 at the age of 20. Within two years Ogle gathered a impressive record of 8-1 with notable wins over Shay Walsh and Jason "World's Toughest Keyboard Warrior" Furness. Ogle got into the TUF house with a decision win over Brendan Weafer. In the quarter-finals Ogle scored an upset when he choked out one of the favorites Mike Rio in the second round. Ogle was eliminated from the competition in the semi-finals when he got knocked out in the first round by Al Iaquinta.
Like Corassani also Ogle can be described as an allrounder but instead of striking Ogle's preference has been grappling. He has good trip takedowns from the clinch and solid submission skills on the ground. Ogle hasn't fought since the TUF fights in February of 2012. It is reasonable to expect that also Ogle has made big improvements to his game during the break. Ogle has also changed his training regime as he is now training at Team Kaobon that is one of the best gyms in the UK and also one of Corassani's old training places.
Andy Ogle vs Phil Flynn at Knuckle Up MMA 8 

Summary: Beforehand this seems like a pretty even match up. Corassani probably has more power in his strikes but Ogle might hold the advantage in the clinch. On the ground Ogle has usually turned fights to his favor but Akira's training with Renzo's crew and Frankie Edgar should pay off if this fight hits the floor. MMA Viking's prediction is Akira Corassani by TKO strikes late in the second round.