MMAViking.com is live in Tampere, Finland for StandUpWar 4. The card includes both pro and amateur MMA bouts, and a pro kickboxing bout where world champion Finn Jarkko Jussila meets Martin Fouda out of Sweden. In the main event, hometown prospect Kai Karar gets a stiff challenge from grappling wizard Tommi Marttinen. See live updates below from Saturday's event.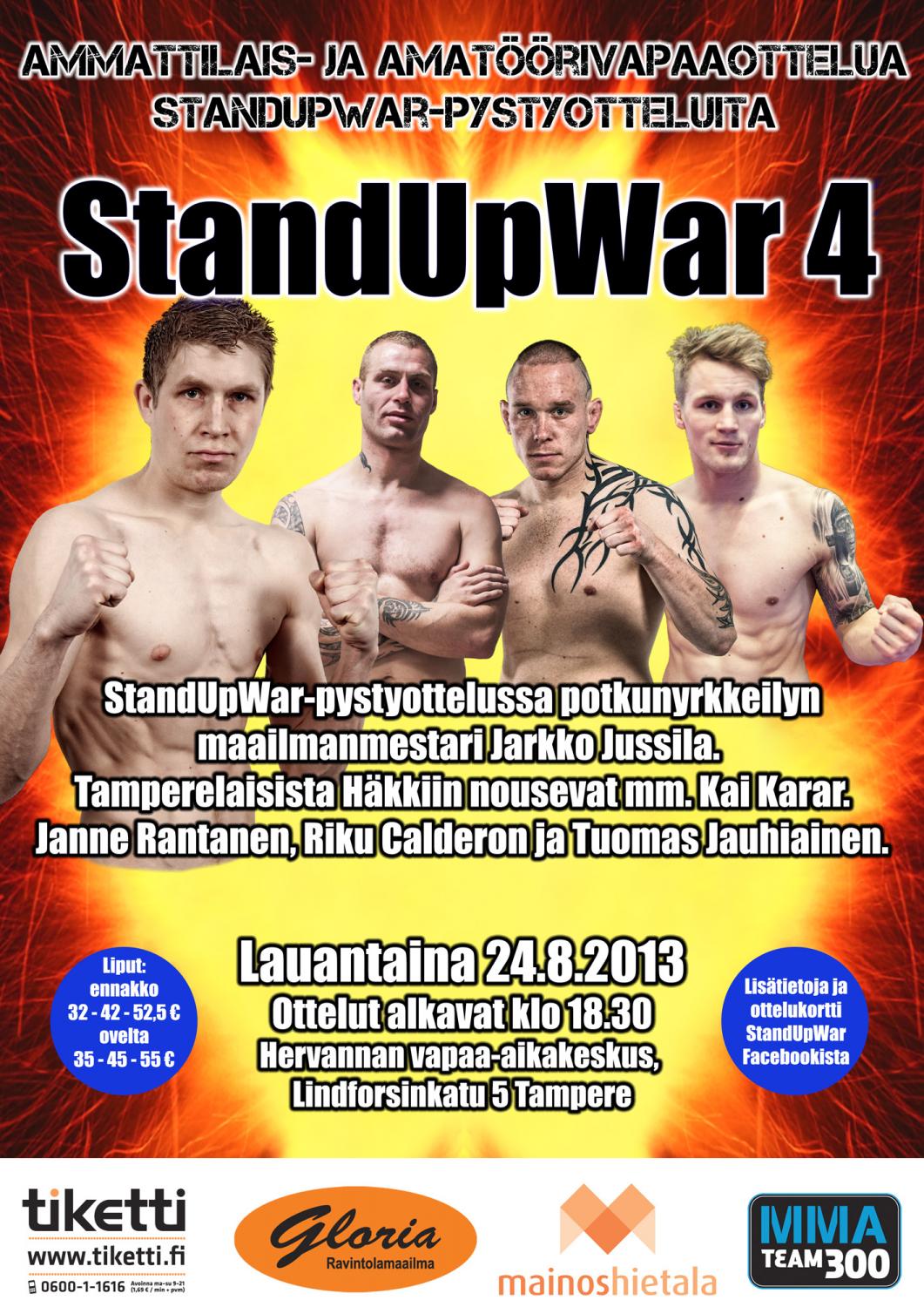 Play-by-play and Results
Read the event preview and an interview with MMA Team 300 head coach and founder of StandUpWar Timo Lampen.
LW: Kai Karar (2-0), Finland vs Tommi Marttinen (5-1), Finland
Kai Karar has failed to make weight, this fight will now be conducted at a catchweight.
After a touch of gloves Marttinen quickly finds the center of the cage. Marttinen pushes Karar to the fence, swings a heavy combo, then is staggered back to his rump. Marttinen chases Karar, playing the predator, and then secures a takedown, finding himself comfortably within Karar's guard. Marttinen lands small shots to the body, then Karar finds his feet, with Marttinen firmly in the center of the cage. Both placing jabs, Marttinen glances with a winging right hand, then places it succesfully.  Marttinen searches for a takedown, but it eludes him. Karar defends a continued attempt, then succumbs, Marttinen establishing himself as a fixture within Karar's legs. Several small shots from the top and the round concludes.
The second stanza begins with Marttinen in the center, but Karar moves quickly and places Marttinen between him and the fence, securing underhooks and placing knees to the chest and stomache. Marttinen places a right hand then finds his rump on the mat. He finds his feet, and lands a solid right hand, persuing Karar and finding a takedown in the process, once more, a constant presence in Karar's guard, landing small shots from the top. Marttinen lands several left hands to the body before they are stood up, and Karar answers with an uppercut and a flying knee. Marttinen swings, connecting with a combination then covers up under a return onslaught from Karar. Marttinen moves forward and once more finds his familiar place within Karar's guard, where both struggle for purchase into the end of the final round.  The Judges score this bout in favor of your victor, Tommi Marttinen.
LHW: Saku Heikkola (1-5), Finland vs Antti Kästämä (3-0), Finland
Saku Heikkola emerges to Shipping Up to Boston and the crowd seems to lend their approval. He opens with a small combo, slips a return from Kästämä and scors a kick. Heikkola secures the center, then gives way in order to counter strike. Heikkola absorbs a kick and prssures Kästämä into the cage. After a brief inactivity Heikkola finds the center, then pushes Kästämä to the cage. Heikkola absorbs a right hand on the chin, and dances around the outside before returning fire, taking a kick to the body, and being wobbled by a heavy right. Heikkola is still in the game, however, landing a heavy kick then ducking under a right hand to pressure once more against the cage. Heikkola is bleeding from the corner of his right eye, and the action is stopped as Heikkola recieves attention from the doctor. The action is declared officially over on the Doctor's orders, and Antti Kästämä recieves the victory by way of Doctor Stoppage at 2:58 of the first round.  This decision is currently being contested, and Saku Heikkola's team is arguing in favor of overturning the Doctor Stoppage TKO in exchange for a ruling of 'No Contest', updates to follow.
LW: Teemu Packalen (2-0), Finland vs Grzegorz Sajbor (2-0), Poland
Packalen finds the center of the cage and after an exchange looks for a takedown, which is unsuccesful. A sceond attempt finds him in guard with a quick transition to side control. Sajbor attempts a sweep, but Packalen simply switches sides, eventually leading to a mounted position that culminates presently in his victory by first round armbar.  Teemu Packalen is victorious at 1:58 seconds of the very first round by way of Armbar submission.
FW: Janne Rantanen (4-8), Finland vs Rasuel Khataev
Janne Rantanen appears to be a crowd favorite, and the audience is fired up for a war. Tentative at first, Rantanen fires a kick, and the favor is returned by Khataev, with dastardly intent. Rantanen finds himself on the ground, his leg giving way under the axe of Khataev's vicious shin, and a victim of ruthless leg kicks from a standing Khataev, who bludgeons the thigh of Rantanen until the referee declares the bout at an end. The damage to Janne Rantanen's legs is catastrophic, and several minutes later he has still not yet recovered, the shin of Rantanen appears broken after a checked kick gone awry.  The bout has been stopped and Rasuel Khataev is the victor by referee stoppage in the first round, and Janne Rantanen is carried away by his team.
BW: Janne Elonen-Kulmala (5-4), Finland vs Elias Boudegzdame
Elonen-Kulmala with a takedown early, struggling for position against the cage. Elonen-Kulmala lands hard shots to the body, but finds himself in a triangle/armbar attempt, taking shots from the bottom. Elonen-Kulmala frees himself and opens up with bit shots from the top. Continuous top pressure from Elonen-Kulmala, and heavy body punches continue from within the guard. Elonen-Kulmala escapes another triangle attempt to rain heavy shots to the head and body of Boudegzdame.Elonen-Kulmala seems content within the guard, and lands another heavy shot. The referee is not content and stands them up. Boudegzdame answers Elonen-Kulmala's offense with a flying knee, but is soon taken down. Elonen-Kulmala finishes the round in the top position, from within guard.
Elonen-Kulmala begins round two with a swift takedown and finds himself defending another triangle attempt whilst receiving blows from the bottom. Elonen-Kulmala survives a tight triangle and escapes a bad spot to continuous applause.  The fight is stood up, for the brief amount of time it takes Elonen-Kulmala to secure another takedown, and Boudegzdame continutes his quest for a submission from his back, the second stanza finishes with Elonen-Kulmala applying top pressure from within the guard.  The judges have scored in favor of Janne Elononen-Kulmala, by way of Unanimous Decision.
Kickboxing FW: Jarkko Jussila, Finland vs Martin Fouda, Sweden
This bout has been cancelled due to illness, Jarkko Jussila appears to have contracted a stomach bug.
Amateur Bouts:
Jussi Niskala vs Christoffer Lindqvist
Stand Up War lives up to it's name as the first round is back and forth kicks, with more landing for Niskala, specifically on Lindqvist's head. Lindqvist pushes against the cage, and attempts to secure a takedown, but finds only knees to his body being offered by Niskala, though he eagerly returns the favor as he loses his position and finds his own back to the cage. Swinging right hand from Niskala, Lindqvist ducks under and throws a right then body kick, recieving an eye pike in return. Niskala secures a takedown and immediately assumes side control. Both fighters are drawing breath hard, but Lindqvist looks worse for wear, despite securing powerful knees to the body early.
Lindqvist with kicks early finds the middle of the cage but his punches fail to match the motion of Niskala's head, and Niskala scores kicks from the outside.Hard kick to the body by Niskala, and he smells blood, swinging hard while Lindqvist finds his back on the cage. Niskala scoring to the body and head before being reversed against the cage. Knees exchange but Niskala appears to have more steam and tags Lindvist prior to a takedown which lands him in mount. Lindqvist reverses his way into a tight triangle, and Niskala feels a tapping sensation on his ribs as he achieves a hard fought victory by way of Triangle choke submission near the end of the second round.  Jussi Niskala is victorious by way of submission at 2:55 of the Second round.
Middleweight bout: Lassi Isometsä vs Ville Vanhanen
Vanhanen takes the center early and pressures Isometsä to the cage with a flurry of punches and kicks, but Isometsä isn't content on the outside and prssures himself forward to hold Vanhanen against the fence, searching for a takedown. Isometsä secures a toss and lands in halfguard. Isometsä transitions around the outside to secure halfguard and eventually mount. Isometsä falls pray to Vanhanen's shrimp escape and into side control, then Vanhanen powers his way to the feet, throwing a strong right hook from the cage.
Vanhanen has powerful striking and finds his mark with combinations. Slips on a head kick and finds himself in a guillotine which Isometsä uses secure a brief mount in the scramble. Vanhanen finds his back on the cage, and Isometsä imposes his will from the top. Isometsä puts Vanhanen where he wants him, toward the center and achieves mount. Vanhanen attempting an ineffectial shrimp escape finds his way into an Americana attempt from the top. Isometsä prefers side control, and transitions on his own, searching for a submission. Isometsä loses his position to Vanhanen's guard at the end of round 2.  Vanhanen comes out ferociously, but is stifled to the ground yet again. I experience technical difficulties at this point, and Isometsä secures a majority decision.
Riku Calderon vs Teemu Rissanen
Calderon and Rissanen have come out to considerable energy and applause for the first round of this amatuer bout. Touch of gloves and the first round sets off. A small exchange and Calderon finds himself in a top position. Searching for an arm triangle, but it doesn't materialize. The round ends with Calderon back in guard.
Calderon holding the center, avoids a jab and misses with the right hand.Tentatice jabs from Rissanen, Calderon tagged with a winging left, scrambles for a takedown against the fence, finds himself in Rissanen's guard. Rissanen keeping his hips elevated searches for a triangle or armbar, but Calderon transitions through the legs into sidecontrol. After a scramble Calderon loses a kimura to Rissanen's Guillotine, but finds himself back in side control. A slightly inactive striking game from the top position ends the second stanza.
A heavy left from Rissanen as he takes the center, initially, then decides to play the counter puncher. Good head motion as the two excahnge left hands. Fron kick as Rissanen pushes forward finding angles from the outside. Leg kick from Rissanen, who falls short with a right hook, then finds another leg kick.  Front kick from Rissanen answered by Calderon with a kick to the body. Rissanen shoots for a takedown from against the fence, but finds himself beneath Calderon yet again. Calderon again searching for an arm triangle, no shots landed from the top.  Rissanen has done enough to secure himself a unanimous decision victory.
Photos from By Iikka Nikkinen of the event will be coming shortly.