MMAViking.com is at Scandinavium in Gothenburg, Sweden for Superior Challenge 9. Follow the event with our live play-by-play and results from Superior Challenge's first trip to  Be sure to check mmaViking.com for weigh-in photos and interviews from many of the headliners.
Play-by-Play
Pre-Fights
Martin Halvorsen vs Dexter Dyall Wallin
Round 1 – Both men starts swinging and landing, and Dexter lands with a huge hook that sends Martin to the mat! That was a quick knockout. Dexter Dyall Wallin wins by knockout, 0:31 in round 1.
Kalle Wahlström vs Rebar Karim (SHOOTO – 1 round only)
Round 1 – Kalle moves forward and eats couple of shots, Karim picking his shots and circling. A lot of jabs landing and Kalle is bleeding out of his nose. Karim is taking it easy and picking his shots, landing most of them. Karim picking up the pace now, lowkicks and jabs to keep kalle at distance. Both guys trading shots but Karim gets the better of the exhanges, and Kalle looks uncomfortable. Kalle trying to clinch but Karim circles out of it. Karim moving forward trying to finish it but round ends. Official decision: Rebar Karim winner by Unanimous Decision

Undercard
Mohammed Abdallah vs Erik Carlsson
Round 1 – Erik pressuring at start, both swinging and Erik trying to hold on and work in the clinch. Mohammed pressed Erik against the cage and doing some damage with knees. Now Erik circles and he gets Mohammed against the cage, both men swinging and both connecting. Wild exchange by both men, knees and hooks, Mohammed gets Erik to the cage, and a wild scramble before he is back. Now it's Erik doing some damage against the cage, but Mohammed gets him down, but Erik is already back up. Mohammed is controlling the fight right now and punishing Erik. End of round.
Round 2 – Erik still the agressor but Mohammed counters and is now pressing Erik up against the cage. Mohammed gets Erik down and lands good punches, but Erik gets up and the clinch battle continues. A wild exchange with hard kicks and knees, and the two are seperated. Mohammed looks strong in the clinch and yet again finds himself pressuring Erik against the cage. Still against the cage, Erik looking for a kimura but the two scrambles and again Mohammed is pressing Erik against the cage. Round ends with a short exchange of punches and kicks.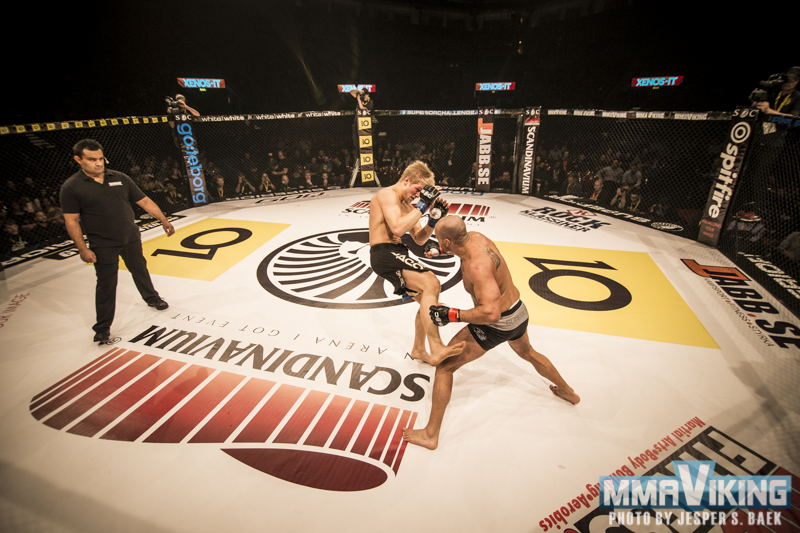 Round 3 – Again Erik going forward and eats a couple of hard punches, but still going forward. Mohammed is mostly counterpunching and having good success, Erik lands a hard right! Mohammed responds with a barrage of punches and presses Erik against the cage. The two are staying more active this round and both fighters are landing, but Mohammed slightly more. Mohammed lands a hard right hook with Erik pressed against the cage, and continues the clinch battle. Erik finally gets his opponent down and straight away goes to the back, transitioning into a good armbar position, but Mohammed gets out and stands up. End of round.
Official decision: Mohammed Abdallah wins by Unanimous Decision
Michel Ersoy vs Perttu Paatola
Round 1 – Michel rushing the cage and looks to be the agressor, being cautious and picking his punches. A hard combination from Michel forces Perttu to circle and get out of there. Michel still going forward and the Finn looks a little bit overwhelmed. Finn goes for a takedown but Michel sprawls way before he is in any danger. Michel teeing off with punches and the Finn is just trying to defend. Michel going forward and hard! The Finn takes him down though, looking to improve position but Michel gets out of danger and is up again. Pertty again shoots for the takedown and gets it, Michel is on the bottom and Pertty transitions into half guard. Michel trying to get up but the Finn is persistent, doing some damage from the top is Perttu. End of round.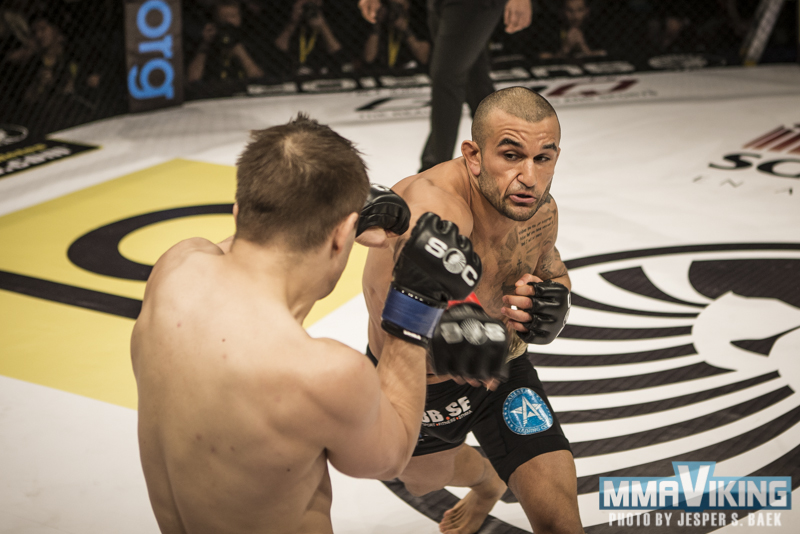 Round 2 – Michel trying to find the distance, and after a minute Michel connects with hard shots. Going to the body, the Finn is looking for the takedown, and there he goes for it, taking him down after a scramble. Perttu goes for a armbar, it's close but Michel recognizes and gets out! The two are back standing and Michel looks like a man on a mission. Throwing hard combinations, really teeing off! Perttu looks in trouble but is still standing, Michel with vicious knees forces the referee to intervene and save the bloody Finn!
Official decision: Michel Ersoy wins by TKO
Linn Wennergren vs Angelica Babbi
Round 1 – Linn circling and punching Babbi with ease. Babbi is trying to close distance but Linn has found her distance right away and after a barrage of punches Linn knocks the Italian out! Babbi looked very uncofortable taking punches and Linn could easily finish her off standing.
Official decision: Linn Wennergren wins by KO
Per Franklin vs Emil Weber Meek
Round 1 – Per is swinging hard and lands a hook! Trying to get close and take Emil down, but Emil recognizes and now Per is pressuring him against the cage. Per is holding on hard here, trying to secure the takedown but Emil gets up and seperates. A beautiful combination from Emil, both kicks and punches sends Per down to the mat! Still hanging on, with Emil hammering down punches. Emil restarts the action and grabs Per and lands some hard knees, still swinging for the knockout. Per is hurt and Emil is swarming him now with punches. Per lands a HARD punch that staggers Emil, chasing him Emil lands a hard straight that sends Per down again! Crazy action here from the two fighters. Emil goes forward landing hard knees and Per is forced to look for the takedown again, but Emil wants none of it and he stands up. End of round.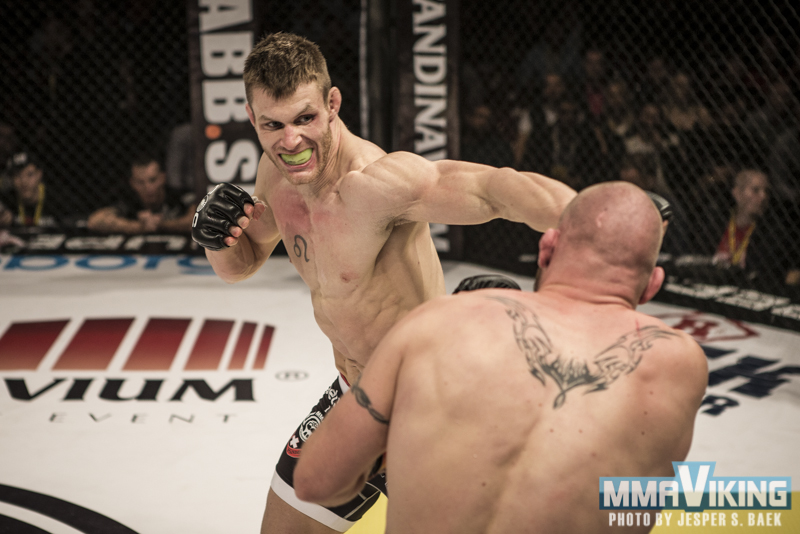 Round 2 – Both guys meet in the middle, and both guys tired from that crazy first round. Emil is keeping the distance trying to find a opnening. Emil lands a hard straight and sends Per down again, this time the referee jumps in. Per is quick to object to the decision, and looks to be fine.
Official decision: Emil Meek wins by TKO. 
Main Card
David Glasnovic vs Magnus Strandner
Round 1 – David lands some hard kicks towards the body of Magnus, after 4-5 of them Magnus is forced to close the distance and take him down. Magnus on top and David working for a triangle, he almost secures it but Magnus throws it off and dives for a leglock! It's tight, but David looks for his own leglock and now both competitors are cranking! Magnus gets out and is now on top, again David is looking for submissions on the bottom. Not much happening except for Magnus pressuring David. David gets up finally, but Magnus throws him down again and gets his back, both hooks in and trying to get the rear naked choke, but it's above the chin and David survives.
Round 2 – David keeping his distance and kicking, dont want to get too close to Magnus. David punishing Magnus with hard kicks to the body and looking to go upstairs, but Magnus charges and takes him down. David looking for the triangle again, but the Gothenburg fighter recognizes it and shrugs it off. Magnus is pressuring but not really doing any damage or moving to a better position. Referee stands them up and David goes forward and lands with a hard left straight that again, forces Magnus to take him down. Round ends with Magnus on top.
Round 3 – David unleashes a HARD left hook that lands clean, and sends Magnus down the canvas! David is now on top and throwing hard punches, but Magnus is able to recover and turn it around. Now got David in turtle position, drags him up and secures the hooks. Magnus just holding on to David, looking to sneak in his arm to get the tap. And he gets it! Magnus Strandner finally gets his arm under and chokes him out.
Official decision: Magnus Strandner wins by Rear Naked Choke.
Yosef Ali Mohammad vs Duarte Fonseca
Round 1 – Both men rushes towards each other but Ali a little harder, and lands hard punches that knocks Duarte out cold!
Official decision: Ali Mohammad wins by KO.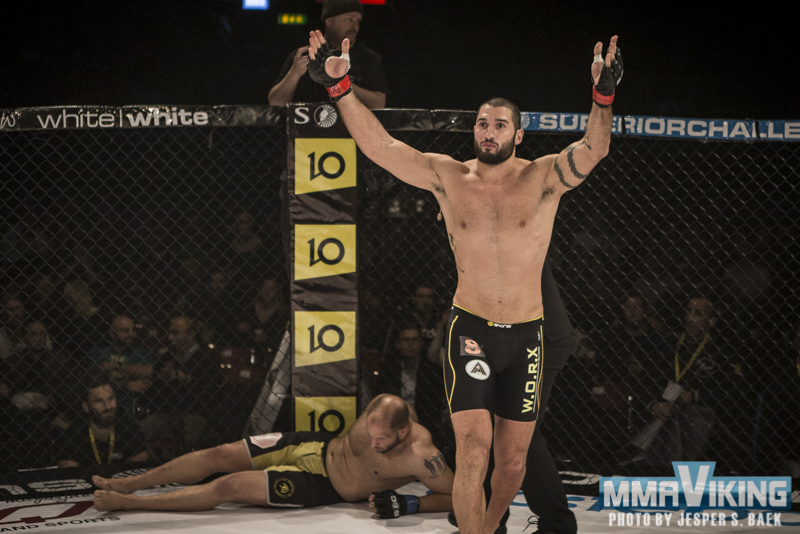 Martin Akhtar vs Damien Pighiera
Round 1 – Damien staying active and circling the cage, Martin chasing him trying to cut him off. The Italian happy with circling and evading punches, but eventually he engages and presses Martin against the cage. Akhtar able to showcase his muay thai with hard knees, forcing Damien to seperate. Now Martin teeing off with knees in the clinch and hooks which sends Damien to the mat, Martin following and picking his shots. Martin knees him hard to the body while turtled up, and the referee have seen enough!
Official decision: Martin Akhtar wins by TKO
Matti Mäkelä vs Matteo Minonzio
Round 1 – A short exchange and Matteo is going forward and pressuring Matti against the cage, looking for a single leg takedown but Matti gets back to the cage. The two fighters seperates and Matti taunts the Italien, throwing combinations. He hits him on the jaw and goes down, Matti on top. Matteo looking for a guillotine but the Swede gets out of it and is now reigning down punches. The two are standing up and Italian Matteo is tired already. Matti gets a trip and is now on top reigning down with punches, Matteo reverses and is now on top. Matti gets up after both fighters being inactive, and round ends.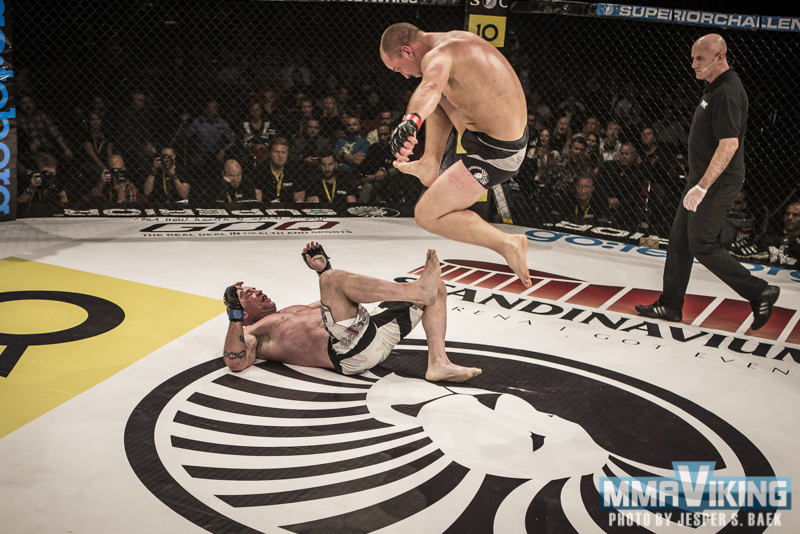 Round 2 – Both men trading back and forth but nothing landing hard, Matteo is tired and Matti is looking to take advantage of it. Matteo now pressed Matti against the cage, but they seperate and both guys trying to land punches, but Matti getting the better of the Italian. Matti is looking sharp against the sluggish Italian, who is slowing down. Matti lands a hard left hook, followed by a combination of knees and punches. Both men trading and finally Matti knocks the Italian out! The referee intervenes and the crowd is loving it.
Official decision: Matti Mäkelä wins by KO.
Diego Gonzalez vs Anton Kuivanen
Round 1 – Both men anticipating shots, and Anton is first with the punches. Anton goes forward with combinations and its lights out for Diego! Beautiful job from Anton, both men very respectful afterwards.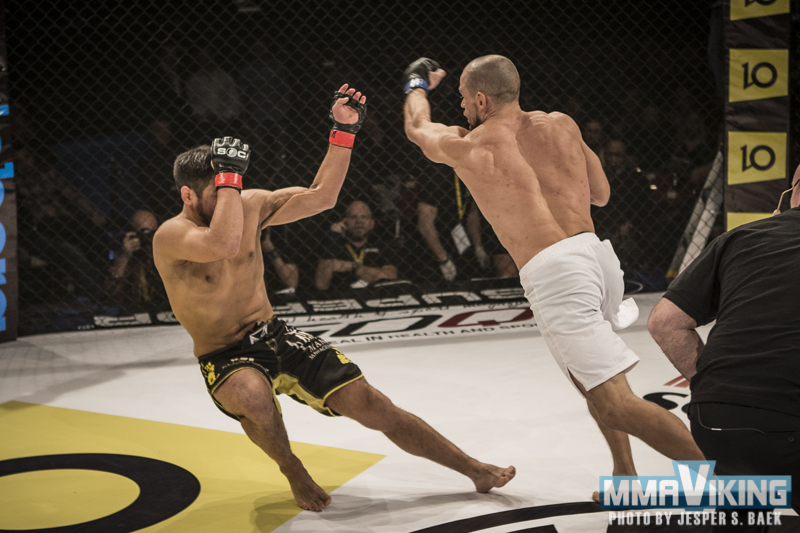 Official decision: Anton Kuivanen wins by KO.
Besam Yousef vs Danny Mitchell – Co-Main Event
Round 1 – They touch gloves and a short combination from Danny. Besam tries to take Mitchell down but changes it into a beautiful combination of punches, and presses Mitchell against the cage, working his dirty boxing. Besam trying to land hard hooks and elbows with Danny against the cage. Besam really succesful here against the cage, landing a lot of sneaky punches and elbows. Danny trips Besam but the Gladius fighter is right up to his feet, now Danny pressing the action against the cage. End of round.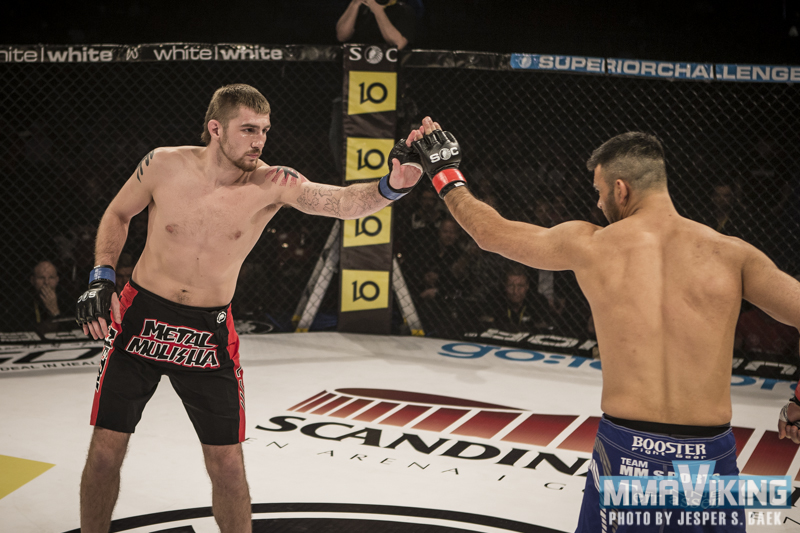 Round 2 – Danny landing good inside leg kicks, and Besam rushes forward to press the brit against the cage. Finding success again with his striking against the octagon. Now the two seperates and Besam lands two good strikes but doesnt look to affect the brit. Flying knee from Besam and after a scramble Danny gets the Swedish fighter down, secures back control lightning quick and gets the tap!
Official decision: Danny Mitchell wins by Rear Naked Choke. 
Reza Madadi enters the cage with the announcer, he lets everyone know that he wants to revenge his friend and training partner Diego Gonzales. He challenges Anton Kuivanen for the Superior Challenge belt.
Sami Aziz vs Jens "Little Evil" Pulver – Main Event
Round 1 – Sami going forward, drops Lil Evil with a straight right but Jens gets right up again, landing a hook himself. Now Sami got Jens against the cage and hitting him with combinations, throwing spinning kicks as well. Sami goes for the takedown but Jens recognizes and seperates. Jens lands a right hook that hurts Sami! But he recovers quickly and uses leg kicks really well. Another spinning kick from Sami, does not quite land, but keeps Jens guessing. Sami still gong forward, being smart with his combinations. Drops down for a takedown but Jens takedown defense is great, keeping the fight standing. End of round.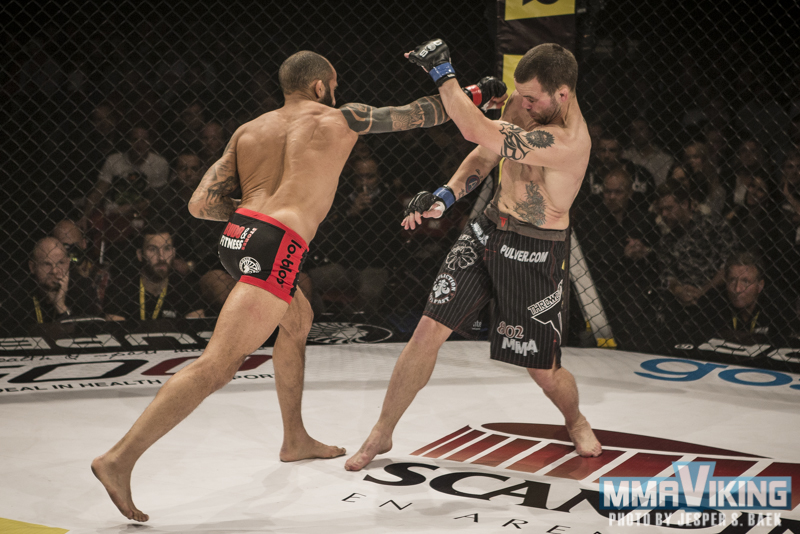 Round 2 – Sami throwing good leg kicks, going both low and high, finally Sami gets the takedown and will now look to improve position. After a few elbows from the Swedish fighter, Jens gets up, still pressed against the cage though. Sami switches to the single leg and gets him down to the mat, but Jens is doing a good job again and gets up. Sami still the agressor and lands good leg kicks, along with body punches. Round ends after a spinning fist that missed from Sami.
Round 3 – Sami lands a headkick right away, then drops down for the takedown and he gets it. Doing damage on top is Sami, and staying in position. Jens not able to escape. Sami improves position to half guard but Jens is quick to counter and they're back to full guard, now Sami is posturing and reigning down punches. Controlling and doing damage is Sami, with Jens growing more and more frustrated. Sami doing a real good job of controlling and punishing Jens.
Official decision: Sami Aziz wins by Unanimous Decision.