Suvi Salmimies (2-0-1) was slated to fight Izabela Badurek at CAGE 29, but the Polish fighter had to pull out of the bout due to injury just two weeks prior to the bout at the Culture House of Helsinki. CAGE has found a replacement for the Finn, who will lock horns with seasoned veteran Karla Benitez (10-7-1).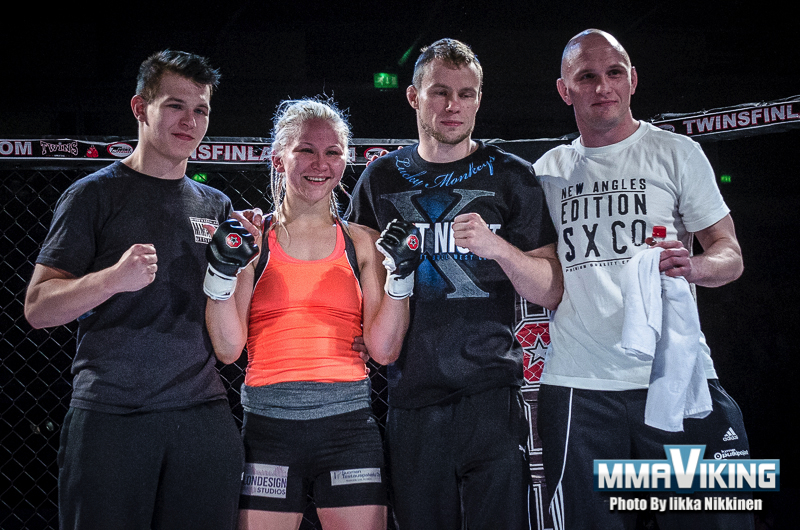 "Of course it's a big change to now be facing more of a standup fighter instead of the original opponent who was more a grappler. I'm happy to fight her none the less, since I definetly enjoy stand up fighting and am eager to test my skills against a respectable opponent!" says Salmimies about the change.
Benitez, originally form Venezuela, now residing in Spain, is far more experienced as a fighter than Salmimies. Her three last losses have come in the hands of top notch UFC-fighters.
"I'm also a fan of Finland and Finnish people. Too bad my Finnish opponent has to be handed a loss this time!" says the confident Benitez. "I'm very happy to have been offered the fight and didn't have to hesitate one second to take it."
Final Fight Card
-70,3 kg
Anton Kuivanen (20-8-0) Primus Fight Team vs. Sergej Grecicho (20-5-1) Lithuania
-120,2 kg
Marcus Vänttinen (24-5-0) HardKnocks Helsinki vs. Jarjis Danho (4-0-0, 1 No Contest) Syria
-70,3 kg
Mikael Nyyssönen (7-0-0) MMA Team 300 vs. Thibault Gouti (9-0-0) France
-77,1 kg
Mikko Ahmala (4-2-0) HardKnocks Helsinki vs. Julien Piednoir (4-1-0) France
-70,3 kg
Aleksi Nurminen (3-1-0) RNC Sport Club vs. Jonathan Ramon (6-7-0) France
-77,1 kg
Jussi Halonen (4-3-0) Hardknocks Helsinki vs. Laurent Beranger (4-2-0) France
-56,7 kg
Suvi Salmimies (2-0-1) Team East Front vs. Karla Benitez (10-7-0, 1 nc) Spain
-70,3 kg
Niko Myllynen (3-2-0) RNC Sport Club vs. Kevin Ruart (2-1-0) Switzerland
-93 kg
Saku Heikkola (3-5-0, 1 No Contest) Valkeakosken Heracles vs. Matej Surin (4-1-1) Slovakia