Cage 48 goes down this Saturday in Helsinki with eight fights. The card is headlined by Finnish striker Edward Walls (8-3) taking on BJJ black belt Alexandre Ribeiro (14-5-1, 1NC) with fan favorite Suvi Salmimies (10-6-1) taking on France's Maguy Berchel (10-3-1) with M-1 Global signed fighter Mikael Silander (18-7) making a special appearance against Carlos Eduardo De Azevedo (18-20-2). Let's take a closer look at the card as described by the leading Finnish promotion.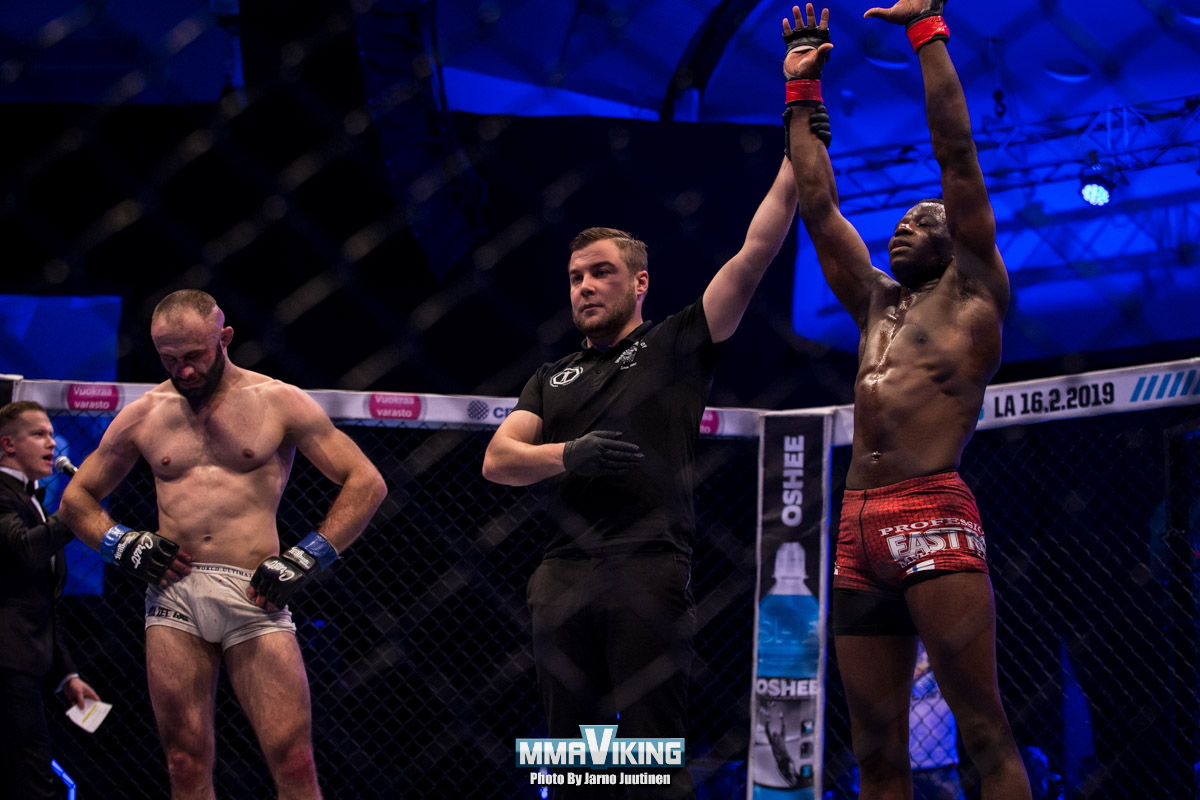 MAIN EVENT: EDWARD "BAD TEDDY BEAR" WALLS VS ALEXANDRE "LEKLEK" RIBEIRO
Technical striker vs reckless brawler w/ bjj-black belt
Edward "Bad Teddy Bear" Walls moved to Finland as refugee at the age of six escaping the horrors of the civil war of his then homeland Africa's Ivory Coast. Now a Finnish national, Walls has made himself known as one of Europe's most skilled young strikers leaving behind a highlight reel of flashy knockouts both by pin-point precise punches as well as action-movie like high-kick KO's. Walls phenomenal in counter-striking and has extraordinary reflexes and speed.
Alexandre "LekLek" Ribeiro is thorough all-around fighter armed with a BJJ-blackbelt and an extensive background in Muay Thai making him dangerous both standing up and on the ground. Possessing fighting-ending skills in all areas of the game "LekLek" tends to fight in a very aggressive style recklessly aiming to finish fights in stand-up exchanges.
This is the first time Walls faces a fighter taller than himself and with a longer reach. Will Ribeiro be able to utilize his size advantage or take Walls down where he should be able to have an advantage being a BJJ-blackbelt? Or are Walls' counterstriking skills, speed and precision too much for the Brazilian? Both fighters have stated the fight will end via KO.
CO-MAIN EVENT: SUVI "ROCKCHICK" SALMIMIES VS MAGUY BERCHEL
Battle for the European WMMA P4P-Queendom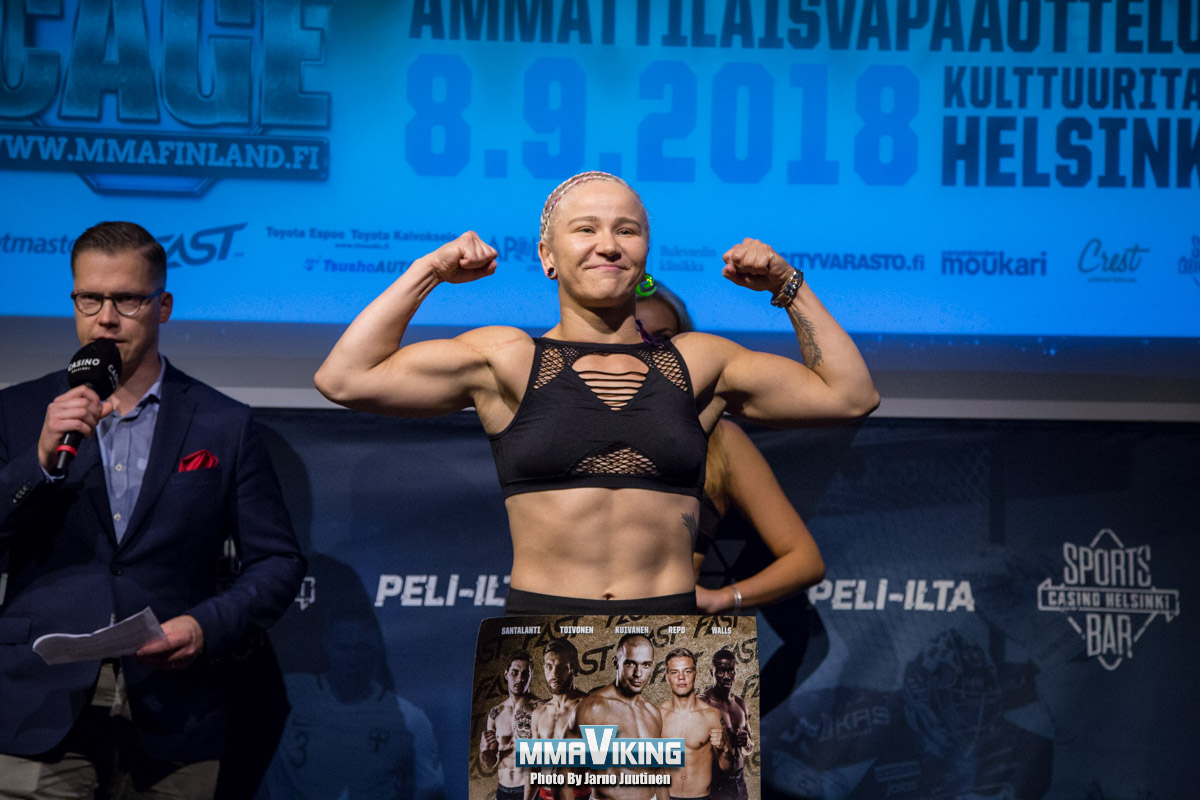 Finnish native Suvi "Rockchick" Salmimies is one of the most experienced female pro mixed martial artists in Europe. The Nordic WMMA P4P #2 has faced the who's who in Europe and her few defeats have come to high level fighters, for example the likes of successful UFC-fighters Lucie Pudilova and Mara Romero Borella. Salmimies herself passed the UFC's Ultimate Fighter tryouts a couple of years ago, but that time her whole weightclass got scrapped from the season.
Salmimies is in a tough situation careerwise; She has faced and won most of the European contenders in her category outside the UFC and has not many worthy opponents left outside the UFC and Invicta.
Salmimies is a well-rounded and technical fighter with extremely good conditioning and strength. Striking used to be her bread and butter, but after coupling up with European grappling phenom Jesse Urholin (who possesses practically all the possible medals in European BJJ & submission wrestling), her grappling and wrestling has risen to a new level and has resulted in various submission and ground-and-pound victories.
Maguy Berchel is the French P4P #1. She trains out of Venum Training Camp in Paris, but also actively trains with Bulgarian Top Team. Berchel has a background in gymnasts and possess great overall bodycontrol and strength and is well-rounded in all aspects of the game including flashy head kicks.
The two were meant to fight already in February, but Berchel had to pull out due to an injury. Both know the high risk – high reward set-up of the fight and have spoken respectfully of each other before the fight that defines the P4P European Queen.
MIKAEL "HULK" SILANDER VS CARLOS EDUARDO DE AZEVEDO
Nordic Ranking #1 vs Brazilian veteran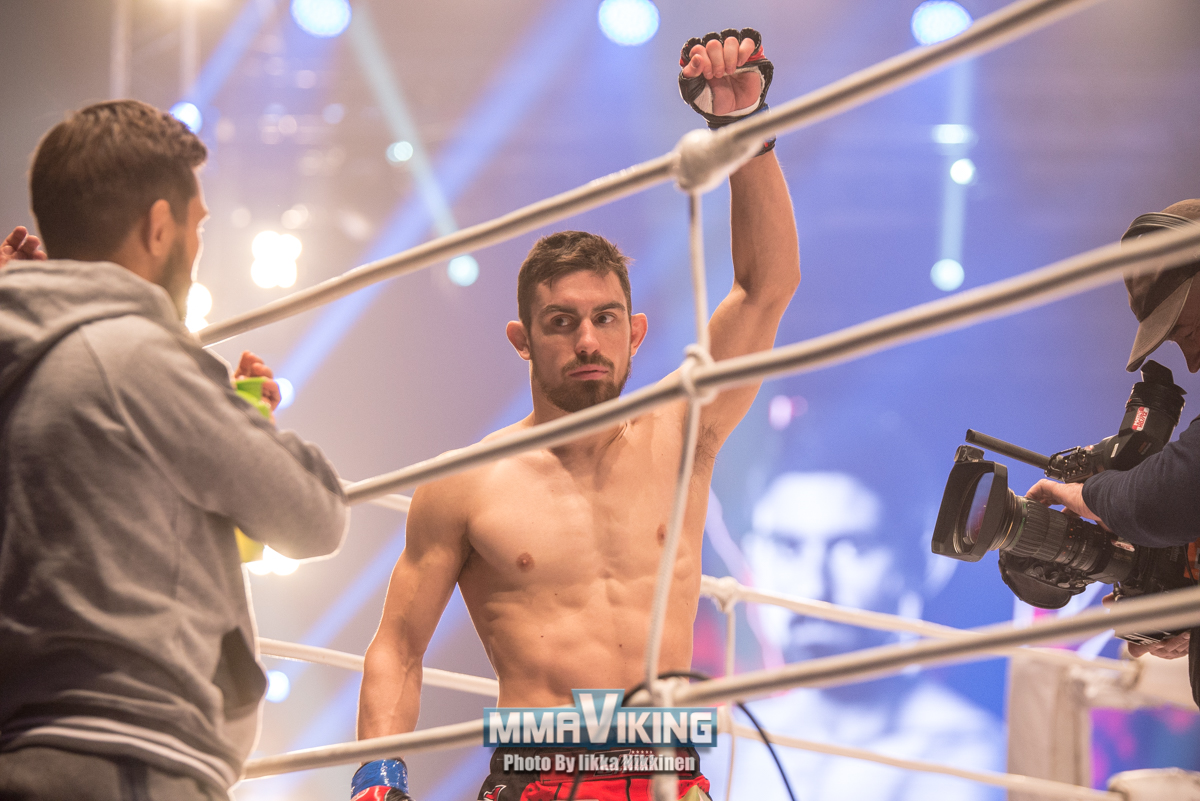 Finnish native Mikael "HULK" Silander is a rare treat for the Finnish audience since he has made his international break-trough to the big leagues long ago and is a veteran of various title fights in Cage Warriors and M-1 Challenge. His previous fight was an extremely close battle over the M1- flyweight belt against Alexander Doskalchuk that went all 5 rounds. Silander is known for exceptional conditioning being able to press his opponents non-stop for five rounds landing heavy body shots and utilizing heavy wrestling. He is as complete a fighter comes and very legit in all areas. This fight is a catchweight in 60kg instead of the normal 56,7kg category since Silander is considering a move up to bantamweight so "there would be more fighters left to beat".
The Brazilian native Carlos Eduardo "Teto Terranossa" De Azevedo is an extremely seasoned veteran with experience of over 40 fights. The Brazilian fighting out of Spain is used to maintaining himself active fighting basically once a month against anyone. "Teto Terranossa" does not shy away from challenge and can catch You standing or on the ground holding both KO- and submission victories in his record.
TUUKKA "KING HERKULES" REPO VS KARIM RABEI
Knockout Machine vs Submission Hunter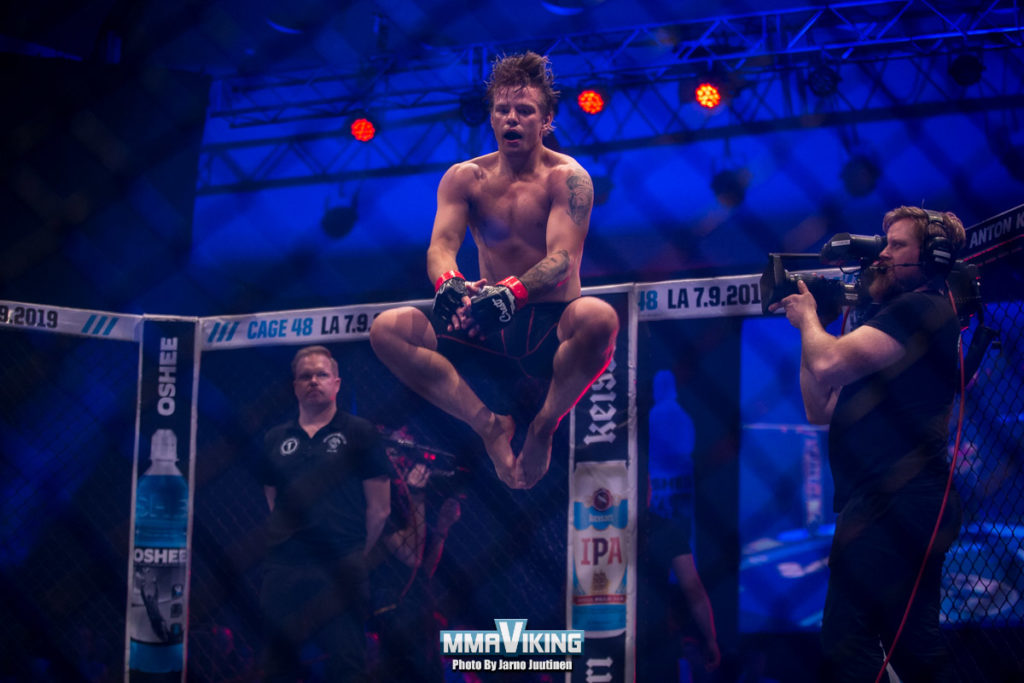 Finnish native Tuukka "King Herkules" Repo is widely recognized as the hardest-hitting Finnish mixed martial artist. Before turning pro in 2016 the young top prospect won the IMMAF amateurs world championship silver medal in 2015. As a pro Repo has left behind him a trail of flashy KO- victims and is certain that if injury-free he'll be fighting in the UFC in less than 2 years.

Even though his remarkable stand-up skills and highlight-reel knockouts is what he is known for, there are underlying ground-skills that the public is yet to see. Proof of this is his success in submission wrestling competition that has earned him a spot in European championships in November.
French native Karim Rabei, fighting out of Team Talbi is an undefeated submission hunter earning all his victories via submission or choke.
Will Repo manage to keep the fight standing and add another flashy KO to this resume on his way to the UFC or does Rabei crush the superb strikers dreams by submitting or choking him in the ground?
TONI LAMPINEN VS SOFIANE BENCHOHRA
The Finnisher vs Bare-Knuckle Boxer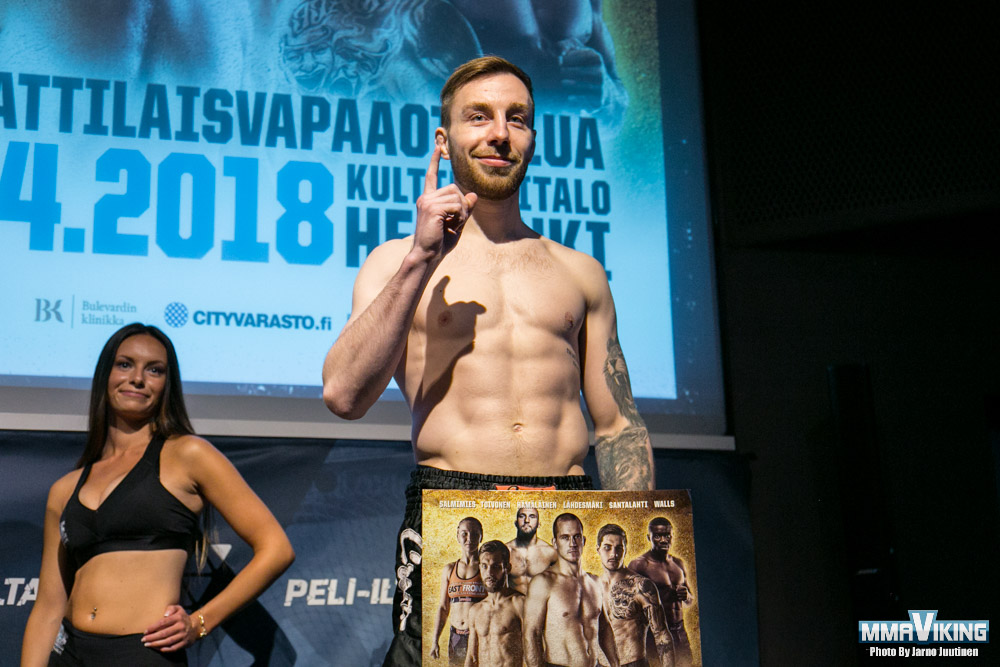 Finnish native Toni "Finnisher" Lampinen made his name known and gained respect amongst fighters and popularity amongst fans in an exceptionally short period of time last year. Lampinen got a chance to fight at CAGE 42 as a virtually unknown fighter filling in as a late replacement and huge underdog against Greece's Roberto Aliaj. Ever since Lampinen has gained 4 consecutive wins always as an underdog leaving his mark with fan-favourite KO's and submissions. Now the humble and soft-spoken Finn will face the most experienced opponent of his career in the heavy-handed French Team Adrenaline fighter Sofiane Benchohra. Benchohra has twice the experience in MMA and has piled extensive experience outside MMA as well fighting fearlessly in for example bare- knuckle boxing, but no-one wants to consider Lampinen and underdog anymore, against anyone.
LEONARDO CASOTTI VS ALAR HUTROV
The Classic – Striker vs Grappler
Brazilian Vila Velha native Leonardo Casotti has a long background in kickboxing and carries KO- power in his hands. Casotti trained for this fight in Thailand with UFC-fighter Johnny Walker and is prepared to upset the local crowd again after knocking out both of his previous opponents at CAGE. Riding a 5-fight win streak, of which 4 by KO's and submissions, Casotti is the strong betting favourite in his encounter with fearless Estonian Alar Hutrov.
Hutrov works in the Estonian armed forces and is best described as strong and well-conditioned wrestler. He has no obvious flaws in his game, but his strength, wrestling and die-hard mindset are his best assets. For this fight he was offered various possible opponents and he chose Casotti regardless of the Brazilians devastating KO-capability.
TUOMAS GRÖNVALL VS ARGEN MARATBEKOV
Serial strangler vs wrestling beast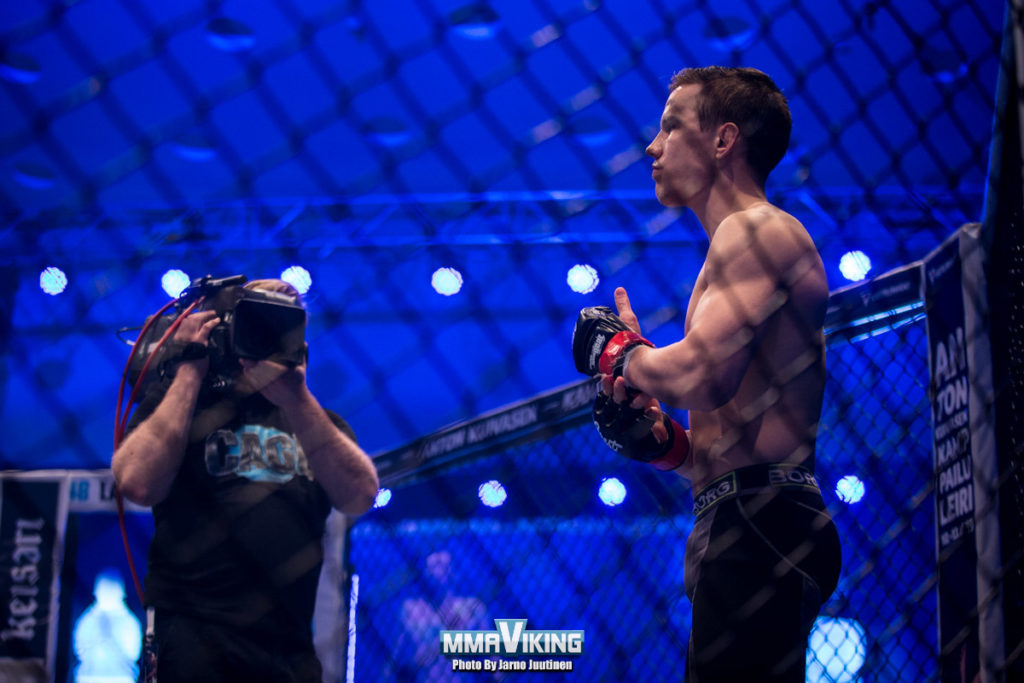 The Finnish native Tuomas Grönvall is infamous for his Brabo- and guillotine chokes. The strong wrestler has earned all his victories via chokes or TKO and is riding a 2-fight winning streak. While his strength and grappling skills are supreme he is yet to hone his stand-up skills to the same level. The young Finnish power house is now paired up with three-times the experience in Kyrgyztan native Argen Maratbekov. The Kyrgyztan fighter has relentless pace in fighting having piled up an impressive 18 fights in 2 years. Is the Maratbekov's experience superior to Grönvall's ability to quickly score takedowns and get a hold of his opponents neck with fight ending force?
JOEL AROLAINEN VS BJARKI OMARSSON
IMMAF World championship silver medalist vs Icelandic Viking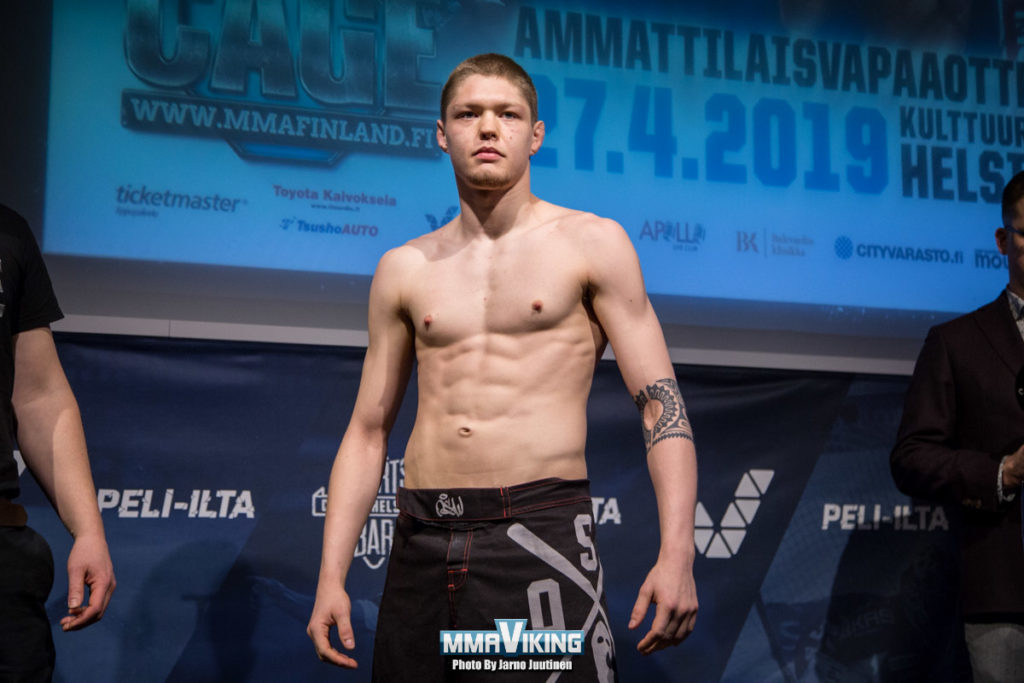 The Finnish native Joel Arolainen won the silver medal at the IMMAF amateur world championships tournament in 2017 via split decision after fighting five fights five days in a row. Young Arolainen is a great example of the new-breed of MMA fighters that have enjoyed the benefits of the nowadays well-organized amateur MMA system. He has an extensive amateur record and experience from various international championship tournaments. When he made his pro debut in CAGE 47 in April he had already had numerous hours of cage-time and it showed in his fight against Alar Hutrov regardless of taking the fight with 2 weeks notice.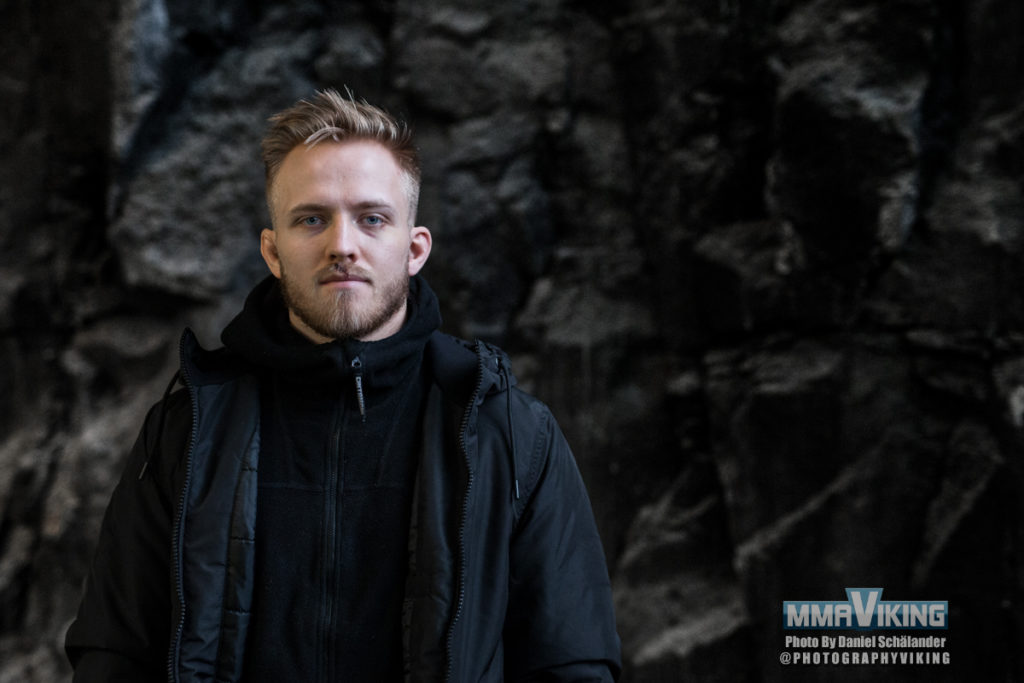 Arolainen is an all-around fighter with no big flaws in his game. His biggest strengths are his self- confidence as a fighter and conditioning. He has finished fights both with submission and TKO's.
In his pro-career's second fight Arolainen faces the Reykjavik based Icelandic Viking Bjarki Omarsson. Omarsson is UFC-star Gunnar "Gunni" Nelson's teammate and training partner from Mjölnir MMA. Omarsson has trained MMA for 9 years and is a brownbelt in BJJ. His biggest achievement is winning the UK-based Shinobi MMA Fighting Championships amateur tournament.