It is a Spång filled weekend, as Andreas Spång fought for the the Bellator title on Friday, and now his younger brother Chris hits the main card of Strikeforce.  This night it again showed the world that these brothers have punching power and are here to stay.
The welterweight match-up was the first bout of the main card that featured the end to the heavyweight tournament title of Barnett versus Cormier.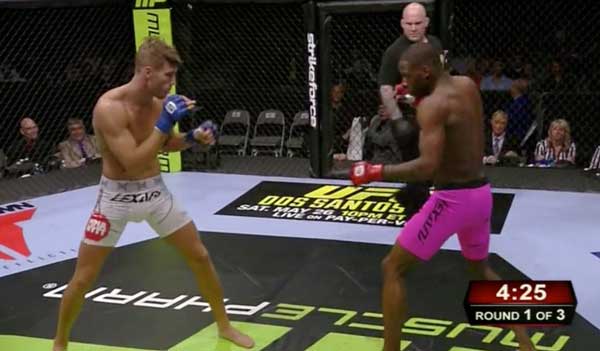 Spang looked confident and focused coming out to the cage.  After exchanging punches for the first two minutes without anyone having a significant advantage, it looked like it could be a good night for Spang that seemed to be the quicker of the two.
Things changed quickly as the Swede landed a big left hook two minutes in that sent his opponent falling to his butt hurting Burrell. From then on, it was a Spang beat-down with total domination.
The 24-year-old held his opponents head while conssecutive knees were thrown to the face for a thorough smashing.  Referee Josh Rosenthal watched the action closely as it looked like his opponent was out on his feet.  Knees continued and continued. "He's relentless" yells Pat Miletech the announcer.
Rosenthal stepped-in when it was apparent that Burrell had enough and couldn't defend himself.  An impressive victory for Spang.  The bout ended with 1:35 left on the clock.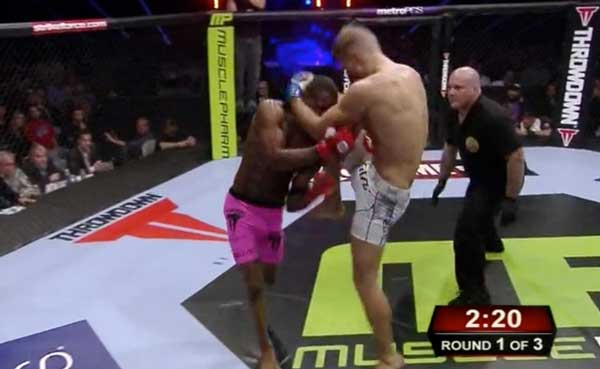 The Swede, now training out of Las Vegas, rebounded from a loss at his last bout in the Strikeforce cage, and will be ready for another high-profile bout at Strikeforce.