The most eventful action of this weigh-in was that Andreas Spång's opponent Maiquel Falcao was 188 lbs. at his first attempt to make the 186 lbs. middleweight limit. However on his second attempt, the Brazilian was able to make the 186 lbs. mark –Spang weighed-in at 185.8 lbs for the Bellator middleweight tournament final, which will take place Friday at the L'Auberge du Lac Casino Resort in Lake Charles, Louisiana.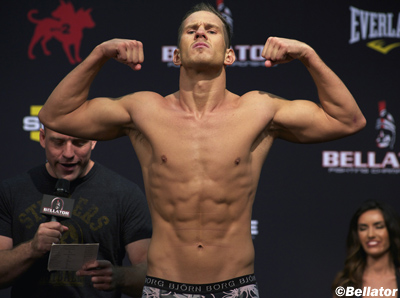 The Swede came out of nowhere to knock out the the favorite Brian Rogers in the second round of an action packed fight. Spång was a late-replacement, and took the bout on a few days notice and now finds himself in a big title fight.
Semi-Final Highlight
"I feel like Andreas Spang disrespected me when he pushed me," Falcao recently told Sherdog.com. "That kind of attitude is very disrespectful and should not be done by any professional fighter. A professional fighter does what he has to do inside the cage. That's what I will show him. I will push him, pull him, punch, knee, elbow, kick him and knock him clean out, but all inside the cage." Read Sherdog interview with Falcao.
Weigh-in Video
Maiquel Falcao (186) vs. Andreas Spang (185.8)+ – middleweight-tourney finale