Andreas Spång is looking for big changes in 2014. "It's time to find a new hope and get my career going towards the top!" the Sweet Swede tells MMAViking.com following his announcement yesterday that he was officially no longer with Bellator, the promotion that employed him for the last two years.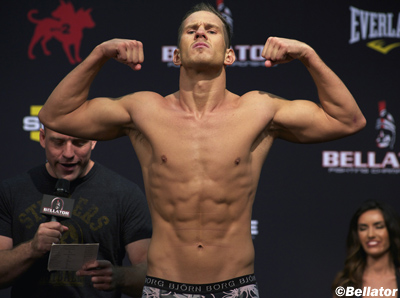 Following a spectacular KO punch taking out Brian Rogers in the Nordic KO of the Year in April of 2012, Spång has lost his last two bouts.  After dropping a decision in the middleweight tournament title to Maiquel Jose Falcao, in his only bout in 2013, the Swede lost again to Doug Marshall by a TKO in the first round.
Spång followed-up his lose with two unsuccessful attempts to get back into the Bellator cage, but his health and the 185 lbs weight class were no longer within his grasp. The Sweet Swede was declared unfit to fight by the Mohegan Tribe Department of Athletic Regulation in September, keeping him out of another Bellator tournament and became too sick to fight in his latest bid.  "It's time to switch weight class, lol." says Spång about his 2013 battles in and out of the cage in the last several months.
The 35 year old now seeks to revive his career at 205 lbs and a new promotion.  "Sweet Swede might come to a arena close to you." says the J-Sect MMA / One Kick's Gym fighter that will be looking for bouts outside of his Bellator past. "I'm so excited about what next year will bring!"