Sadibou Sy (8-5-1) lost to Glaico Franca (21-5) by 3rd round TKO in the final regular-season matchup in season 2 of the PFL 2019, Week 4 event at the Ocean Casino Resort in Atlantic City in New Jersey.
"I knew this was going to be a war, Sy is a very tough fighter. I had to come back later in the fight but I knew I had it in me. I am very happy to be in the playoffs but I can't think about the title yet. I am focused on October 11 and giving the fans a great fight." says the victorious Brazilian.

Franca earns 4 points and is currently leading division with 10 points. Franca can do no worse than the #3 seed, but his exact seed is tbd. With a 6 point win the first round, Sy is still in contention to win the million dollar tournament prize.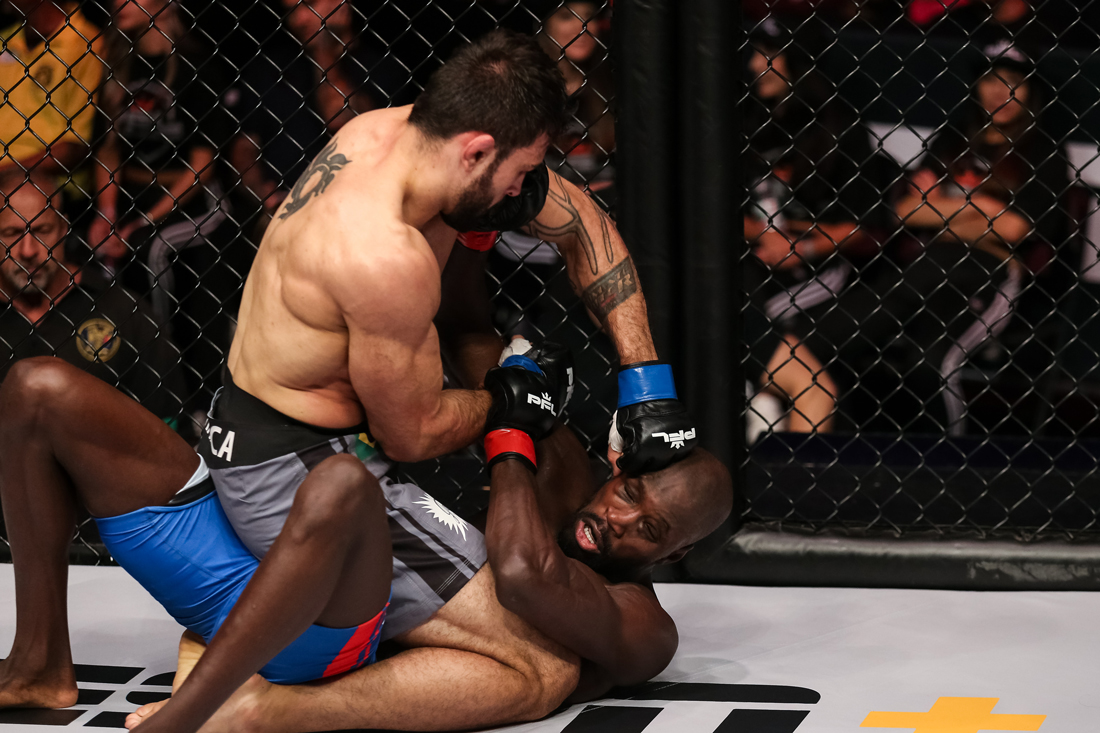 Sy kept his distance early and used his quick left kick to land low and high, even a nice right kick over the top to impress in the first. The Brazilian was quick to work for the clinch and shoot for take-downs but was unsuccessful early.
"Unfortunately my performance wasn't what I wanted it to be. Physically I came out the fight without any damage taken. I will take some positives and work on some other things that weren't as good. The beautiful thing with sports is u get the chance to come back stronger. I'm still the no. 3 seed and I can't wait for the playoffs in October." says Sy after the bout.
The tide turned in the second with Franca sitting in full mount and landing punches. Sy had an impressive sweep mid-way through the round and nearly stopped the fight with punches before getting reversed.
The Brazilian got on top in the third and wore out the tiring Swede, eventually staying in full mount and stopping the fight with punches.
Photo Credit: Ryan Loco/PFL