MMA Viking will be updating the blog here with results and play-by-play of The Zone FC "Demolition", which is being held on Sunday, May 6th. The last Zone was May 7th, 2011, so they are back after a year layoff.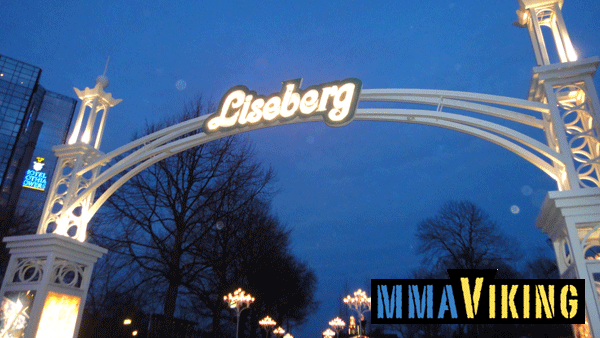 Fun to see UFC fighters just walking around. Reza Madadi who won his UFC debut just walked bye, and Magus Cedenblad is doing high-fives as he says hello to the fans… I think he could do a TV show, "Everybody Loves Magnus".
For those that don't know, the fight is in Gothenburg, which is on the West coast of Sweden. Nice place. Has a Starbucks.
It's 19.05 and the first fighter Roger Lyngbrant is entering the ring. The Zone FC is always so prompt. Looks like a packed house tonight… almost 2,000 people here. Lets do this!
Fight Card
Roger Lyngbrant, Märsta Alliance (Sweden) Versus Fredrik Jostelius, Gladius MMA (Sweden)- 61,2 kg
Round 1 – Big pop for the local Jostelius. Standup late in round one to bring the fighters to their feet. Close round one, not too much action. I was busy setting up my computer, so didn't watch too closely.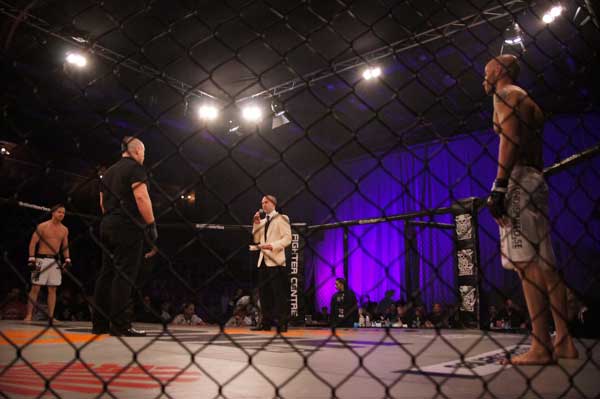 Round 2 – Fredrik looks intent on taking the fight to the ground as he does again in round two. Roger looks for knees as he gets attached, but finds himself on his back. Round two ends and Roger looks to get most of that round… but he's tired. Fredrik grabs his left shoulder, and perhaps has some sort of injury… but this fight is not gonna end.
Round 3 – Hard fought takedown for Roger. Fredrik looks for a rubber guard, but his opponent is looking to pass. The ground action hasn't been too exciting, but as soon as I say that Fredrik takes back and is looking for a rear-naked-choke, but it way too high and losing position. There is something fun about The Zone, where there are always some good scraps. The fight ends, with an entertaining bout to kick-off the night. The two embrace in good spirits, both looking happy with their performance.
Fredrik Jostelius wins over Roger Lyngbrant in first bout of the night 29-27… there was a point deduction in round two for fence grab.
Frantz Slioa, Hilti Stockholm (Sweden) Versus Rami Aziz, GBG MMA (Sweden)-65,8 kg
@RezaMaddog and Diego Gonzalez in Siloa's corner. Facing Aziz… popular gothenburg fighter.
Round 1 – These guys had nasty face-off yesterday. Big right from Slioa on the feet to take the fight to the ground. Calf-slicer attempt from Rami early in the round, but the Hilti fighter is trying to counter it.
The fight is back on the feet. Frantz spins and kicks, and gets dropped for a second by Rami. Great fight. These kids look fast and well-trained. The force is strong in Sweden. Madadi yells in Swedish instructions. Rami looking to take the fight to the ground, but Frantz counters. Frantz end the round on top, and Aziz is again looking for a submission. Impressed with the quality of this bout. The hilti fighter ends on top having back with a full body lock.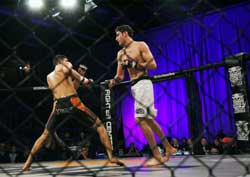 Round 2 – These buys are both looking to assert themselves as dominant. So far, Frantz has shown his ability to take the fight to the ground and stay on top, as he is know. Aziz seems confident in finding a submission off his back. The fight is brought to the feet for lack of action. Aziz seems the fresher of the two and lands a haymaker left hook to end the round.
Round 3 – Aziz is landing early, then presses Slioa against the cage to tyry and finish a take-down. but it is Slioa again that gets the take-down. Aziz looking to get on top, but as the two scramble again the HILTI fighter is on top. Half way through the round. Aziz seemed to have an armbar locked, but it slipped out.
Frantz Slioa, Hilti Stockholm Split Decision Victory Over Aziz… Good Fight.
Fernando Gonzalez, Hilti Stockholm (Sweden) Versus Per Franklin, Gladius MMA (Sweden) -77,1 kg
Round 1 – No touch of gloves in this one. The two are ready to go, and this was how it was at the face-off yesterday. Gonzalez is the cousin of HILTI fighter Diego Gonzalez. He trains at HILTI, too. Franklin gets great applause, and once in the cage slams a right leg kick. Franklin takes the bout to the ground, but Gonzalez cranking on a kimura from the bottom… but gives it up. The fight again goes to the ground, and Gonzalez cranks the kimura… looks like something could break, but the round ends saving Franklin.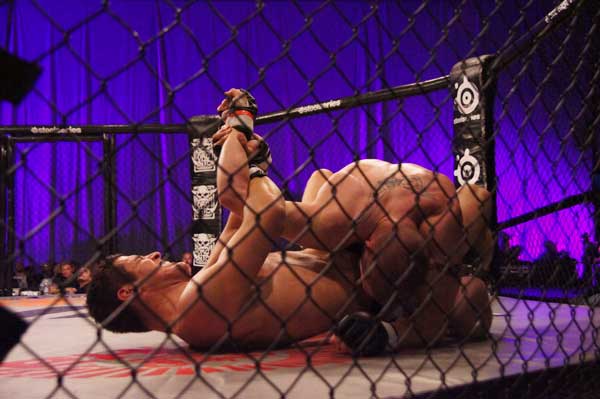 Round 2 – Gonzalez takes the fight to the ground with a nice double-leg takedown. Gonzalez works from top to find top position on the local figter, and eventually finds himself in a guillotine from the top… and locks it in for the submission to end the bout in round two.
Ricardo Chavez, Växjö Titans MMA (Sweden) Versus Martin Akhtar, Malmö Muay Thai (Sweden) -61,2 kg
Round 1 – Martin getting the local pop, and he looks for damage first with kicks. Wow….. after a failed take-down attempt by Chavez, Akhtar just whoops up on his opponent. The big damage was a left knee to the face ending dropping Chavez. He fought to stay in it, but the ref saw enough and stopped the bout at 2:30 in round 2.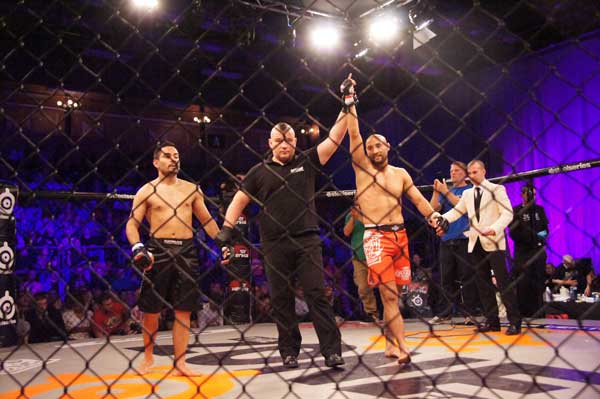 Johan Jorup, Linköping KC (Sweden) Versus Magnus Strandner, GBG MMA (Sweden) -93,0 kg
Jorup looking for bombs early, and shortly into the bout a big right finds a home and drops Strander.  Strander does not go out, and tries to battle, but is stormed by Jorup with punches and it is stopped.
Jonathan Svensson, Vallentuna Boxing Camp (Sweden) Versus Kristoffer Källgren, Escalate MMA (Sweden) -70,3 kg
Round 1 – Svensson wins this bout in the first round with a stoppage TKO in round 1.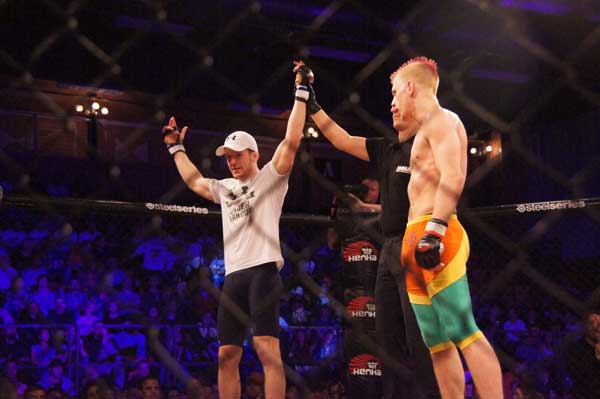 PAUSE IN ACTION – During the pause they recognize the fighters that were in the UFC in attendance… Madadi, Cedenblad, and Yousef.
Tor Troéng, RenYi FightCamp (Sweden) Versus Mats Nilsson, Kaisho MMA (Sweden) -83,9 kg
Round 1 – Tor and Mats end up in the clinch to start off the bout. The place is quite, and during parts of the tie-up. Everyone is talking about this fight. Tor lands a kick. Mats looks for a one-two, then shoots for a take-down. Tor looks comfortable on his feet, and now lands a right kick. Mats responds with the one, two punch then goes for a take-down. Tor looks comfortable defending with his back on the cage.
Two minutes left. Big left hands for Tor against the cage. Mats head is bobbing and weaving, but doesn't seem to have it from outside against the Umea opponent. High left kick from Tor, then a follow-up. Again Mats shoots for a take-down, but doesn't get it. One minute left and mats has a single. Tor fights his hands. Mats lets go then fires off a couple of good punches. The two grapple against the cage.
Close round. 10-9 to Tor.
Round 2 – Good punch by Nilsson to start out round two. The best fighters in the Nordics are showing why they are the best. Big left hands for Tor, then follow-up wiht kicks. Lands a left knee. Tor looks fresh. Tor firing away with some upkicks with effectiveness, now a right low-kick.
Now Tor lands big left uppercuts, and Mats face looks to be on the receiving end at it goes red. Half way through the round, Nilsson lands a good right hand. Left head-kick by Tor, now right up-kick. He is beating up his opoponent, hwo is bloodied from the damage. Tor favors the left uppercut. But Nilsson lands some good blows with one-minute left.
Tor sticks out his jab to control the distance. Nilsson looks for take-down, and may have it against the cage, but Troeng hangs tough and climbs his way up.
Round 2 to Tor 10-9.
Round 3 – Wow, Mats Nilsson lands a fantasic foot sweep to take Tor directly to his back. Mats works from the top. Tor looks for upkicks, nad Nilsson lands good right hand. Tor defending single-leg against the cage, and it is back standing. Both throwing jabs. Nilsson lands good punches as he moves forward. Momentum shift here in round 3, after Troeng had control of round 2. Tor lands a good one-two, then a head kick, but Nilsson won't back down on the feet, moving forward. After a tie-up, Tor takes down Nilsson and is looking for damaging punches. The Renyi Fighter looks like he has taken this bout, as Nilsson looks disappointed on his knees to end the bout.
Round 3 to Tor 10-9.
Official scorecards are 30-27 for unanimous decision for Tor Troeng.
Vasili Kachan Versus Eddy Bengtsson Gladius MMA (Sweden) -120,2 kg
Eddy lands a big right to start the fight, and follows-up with a submission shortly after.
Claudemir Sousa, Icon BJJ (Switzerland) Versus Sirwan Kakai, GBG MMA (Sweden) -61,2 kg
Bantamweight Title fight
Round 1 – Inside kick by Kakai.  He's got his game-face on, and lunges with a big right knee that lands.  Kakai has his back against the cage.  These bantamweights look big… no dropping weight classes here.  Kakai looks for a standing guilletine… but his opponent uses it to take Kakai down, but only for a second.  Two minutes in.Kakai with a strong body lock, and takes his opponent to the ground.  Brad Pickett is yelling instructions to Kakai, and the Brazilian is looking for a triangle .  Sirwan postures up and smashes his opponent in the face.  Looks like the Brazilian has a knee-bar of some sort, and Kakai hammers him with punches.  Kakai is now pissed off and is smashing his opponent in guard, and finishes the round on top.  Round 1 to Kakai.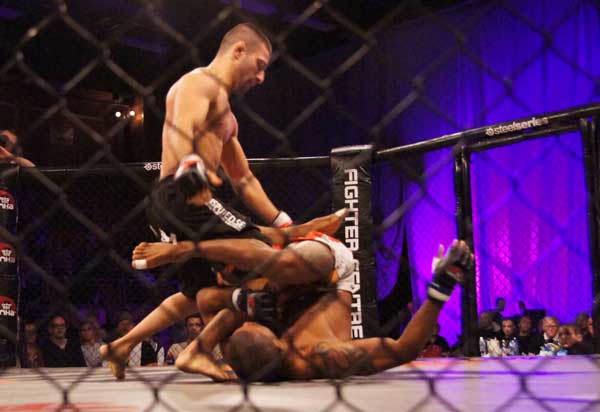 Round 2 – Kakai is being tested on the ground against the Brazilian that after a take-down tries for a rear-naked choke by sliding from underneath the home-town fighter.  Now an armbar, but Kakai defends.  Kakai tries for damage but Sousa defends well, and the fight is brought to the feet.  Close round.  10-10.
Round 3 – Kakai spending the most part of round 1 defending a take-down, and mixing it up in the clinch with Sousa.  Big left lowkick for Kakai as the two posture.  Kakai is pissed again and langsds big punches after he punishes with right kicks standing and as his opponent lies on his back.  He jumps into guard, but near the press area Cedenblad and Madadi yell to stand-up!  Kakai with big punches and knees in the clinch to bring his opponent to the ground again.  Big right hands, and the referee stops the bout.  TKO for Kakai before final bell rings.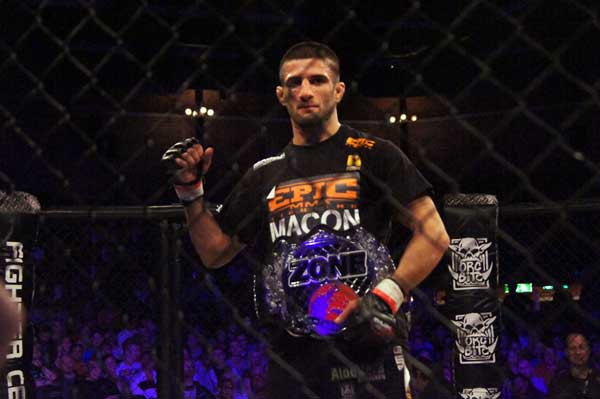 James Saville, Caged Steel (UK) Versus Martin Svensson, Frontier MMA (Sweden) -65,8 kg
Feather Weight Title Fight
Round 1 – Saville as always comes out with a bang, looking for a spinning kick early.  He lands some punches and finds himself on-top.  Svensson reverses it and is looking for some punches of his own.  A big looping left hand.  Svensson looks like an NBA player with his long limbs… but the much shorter, Swedish type of-course.  There are two minutes left, and Martin is on top and landing knees to the body.  He now taks "Scraps" back and starting to take control of round one, taking the UK fighters back… landing punches.. .now in mount, then takes back again.
Round 2 – Martin Svensson takes the fight to the ground again, and is in complete control on top.  After softening up his opponent throughout the round, he sinks in a rear-naked-choke to finish it off.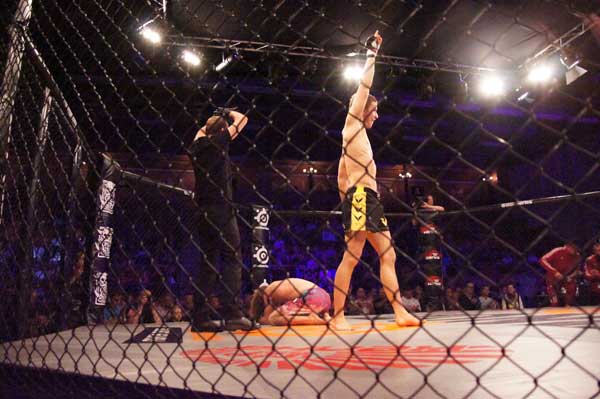 Morten Djursaa, Fight Gym Odense den (Denmark) Versus Assan Njie, GBG MMA (Sweden) -77,1 kg
Welterweight Title Fight
Round 1 – Big punches from Njie to start it off, then brings it down for a guillotine attempt, but doesn't get it.  The Danish fighter is battling, where usually Njie finishes his specialty submission by now.  After surviving his third attempt he takes Njies back.  Wow, what a reversal!  Looks like he may have the Swede in trouble.  Two minutes and 45 seconds for the Swede to try and survive, as he's not usually on his back.  Njie tries rolling through, but the Danish fighter stays on top.  Assan now gets out, but Morten looks confident standing.  The Danish fighter tries an up-kick, but Njie's looping punches seem just one punch away from a KO.  The fight goes to the ground, ad Njie thinks twice before trying another guillotine.  The fight goes back to the feet, and the two exchange punches.
Round 2  – Njie looks for the big left hook.  The two are standing and trading.  Seems like a dangerous game for both, as they swing away.  Good stright for Assan, but in the clinch it looks like Djursaa pulling Njie into two knees.  Kakai is yelling out instructions to teammate Njie from the press area… how unprofessional… oh yea, he's not press.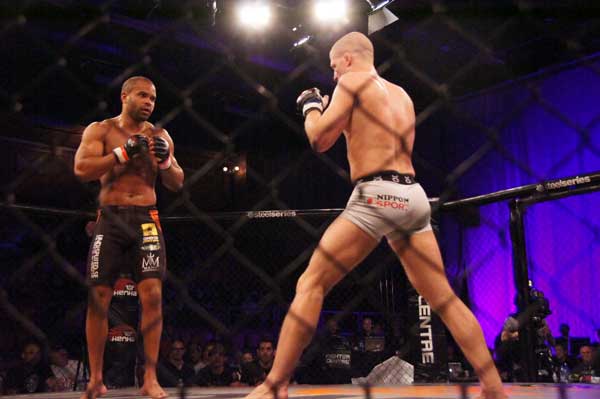 The fight has turned into a stand-up punching affair, but Njie takes the fight to the ground, but Morten kicks away and teh fight is back on the feet.  "Assan" chants start, but it really sounds like "awesome", which is pretty awesome.  Rare to see someone push the Swede like this as he has been dispatching all comers.  This late replacement came to fight, and lnads a big knee on Njie as the round ends.  Morten lands big knee at end of round.
Round 3 – After taking a few punches, Assan goes for a double-leg and finishes against the cage.  Assan is on top, and goes for his guillotine again… looks tight, but so have others.  The Danish fighter battles through it, and the fight goes back to the feet.  The two exchange punches, but the pace has really slowed.  Njie at least has the double-leg take-down in his back pocket, which he pulls out again.  But the fight gets back to the feet.  Big kick by the Danish fighter to the head.  Flying knee attempt.  Njie battles back to end the round.
Assan wins by decision. 30-27 on all scorecards.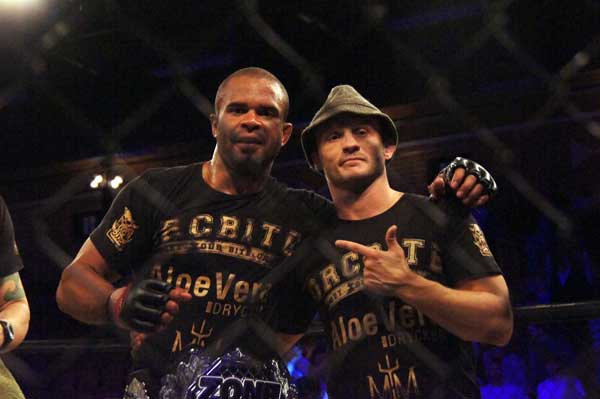 Stay tuned for more photos, and video interviews, and much more this week.