Frantz Slioa (4-0) defeated Martin Delaney via rear-naked choke to get into the TUF house in the fighter reality show's most recent The Ultimate Fighter: Team McGregor vs. Team Faber.  Limping into the show with a busted knee, the Allstars Training Center fighter tried to make the most of the experience.  'I was actually injured before the fight but Ryan (Hall) injured it a bit more but it's the fight game, injuries comes with the sport.' says the 24 year old to MMAViking.com that went into surgery two months ago.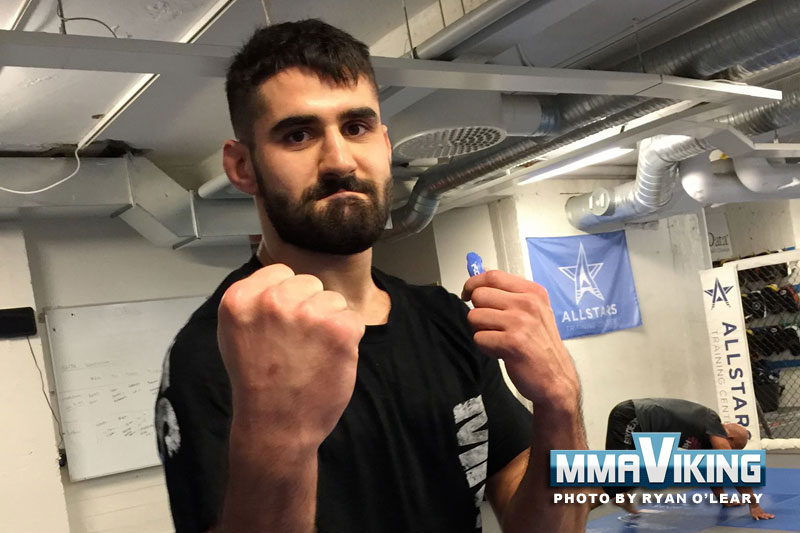 The undefeated Slioa upped his competition during the first episode when he took on decorated grappler Hall.  'In the house you don't get train for a specific fighter, they call your name and the only thing you have time to do is to cut weight and get in and fight.'
'I've never trained for a leg lock guy so my leg lock defense wasn't that good, but I can tell you that won't happen again.'
The featherweight, that fought as a lightweight for the show, says he learned a lot from his coach and the current featherweight champ. 'Team Europe, we all became friends, It was a good experience, fighting twice in one week' 'it was a good experience, we met Conor and trained with his trainer, we got to know how he thinks.'
'The thing is that you can't bring so much tobacco with to the United States, so I only had 20 of the round 'snusdosor' says the fighter that treasured his Swedish tobacco.  Joined by Martin Svensson, the two celebrated together with a chew once they both got into the house together.
'So now I'm back, back training and preparing' says the now healthy fighter that has started sparing.  'My job is to get to the gym and train and be in good shape and the rest my managers take care of it' says Slioa that is hopeful he will be in the Octagon for his next bout.
Full Interview with Slioa