Nordic MMA fans are excited as another new Nordic fighter in Tom Niinimäki will make his UFC debut this Saturday at The Ultimate Fighter season 18 finale. The event will be held in Mandalay Bay Casino in Las Vegas. In his debut fight Niinimäki will face a stiff challenge in the form of Brazilian vet Rani Yahya who is known for his dangerous grappling skills. Let's take a detailed look at these two fighters, how they match up, and how the fight could play out.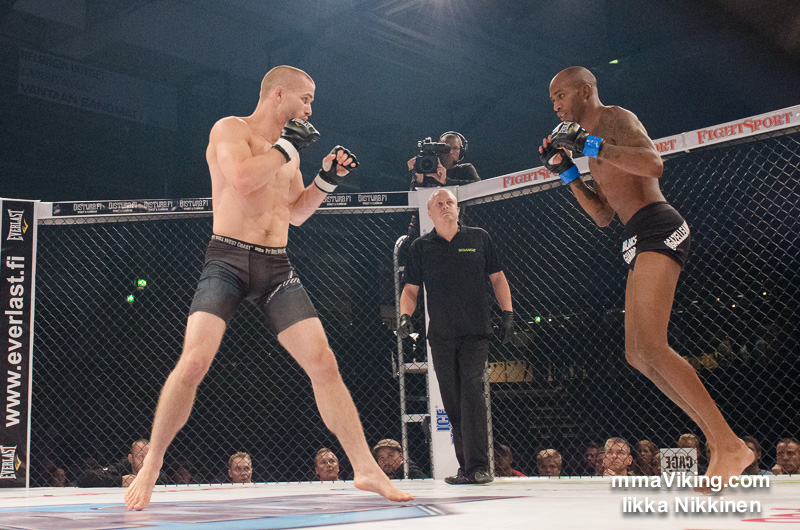 Tom "Stoneface" Niinimäki (20-5, 0-0 UFC): Long over due but finally this Saturday Finland's top featherweight will make his UFC debut. 31 year old Niinimäki is a very experienced fighter with 25 MMA fights along numerous boxing and kickboxing bouts. The Finn started fighting  in the tender age of 18 back in 2002 when oldschool No Holds Barred rules were still used in Finland. Early success took Niinimäki to shows across the world including Shooto events in Japan and Cage Warriors events in England, to name a few. After suffering a couple of disappointing losses around 2005-2006, Niinimäki decided to take a break from fighting and focus on improving as a fighter.
Early in 2010 the development project was finalized and Stoneface 2.0 was released. New and improved Niinimäki has since left behind a trail of beaten and battered opponents, and racked up ten consecutive wins in three years. During this streak the Finn beat notable American fighters like former WEC champ Chase Beebe, UFC vet Walel Watson and Bellator fighter Brian Pearman. High level Euro circuit fighters like Sergej Grecicho, Ben Boekee, Dave Hill and Johnny Frachey also had to succumb to Niinimäki's superior force. Niinimäki is currently #2 featherweight on MMA Viking's Offical Nordic Rankings behind UFC fighter Akira Corassani who will also fight on the same TUF 18 card.
As a fighter Niinimäki is a true allrounder who can put guys to sleep with both strikes and submission holds. Earlier in his career grappling wasn't Niinimäki's strong suite but nowdays the Finn is a highly skilled and also decorated grappler who has won FILA Euro submission wrestling championships twice. At the famed FinnFighters Gym in Turku, Niinimäki has the opportunity to sharpen his grappling with guys like multiple time ADCC Euro champ Timo-Juhani Hirvikangas, BJJ blackbelt and Shooto Euro champ Sauli Heilimö and a pack of high level grapplers in active competition mode. Besides MMA and grappling at the FFG gym Niinimäki trains regularly with the local wrestlers and boxers in his hometown. The Finn's work with high level S&C coaches should be also mentioned as they have done a marvelous job with pushing his physique to the next level. Nowdays Niinimäki is a big boy for the featherweight class with a sizeable gas tank.
No Excuses – Tom Niinimäki preparing for UFC debut by FightSport.fi

Tom Niinimäki Highlight by CloudCutsCoop

Rani Yahya (19-7, 4-1 UFC): Brazilian Rani Yahya is a clear cut specialist who has gained nice success in the UFC with his strong point: grappling. Former WEC fighter Yahya has fought five times in the UFC since early 2011 and done a very good job with four wins and just one defeat in the big league. In the UFC Yahya has won decisions over Mike Brown, Mizuto Hirota and Josh Clopton. Lone submission win came over Josh Grispi who had to tap out to Yahya's trademark north-south choke at UFC on Fox 4. In WEC Yahya took the scalps of Mark Hominick and Eddie Wineland with first round chokes.

Get more pictures like this from SHERDOG.COM
Yahya has an extensive background in BJJ and submission grappling. In no-gi grappling he took the biggest win possible in 2007 when he won the prestigious ADCC championships under 65 kilos weight class. Yahya's submission game is heavily relied on different chokes which is no surprise considering that he is a member of the Constrictor team. Yahya's pro record is basically a list of all the different chokes that there are. From common rear naked chokes and guillotines to very rare Peruvian neckties and Ezekiel chokes, Yahya has caught opponents with all of them.  On the feet Yahya is still mediocre at best. He uses strikes and kicks mainly to set up takedown attempts. Yahya is relentless with his takedown attempts and isn't afraid to pull guard either if he can't finish takedowns.
Yahya, who has fought in bantamweight too, is one of the smaller featherweights in the UFC. Last year Yahya said in a post fight interview that he walks around 150 pounds tops. This means the Brazilian hardly cuts any weight for the featherweight limit. Besides being a pro fighter Yahya also works full time for his family's construction company.
Rani Yahya Highlight

Match up: If you go with the strengths of these two fighters then this is a traditional striker vs grappler match up where Niinimäki plays the role of the striker and grappling wizard Yahya is the one that wants to take this fight to the floor. Niinimäki's striking is on another level compared Yahya's skills on the feet. While the Finn is a high level grappler too, it is most likely that the ADCC champ Yahya holds the advantage on the ground. Niinimäki will be considerably bigger and stronger than his Brazilian rival come fight time, and that may even things out in the grappling department. Yahya has a pretty versatile and effective takedown game but getting the Finn to the floor is no easy task. During his last ten fights Niinimäki has been taken down just once.
Summary:  This match up is a collision of fighting styles and because of that the fight will produce entertainment for the fans and most likely end with a finish. Yahya will rush forward right from the bell and try to get a hold of Niinimäki by any means possible. The first round will be the most dangerous one for the Finn as Yahya has taken his last eight submission wins all within first four minutes of the fight. Is this because Yahaya loses steam after initial attack? Or possibly because the sweat that makes it difficult for him to finish chokes is not present early? That is hard to tell but there's definitely a pattern here. With an active stick-n-move strategy Niinimäki should be able to keep Yahya off his skin early on. Once the Brazilian's barrage begins to fade, the Finn can start to move forward with strikes and put more weight behind his attacks. Yahya is an dangerous opponent for anyone in the featherweight division but this is definitely not the worst possible match up for the well rounded Stoneface. X-factor is that will the Finn be able to perform at his own level in his UFC debut or will the infamous UFC jitters have an affect on him too. Still, all things considered my somewhat biased prediction for the winner is Niinimäki by TKO strikes late in the second round.