MMA Viking's Official Nordic MMA rankings have been updated once again. In the third ranking update of the 2013, and taken into consideration are events up to September including UFC, Bellator, Cage, Carelia Fight, European MMA, Cage Warriors, Golden Ring, and GWC shows among others.
Updated Nordic Rankings
Heavyweight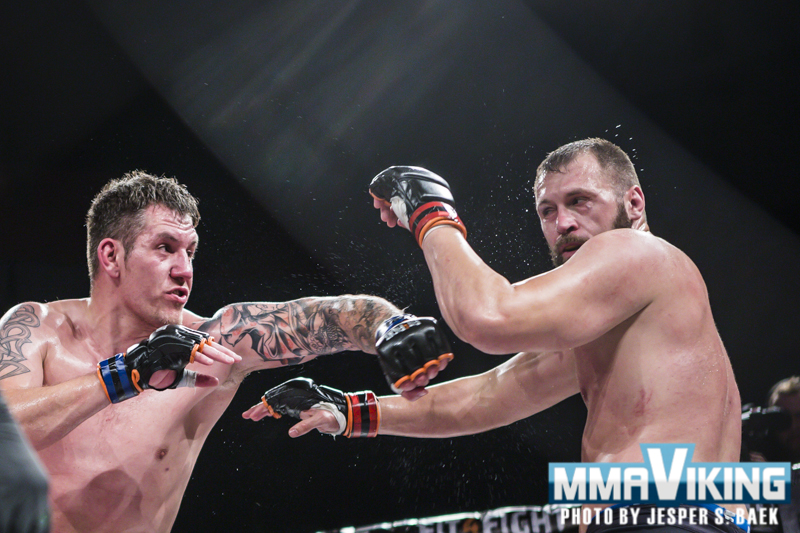 Summary: Nordic heavyweight division remains surprisingly thin, with very few active competitors in the weight class.
Denmark's Christian Colombo has gone 5-1 during last twelve months. At European MMA 6 in September the Dane took a dominant decision win over German vet Andreas Kraniotakes (17-7). The win over Kraniotakes lifts Colombo clearly above the rest of the Nordic heavyweights in terms of accomplishments.
Yosef Ali Mohammad won at Strength and Honor 8 in Switzerland in September. Sweden vs Finland is the name of the game at Superior Challenge 9 in November when the Swede will collide with Finnish behemoth Marko "Battery" Patteri. Winner of the bout will take a significant step up in the rankings. Before the bout with Yosef, the Finn will fight Ukranian Poberezhets at Fight For Glory in October.
Swedish wrestler Eddy Bengtsson was knocked out in the first round by Ukranian Dmitry Poberezhets and hasn't fought since November 2012.
Finnish Toni Valtonen broke his shin bones in his last fight against Poland's Michal Kita. According to latest reports Valtonen will not be fighting anytime soon.
Light Heavyweight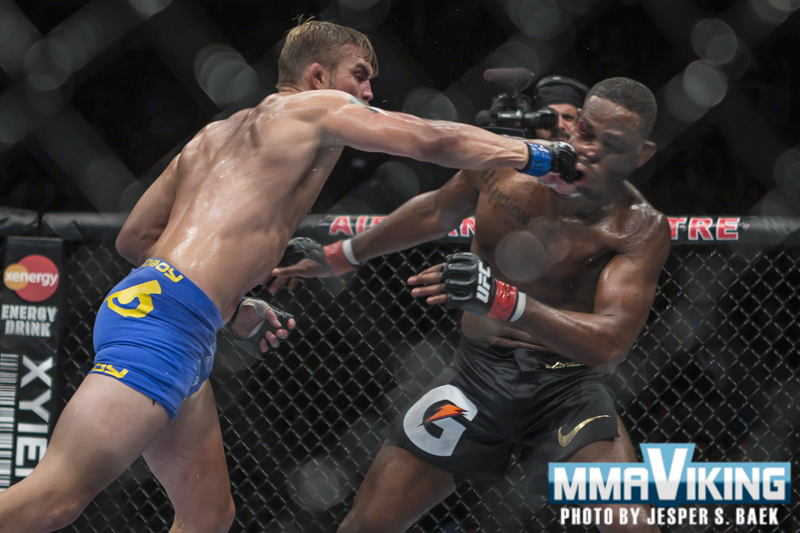 Alexander "The Mauler" Gustafsson, Sweden (=)
Ilir "the Sledgehammer" Latifi, Sweden (=)
Max "Power" Nunes, Sweden (

+1

)
Marcus "Caveman" Vänttinen, Finland (

+1

)
Matti Mäkelä, Sweden (

new

)
Contenders: Joachim Christensen (Den), Antti Kästämä (Fin)
Not eligible: Juha "Juice" Saarinen with injury and inactivity
Summary: Sweden's superstar Alex "the Mauler" Gustafsson is on a league of his own at the Nordic light heavyweight division. On September 21st the towering Swede showed he is as good as any fighter in the world as he outboxed and outwrestled Jon Jones throughout most of the legendary fight for the UFC belt at UFC 165 in Toronto, Canada.
Malmö's Ilir Latifi stepped in for Gustafsson and fought Gegard Mousasi at the UFC on Fuel TV 9. Latifi did a great job on short notice, fought with a big heart for three rounds and even managed to land few heavy strikes on the Dutchman. In MMA Viking's recent interview Latifi said he has returned to training after recovering from a knee injury and is now preparing for his second UFC bout that hasn't been announced yet.
London based Swede Max Nunes'  had to say farewell to his perfect record when he suffered a submission loss to Dutch vet Jason Jones (19-10) at BAMMA 13 in September. It remains to be seen if the Swede will drop down to more fitting middleweight after his first loss.
Marcus "Caveman" Vänttinen's defended his Cage light heavyweight title against Danish grappler  Joachim Christensen at Cage 23 and won by decision.
Swedish brawler Matti Mäkelä jumps into the Top 5 with Juha Saarinen dropping out due inactivity caused by a knee injury. Mäkelä showed his impressive win over UFC vet James McSweeney at Superior Challenge 8 was not a fluke, as he extended his streak with a win at  Strength and Honor 8 in Switzerland last month.
Middleweight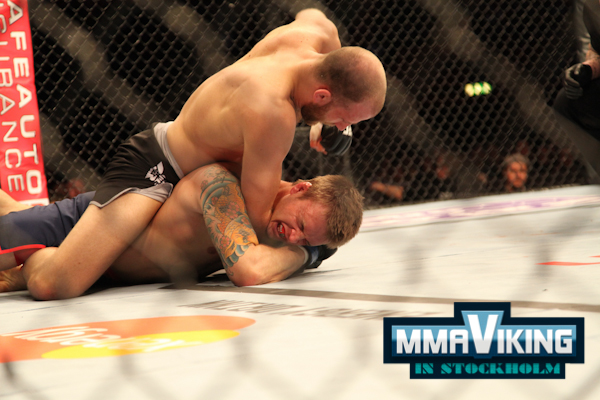 Tor "the Hammer" Troeng, Sweden (=)
Mikkel Parlo, Denmark (

+1

)
Mats Nilsson, Sweden (

-1

)
Magnus "Jycken" Cedenblad, Sweden (

new

)
Victor Cheng, Sweden (=)
Contenders: Andreas Spång (Swe), Papy Abedi (Swe), Lucio Linhares (Fin), Jack Hermansson (Nor), Alan Carlos (Swe), Marcus Andersson (Swe), Jani Ridasmaa (Fin)
Summary: The competition for the top five ranking spots is getting tight in the Nordic middleweight division.
Troeng won his UFC debut with a submission over fellow TUFer Adam Cella but couldn't keep the winning streak alive against Brazilian vet Rafael Natal at UFC FN 28. While the Umeå fighter had his moments and showed massive heart in the fight, in the end it was a clear cut decision win for Natal.
Danish tank Mikkel Parlo jumps to second spot with a dominant decision win over game Brian Rogers at Bellator 98. Parlo was able to outstruck and outwrestle gutsy Rogers for three rounds and move to the next round of the Bellator middleweight tournament.
Sweden's Mats Nilsson got his second straight win in the Cage Warriors promotion when he TKO'ed Englishman Denniston Sutherland at CWFC 59.
Magnus "Jycken" Cedenblad finally got back into action at UFC 164. The Swede made quick work of veteran Jared Hamman by submitting him in 57 seconds, and looks for another win against Alessio Sakara at the UK in London.
Victor Cheng hasn't fought since November 2012 when he outhustled Ion Pascu at Zone FC with his impressive grappling and went 3-0 in 2012.
Welterweight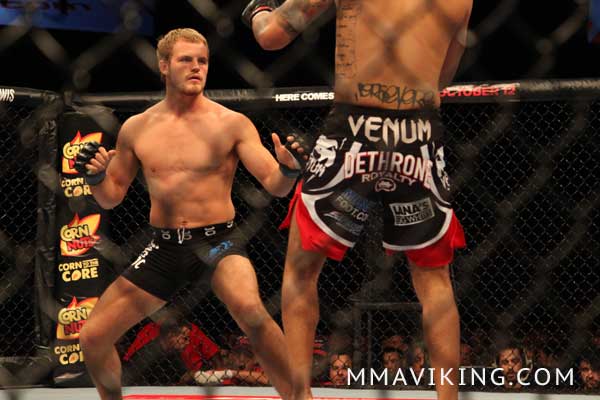 Contenders: Morten Djursaa (Den), Bruno "BC" Carvalho (Swe), Kai Puolakka (Fin), Simeon Thoresen (No), Besam Yousef (Swe), David Bielkheden (Swe), Mohsen Bahari (Nor), Chris Spång (Swe), Arni Isaksson (Ice), Emil Weber Meek (Nor)
Not Eligible: Assan "the Black Attack" Njie, Sweden due to inactivity
Summary: Nordic welterweight division is getting stronger and deeper all the time with hungry young prospects emerging from every Nordic country.
Martin Kampmann has been fighting in the UFC since 2006 and is still considered as one of the better fighters in his highly competitive weight class. Kampmann has lost his last two fights in devastating fashion. The Dane is probably facing a must win situation in his next fight if he wants to stay in the UFC.
Icelandic fighting phenom Gunnar Nelson continued to impress UFC fans with his clear cut decision win over dangerous veteran Jorge Santiago at UFC on Fuel TV 7 in London, England. Unfortunately Nelson got injured in training for a planned bout against Mike Pyle and had to have knee surgery that will keep him out of the Octagon for months. The Icelander is now back in training and expected to return to action before the end of the year.
Denmark's top talent Nicolas Dalby took his biggest win so far at EMMA 6 where sent fellow Dane Morten Djursaa to oblivion with strikes in the first round. The Rumble Sports striker is now 11-0 overall.
Hulking Swede Nico Musoke took another scalp in June when he beat Brazilian Ronny Utrera by decision at Golden Ring.
Umeå's highly regarded prospect Andreas "Real Steel" Ståhl, who was sidelined for a long time due to a knee injury, has returned with a vengeance and finished both of his fights in 2013 in impressive fashion. Renyi Fight Camp fighter is still undefeated after nine professional bouts.
Lightweight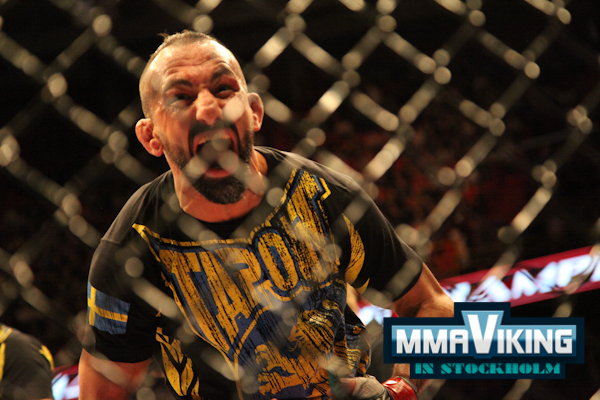 Reza "Mad Dog" Madadi, Sweden (=)
Anton "Double Hawk" Kuivanen, Finland (=)
Niko Puhakka, Finland (=)
Juha-Pekka Vainikainen, Finland (=)
Ayub "Zap" Tashkilot, Denmark (

new

)
Contenders: Fernando Gonzalez (Swe), Diego Gonzalez (Swe), Kennet Mattson (Fin)
Summary: UFC lightweight Reza Madadi leads the pack in the lightweight division. After tough first two rounds against Michael Johnson at the UFC Sweden II, Madadi made a huge comeback in the third round and submitted the American with a brabo choke. Problems outside of the fight world will keep Madadi out of business for a while.
Anton Kuivanen's road back to the UFC suffered a serious set back at Cage 23 where the Finn was knocked out in a flash by American Eric Reynolds.
Finnish veteran Niko Puhakka injured his leg at M-1 Challenge 40 in a bout against Mairbek Taisumov and lost the fight by TKO.
J-P Vainikainen has lost his last two fights by decisions against top level Euro talents Shamil Zavurov and Piotr Hallmann. Vainikainen will try to bounce back from the skid at Fight Festival 33 where he will face off with American Tyler Hellenbrand.
Dane Ayub Tashkilot enters the lightweight rankings with an impressive knock out win over German Ruber Crawford at EMMA 6 in September.
Featherweight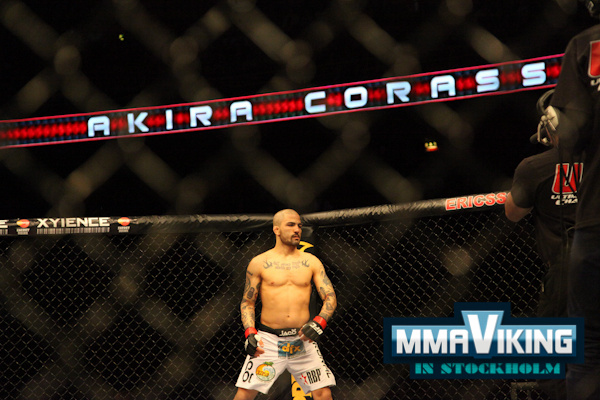 Contenders: Martin Svensson (Swe), Matteus Lähdesmäki (Fin), Greger Forsell (Fin), Tommi Marttinen (Fin)
Not Eligible: Niklas Backström due to inactivity
Summary: Nordic featherweight division is very competitive at the moment with an army of hungry young fighters working their way up the ladders.
New Jersey based Akira Corassani scored a huge win at the UFC Sweden II where the Swede fought a tough decision victory over heavy-handed brawler Robbie Peralta. Before that Corassani won a close decision over Andy Ogle at the UFC in Nottingham, England.  He now returns in November against Maximo Blanco.
Tom "Stoneface" extended his spectacular eleven fight win streak at Cage 23 where the Finn submitted UFC vet Walel Watson in the second round. Previously Niinimäki put on a dominant performance against former WEC champ Chase Beebe at Cage 22.
Nordic MMA icon Joachim "Hellboy" Hansen made a long awaited return to MMA at the Korean Road FC 11 event where he faced Doo Woo Seo. After a heated battle the Norwegian managed to sweep Seo from the bottom, gained mount and finished the job with a arm triangle choke.
Finland's Joni Salovaara showed massive heart against American top prospect Jim Alers in Cage Warriors featherweight title bout at CWFC 53 but got submitted by Alers in the 4th round. At Fight Festival 33 in October it is Salovaara's turn to face Chase Beebe.
Wrestling powerhouse Makwan Amirkhani is riding a seven fight win streak with six of the wins coming via submission.
Bantamweight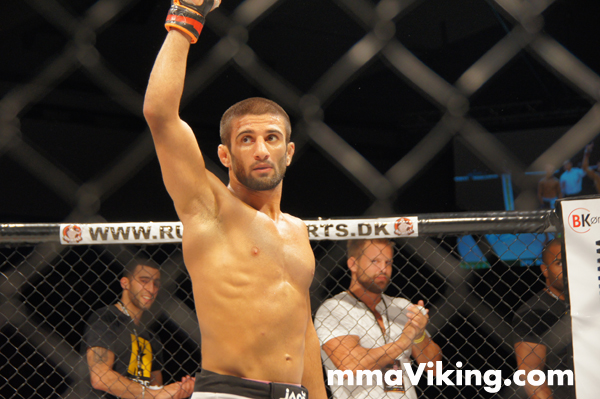 Sirwan "Zohan" Kakai, Sweden (=)
Timo-Juhani Hirvikangas, Finland (

+2

)
David Haggström, Sweden (

-1

)
Toni Tauru, Finland (

+1

)
Emil "Megahertz" Hartsner, Sweden (

new

)
Contenders:  Janne Elonen-Kulmala (Fin), Martin Akhtar (Swe), Tuomas Grönvall (Fin)
Summary: Sirwan Kakai lost to Taichi Nakajima at Pancrase 252, but he still remains the top Nordic fighter based on his impressive streak of 9 consecutive wins.  The Swede lost a close decision at the TUF fight to get into the house, and still looks for a breakout win to get his shot in the UFC.
Three time ADCC Euro champ Tipi Hirvikangas moves up to second place with a submission win over grappling wizard Artemij Sitenkov at Cage 23.
Swede David Haggström drops down to third spot in the ranking with a decision loss to Englishman Brett Johns at Cage Warriors 59.
Finland's Toni Tauru is currently in full beast mode and riding a seven fight win streak. Tauru got another win in early September at Carelia Fight 9 where the Finn submitted Frenchman Issem Hasni in the second round.
Emil Hartsner tested the waters in the Ultimate Fighter reality show but wasn't at his best come fight time so the journey was cut short for the Swede.
Flyweight
Mikael "Hulk" Silander, Finland (=)
Finnish flyweight prospect Mikael "Hulk" Silander lost by third round armbar to Ireland's Neil Seery at CWFC 55 when the two fought for the promotion's flyweight belt.
WOMEN (All Weight Classes)
Katja "Killer Bunny" Kankaanpää, Finland (=)
Tina Lähdemäki, Finland (

new

)
Margaret Aase, Norway (

-1

)
Lina Eklund, Sweden (

-1

)
Pannie Kianzad, Sweden (

-1

)
Contenders: Maria Hougaard-Djursaa (Den),  Eeva Siiskonen (Fin), Lina Akhtar Länsberg (Swe), Linn Wennergren (Swe)
Summary: Finland's grappling powerhouse Katja "Killer Bunny" Kankaanpää is few steps ahead of everyone else in the women's ranking. The Finn continued her string of impressive wins at Invicta 5 in Kansas City, USA where she outgrappled Brazilian Juliana Carneiro Lima to a decision win. Kankaanpää is still undefeated after nine pro fights.
Another Finn in Tina Lähdemäki takes the second spot with a recent win at Cage 23 and a perfect record of 4-0.
Norwegian Margaret Aase holds the third sport with a impressive TKO win over Lina Eklund at the Rumble of the Kings in November of 2012. Aase hasn't fought since.
Lina "Lynx" Eklund got back on the win column in March at IRFA 4 where she won an impressive decision over Poland's Sylwia Juskiewicz.
Pannie Kianzad, who is 3-0 overall, scored two wins in December 2012 and holds the fifth spot.  She will be returning before the end of the year in an opportunity to jump back toward the top of the rankings.
More information regarding MMA Viking's ranking criteria and previous rankings.