MMA Viking's UFC Sweden II pre-fight package ends to a preview of the light heavyweight main event that absolutely no one saw coming: Gegard Mousasi versus Ilir Latifi!
Gegard "Dreamcatcher" Mousasi (33-3-2, 0-0 UFC): Armenian born but a long time Dutch citizen Mousasi took the long road to the UFC. Now he will make his UFC debut after a stressful hassle with Gustafsson's injury and last minute replacement in Latifi. Experienced Dutchman has fought in MMA, Kickboxing and Boxing among other combat sports.  During his ten year career has also fought on almost every major organization like Pride, K1, Dream, M-1, StrikeForce and of course in Fight Festival in Finland where Mousasi fought twice and went 1-1. Mousasi holds notable wins over Jacare, Sokoudjou, Hunt, Kang, Lombard, Manhoef, Babalu and so on. In his last fight at StrikeForce in January of 2013 Mousasi choked out Mike Kyle with a rear naked choke late in the first round. Mousasi is a bundle of talent and a fighter with long history in multiple martials arts. His striking, especially defensive striking, is one of the best in the light heavyweight division. Very rarely he gets tagged on the feet thanks to his agile footwork and excellent head movement. On the grappling department Mousasi has a strong Judo base and active submission game but his takedown defense still isn't where it should be at this level. Maybe it's a mental thing, maybe it's the lack of training with high caliber wrestlers.

Gegard Mousasi pre-fight interview

Gegard Mousasi Highlight

Ilir "Sledgehammer" Latifi (7-2, 0-0 UFC):  Albanian Swedish light heavyweight powerhouse Latifi brings terrific power and high quality wrestling skills to the cage with him. Latifi hails from an extensive wrestling background and it shows in his fights styles as slick takedowns and powerful slams. Since dropping a decision to Bellator's Emanuel Newton in a fight where he had a torn muscle, the Malmö resident has won his last three fights. In May of 2012 Latifi beat Tony Lopez by decision and later in October he won a decision over Jorge Oliveira at the Superior Challenge 8. For a wrestling heavy fighter Latifi has pretty good finish rate as he has taken five of his seven wins by finishing the opponent. Obviously his striking isn't very polished at the moment but it's has steadily improved from fight to fight.
Ilir Latifi pre-fight interview

Ilir Latifi Highlight

Match up: This is your standard striker vs grappler match up where Mousasi plays the role of the striker and wrestler Latifi is the one that wants to take this fight to the floor. Mousasi's striking is light years ahead of Latifi's but Latifi will also hold a significant advantage on the wrestling department. On the ground things get more even and also more interesting. Latifi has excellent control on the ground thanks to his extensive background in wrestling while Mousasi is a more submission oriented grappler who doesn't care so much for positional control.
Summary: This certainly isn't the main event that the fans were expecting or hoping for but there's no reason to sulk about it. This match up is a collision of fighting style and because of that it will produce both entertainment and almost certainly end with a finish. Latifi drove all night across the country from Malmö to Stockholm because he had a hunch he would get this fight. Just a hunch, nothing more. This should tell you that the Albanian ball of muscle wanted this fight and that he will come out with his game face on Saturday. Almost everything is against Latifi in this bout but then again anything can happen in MMA as we've seen hundreds of times. If Latifi can score early takedowns or slams and throw Donkey Kong punches on Mousasi's dome, he could hurt him or at least cut him open and then things would get interesting. Realistically speaking Mousasi is far superior on the feet and also armed with a dangerous ground game so the safest bet would be Mousasi by finish before the midway point of the fight.
Bet on UFC in Sweden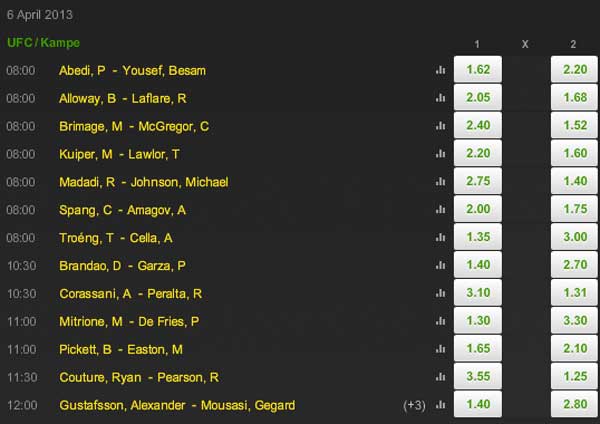 Get Big Bonus for MMA Viking Fans in Finland – Denmark – Norway – Sweden