MMA Viking's UFC Sweden II preview coverage is getting close to its final fight. Now we take a look at co-main event where Ross Pearson welcomes Ryan Couture to the UFC
Ross "Real Deal" Pearson (14-6, 6-3 UFC):  The Ultimate Fighter season 9 winner Ross Pearson has a done great job establishing his status in the UFC and also as a fighter who always delivers good entertainment and action to the fans. Pearson came to MMA from a interesting combat sport background that is mixture of Taek Won Do, Judo and Boxing. After going 8-3 in the UK circuit with just two fights going to decision, Pearson got enrolled to the TUF 9 "USA vs UK". In the TUF final Pearson outstruck his fellow countryman Andre Winner throughout the fight and took home the TUF title via unanimous decision. Since then Pearson has had a good run in the UFC scoring notable wins over Denis Siver and George Sotiropoulos while losing to Cub Swanson, Edson Barboza and Cole Miller. Pearson dropped down to featherweight for two bouts ( Assuncao and Swanson) but returned to lightweight for the TUF Smashes UK vs Australia where he was the coach for the UK team with Sotiropoulos coaching the Aussies. In the Smashes finale Pearson methodically outstruck Sotiropoulos, flooring him several times with crisp punches before putting him away with a vicious hook in the third round. Stocky and compact Pearson is a dangerous package of striking and grappling in one. His head movement is among the best in the business and he puts together really slick boxing combinations with his hands.
Ross Pearson Training at Alliance

Ryan Couture (6-1, 0-0 UFC):  Ryan, the son of the famed UFC champion Randy Couture, has obviously big shoes to fill in MMA. The younger Couture has withstood the pressure really well and patiently worked his way up the ladder. Couture started off in MMA with several amateur bouts before joining the StrikeForce ranks in 2010. He fought his first four fights going 3-1 on SF's "Challengers" cards, which were basically minor league cards under the SF banner. On the major SF card Couture stringed together three consecutive wins beating respectable competiion in Conor Heun, Joe Duarte and lastly KJ Noons. The decision win over Noons was seen by many as highly controversial since Noons outstruck Couture throughout the three rounds. Couture has displayed solid grappling and a big heart in his bouts while his offensive striking, head movement and footwork still need work.
Ryan Couture vs Conor Heun at StrikeForce

Match up: Taller Couture will have a size and reach advantage over Pearson who isn't the biggest lightweight out there. Pearson moves really well on the feet and is tough to get a hold on which is why we believe Couture will not able use his size advantage over the Brit. Skillwise Couture might have the edge in grappling but the more experienced Pearson has the advantage on the feet.
Summary: This is pretty much identical match up with Couture versus Noons where Noons picked Couture apart on the feet and won the fight in my opinion. Pearson is a more complete version of Noons so things are not looking too sweet for the American. Expect Couture to push forward and put on a good fight but Pearson's superior striking and air tight takedowns defense should be too much for the UFC newcomer.
Bet on UFC in Sweden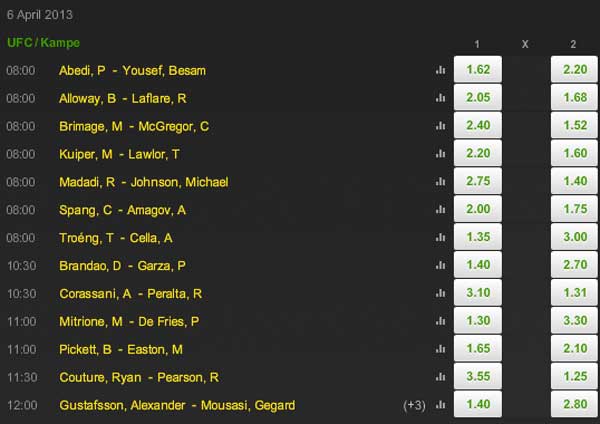 Get Big Bonus for MMA Viking Fans in Finland – Denmark – Norway – Sweden